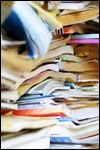 Too Much Stuff
Give it away before it controls you.
Single Session Bible Study
Overview
In a classic from TODAY'S CHRISTIAN WOMAN, Mayo Mathers confesses that greed is her ongoing temptation, and that it takes on some unexpected forms. This temptation strikes everyone—from the stay-at-home mom to the wealthy Christian CEOs we learn about in CHRISTIANITY TODAY's article. What does it look like to handle our resources in a definitively Christian way?
Table of Contents
SCRIPTURE: Proverbs 11:4, 28; 23:4-5; Deuteronomy 15:7-15
LEADER'S GUIDE
• Identify the Current Issue
• Discover the Eternal Principles
—Teaching point one: Greed is a sin.
—Teaching point two: Greed is dangerous.
—Teaching point three: There is an antidote to greed.
• Apply Your Findings
ARTICLE FROM TODAY'S CHRISTIAN WOMAN
• Too Much Stuff, by Mayo Mathers (January/February 1999, p. 52)
ARTICLE FROM CHRISTIANITY TODAY
• The Engine of the Market, by D. Michael Lindsay (posted October 3, 2008)
Total number of pages—
Too Much Stuff