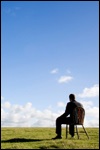 Truth-telling in an Age of Lies
Why we need prophets in today's church
Single Session Bible Study
Overview
Prophets have always challenged God's people to do what is right, even if it is an unpopular message. Today, we rarely see someone take that role. What is it costing the church? What can we learn from Haggai, an Old Testament prophet who preached boldly and saw God use his words?
Table of Contents
SCRIPTURE: Haggai 1:1-15
LEADER'S GUIDE
• Identify the Current Issue
• Discover the Eternal Principles
—Teaching point one: Prophets help their people to face sin and repent.
—Teaching point two::Prophets help their people take their focus off themselves.
—Teaching point three:Prophets help their people see that they are falsely trusting in their own abilities.
—Teaching point four:Prophets help their people respond to the Lord's commands.
• Apply Your Findings
HANDOUT FOR FURTHER STUDY
ARTICLE FROM Out of Ur
• "Where Have All the Prophets Gone–, by Skye Jethani, Out of Ur
Total number of pages—
Truth-telling in an Age of Lies
SmallGroups.com offers a diverse set of adaptable training tools for small group models that can be customized to a church's unique needs.
14-Day Free Trial
Get complete access free for 14 days.
Featured Training Tools:

Connect People into Small Groups
A la carte price:
Theological Discussions for Everyone
A la carte price: