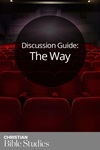 The Way
The road we travel on is fraught with hurt and heartache, but it can also strengthen us, and it does not have to be walked alone.
Single Session Bible Study
The Way
SmallGroups.com offers a diverse set of adaptable training tools for small group models that can be customized to a church's unique needs.
14-Day Free Trial
Get complete access free for 14 days.
Featured Training Tools:

Connect People into Small Groups
Theological Discussions for Everyone