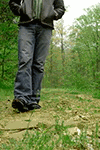 Waiting for a Prodigal's Return
How can we graciously wait for someone to return who has walked away from the faith?
Single Session Bible Study
Overview
Nothing is more painful than watching someone we love leave the faith. Our emotions run the gamut from being angry to being ashamed. In this study, based on an article by Karen Swallow Prior, we look closely at the story of the Prodigal Son and, with Scripture's help, discuss how we can respond when someone's choices cause us pain.
Table of Contents
SCRIPTURE: Psalm 65; Luke 15:11–32; Romans 9; Philippians 4:1–9
LEADER'S GUIDE
• Identify the Current Issue
• Discover the Eternal Principles
—Teaching point one: Almost every Christian agonizes over a prodigal.
—Teaching point two: We must be patient for God to work in a prodigal's life.
—Teaching point three: We must realize that more prayer, greater conservatism, or sharper apologetics will not necessarily bring our prodigal back.
—Teaching point four: We must let go of any shame we feel, ask forgiveness for anything we have done wrong, and be willing to be authentic with others.
—Teaching point five: We must not despair if our prodigal does not return.
• Apply Your Findings
• Additional Resources
ARTICLE FROM CHRISTIANITY TODAY
• Prodigal Love, by Karen Swallow Prior (September 2013)
Waiting for a Prodigal's Return
SmallGroups.com offers a diverse set of adaptable training tools for small group models that can be customized to a church's unique needs.
14-Day Free Trial
Get complete access free for 14 days.
Featured Training Tools:

Connect People into Small Groups
A la carte price:
Theological Discussions for Everyone
A la carte price: