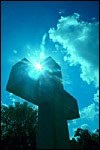 What Is the Significance of the Trinity?
We better understand God when we better understand the Trinity.
Single Session Bible Study
Overview
At the very heart of Christian belief is a concept called the Trinity. It's so central that one of the greatest theologians of the 20th century, Karl Barth, said, "Trinity is the Christian name for God." God is a Trinity of three in one, co-equal and yet distinct, called the Father, Son, and Holy Spirit.
This study will ask: What does it mean that God is a trinity? Why do we believe it? Where do we find it in the Bible? Is this philosophical nonsense or vital to our understanding of God? What difference can the doctrine of a triune God make in our lives?
Table of Contents
LEADER'S GUIDE
• Identify the Current Issue
• Discover the Eternal Principles
—Teaching point one: God is one.
—Teaching point two: God is three—diverse, yet unified.
—Teaching point three: The doctrine of the Trinity is necessary for us to move ahead as Christians.
• Apply Your Findings
HANDOUT FOR FURTHER STUDY
SERMON FROM PREACHINGTODAY.COM
• "Trinity": The Christian Name for God, by Matt Woodley
Total number of pages—
What Is the Significance of the Trinity?