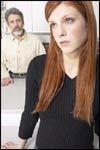 When We're Afraid to Forgive
If we long to receive mercy, why is it so painful to give it?
Single Session Bible Study
Overview
As Christians, we are awed and humbled by God's gracious forgiving of our sin and failure. Yet we seem reluctant and sometimes rebellious when the Lord commands us to forgive those who have wronged us. Why do we hold back? What do we fear? Who suffers most when we hoard God's mercy for ourselves and withhold it from those whom we refuse to forgive?
Table of Contents
SCRIPTURE: Matthew 6:12–15, 18:21–35; Ephesians 4:32; Mark 8:34–38, 11:25; Galatians 6:7–10; Colossians 3:12–13; Hebrews 12:1–3; 1 Peter 2:19–23
LEADER'S GUIDE
• The Issue
Sample questions:
When do you think we find it most difficult to forgive others?
What do we often fear as we face forgiving a serious wrong?
• The Scriptures
Sample Scriptures:
Matthew 6:12–15: Write a phrase from each passage that tells why or how we are to forgive others.
In the parable of the unmerciful servant (Matt. 18:21–35), what do you learn about God?
• The Application
Sample application questions:
In what ways have you discovered forgiving to be both an event and a process?
How would you counsel a Christian friend who finds it impossible to forgive another person?
ARTICLE FROM CHRISTIANITY TODAY
• Fear of Forgiving, by Allen C. Guelzo (February 1993, 9 printed pages)
Total number of pages—
When We're Afraid to Forgive