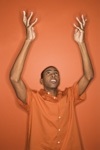 Where Is God When Evil Happens?
These powerful stories will help your group explore an important topic.
"People seeking after God have been confronted with the question for hundreds of years: If God is good, and God is powerful, then why is there so much evil in this world?
The modern term for this question is "the problem of evil." And it's an important issue for your group to discuss, explore, and find some answers. This video Bible study can help you do just that by examining real stories from people who have been confronted by evil—and who found God waiting."
Note: This video Bible study was created in partnership with Listen Up TV, a weekly television program exploring news and current affairs from a Christian worldview.
Session 1
When Obedience Brings Us Pain
Why does following God often lead us into difficult circumstances?
Session 2
The Persecuted Church
Why does God allow his followers to be attacked and abused?
Session 3
The Reality of Evil
How has evil become so prevalent in a world that God created and sustains?
Session 4
The Power of Forgiveness
Explore a powerful tool in the fight against evil.
Total number of pages—26
Where Is God When Evil Happens?
SmallGroups.com offers a diverse set of adaptable training tools for small group models that can be customized to a church's unique needs.
14-Day Free Trial
Get complete access free for 14 days.
Featured Training Tools:

Connect People into Small Groups
Theological Discussions for Everyone