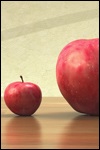 Why I Don't Imitate Christ
The Christian life is not a game of Simon says.
Single Session Bible Study
Overview
Christianity Today managing editor Mark Galli makes a startling statement: Christians shouldn't imitate Christ. In fact, "unseemly things happen when the culture gets a hankering to be like Jesus." Jesus was the perfect man, and we could ask for no better example. Still, there's a difference between following an example and foolishly attempting to copy the original.
Table of Contents
LEADER'S GUIDE
• Identify the Current Issue
• Discover the Eternal Principles
—Teaching point one: Jesus is eternal, but he lived on earth in a specific time and place.
—Teaching point two: No flawed human can perfectly imitate the perfect Christ.
• Apply Your Findings
HANDOUT FOR FURTHER STUDY
ARTICLE FROM CHRISTIANITY TODAY
• Why I Don't Imitate Christ, by Mark Galli (July 8, 2002, pp.58)
Total number of pages—
Why I Don't Imitate Christ