Despite vigorous Protestant protests, the Philippines this month became the third nation in the world to be officially consecrated to the Sacred Heart of Jesus.
President Ramon Magsaysay, in solemnly dedicating the Filipino people at the Second National Eucharistic Congress, prayed that Christ will "take under His strong and Self-giving protection … all government agencies whose cooperation is essential for the progress and prosperity of our republic."
(Spain and Ecuador, the only other nations consecrated to the Sacred Heart, have been the scenes of many official oppressive measures against Protestants.)
The late President Manuel Quezon had requested that all references to the President or Philippine government be eliminated from the program of the First Congress to keep from indicating an official participation of the government in the ceremonies.
Quezon wrote to the Archbishop of Manila:
"I hope I am a good practical Catholic. As such in my individual capacity there is nothing that I shall not be glad to do to give added solemnity to the celebration of the Eucharistic Congress. But as President of the Philippines I'm not in the position to do what your program calls for."
Evangelical church leaders, prior to the congress, protested without success against Catholic domination of political, social and religious life in the country as a violation of the Constitution.
The Rev. Jose A. Yap, executive secretary of the Philippine Federation of Christian Churches, in a statement at that time said, "It appears the President is yielding to the pressure of the Catholic hierarchy." Dr. Gumersindo Garcia, respected Protestant lay leader, expressed the fear that the trend toward union of church and state "will endanger democracy here."
Filipinos are more receptive today to the Gospel than at any period in the history of the Protestant Church, according to evangelicals.
(Earlier this year, Dr. Billy Graham addressed 40,000 at a night service in Manila and saw over 5,000 walk onto the track at Rizal Memorial Stadium to make decisions for Jesus Christ. This was the largest response seen on the evangelist's world tour. By comparison, when he addressed 120,000 at London's Wembley Stadium in 1954, there were 2,500 decisions. In Manila, Dr. Graham faced the only organized church opposition on the world tour. A Catholic spokesman urged the people not to attend to guard against getting "confused" in their faith.)
Freedom In Israel
Donn C. Odell, correspondent for CHRISTIANITY TODAY in Israel and graduate student at Hebrew University of Jerusalem, has been denied a visa renewal and will be forced to return to the United States immediately unless Israeli officials rescind their action.
The visa refusal, evidently caused by Odell's status as magazine correspondent and former association with the Conservative Baptist Foreign Mission Society, touched off the following reactions:
* Discrimination against Christian activity was strongly denied by the Israeli Embassy in Washington, D. C. Vice-Consul Baruch Barak said "Christian missionaries are given all possible help in Israel." He stated, emphatically, that visas were never denied because of missionary activity.
* The U. S. State Department said it was "looking into" Odell's case, and a number of similar situations.
* A Christian source in Jerusalem, who will not be named in view of possible deviations in the Israeli policy, said: "Irsael does not grant (new) visas for missionaries. If any Christian comes to Israel as a tourist or under any type of visa and is suspected of engaging in missionary work, his visa is revoked and he must leave the country."
The source continued:
"The Post Office maintains a file on every Christian in Israel who is suspected of missionary activity. Both incoming and outgoing mail is heavily censored and excerpts from correspondence which may indicate such activity are transcribed and placed in the individual's file. In some cases, the suspect person is followed by government agents to further confirm his activities. When his visa comes up for renewal, the contents of his file provide evidence against him."
In looking at mail censorship from Israel's point of view, however, he had this to say:
"This act is necessary and justified on at least two counts. The Arab states still consider themselves to be at war with Israel. There are Arabs living here who are suspected of passing military information to the Arab governments by means of mail to neutral countries. Thus, on the one hand, censorship is carried out to prevent Arab espionage. On the other hand, certain foreign missions in Israel are believed to be pro-Arab, even though they are attempting to work with Jews. Inasmuch as Christianity is looked upon as a religion which seeks the end of Judaism, all Christians, and especially missionaries, are watched very closely."
Donn Odell found Christ while he was in the Navy and later dedicated his life to missionary service. After graduating from Fuller Theological Seminary, he departed for Israel in 1955 with his wife, the former Ruth Kerr, and their three children. After working for some time, he resigned from the missionary organization on the field and enrolled for graduate work at the Hebrew University in order to learn more about the sociological problems of the people.
With the recent outbreak of war in the Middle East, Mrs. Odell and the children went to Naples, Italy, while Donn remained.
A well-qualified Christian observer in Israel pointed out the following:
"Jews have suffered during centuries of prejudice, hatred and slaughter under the Roman Church and Protestants and they have a pathological fear of the 'cross.'
"With this background, Israel is violently anti-missions. Those mission organizations which existed under the British Mandate are permitted to continue functioning, but under considerable restrictions.
"Unfortunately, the history of mission groups is stained with jealousy and frequent feuding over converts, doctrine and ecclesiology. This un-Christlike attitude has served to further negate an already-weakened witness.
"Christians have entered Israel with organizational banners flying—Baptists, Nazarenes, Pentecostals, Seventh Day Adventists, ad infinitum. All use the name Christian and all call themselves missionaries. But before they have time to define these terms to the Jews, they already have three strikes against them. To the Jews, these words and these people represent the hated instruments of their oppression.
"There are a number of fine Christians in Israel who are genuinely attempting to do a work for Christ, but the traditional mission approach has failed and there is little likelihood of its succeeding in the future.
"It is difficult to realize that there is any other alternative to Jewish evangelism than professional missionary activity. The Jews cannot be categorized with the pagans of Africa, India, or China. They, for the most part, take the missionaries in their midst at face value, without a long history of bloody slaughter at the hands of Christians. A missionary in Israel has no face value. He is an intruder, with no objective but to eliminate Judaism through any means of conversion available to him.… We can only realize that this condition exists and search for a new point of beginning in our relations to the Jews. It cannot be done by pouring more dollars into Jewish missions. To send money to a converted Jew in Israel is the quickest way of making him an outcast in his own society. He then becomes a paid foreign missionary and thus the worst kind of traitor. More often than not, he becomes spoiled through this easy money and leans more heavily on his monthly check than is either healthy or expedient … Nor would 10,000 new missionaries in Israel be the answer. Even if this were possible, their inability to present a united front would further confirm to the Jews the inadequacy of Christ.…
"The long-run work of evangelism in Israel must be done by young, intelligent Hebrew-Christians who are trained in a secular profession. They must love Israel and their brothers enough to … work there, raise and educate their children and prove their undivided loyalty to the people and nation. They should not represent any mission society, either Jewish or Gentile.
"Intheir own communities, as Jews and loyal Israelis, they should live a simple, loving witness for Christ. If they have no connection with foreign missions and do not propose a union with foreign Protestants, their witness will be heard as coming from Jews who believe that Jesus is truly their Messiah and who stand to gain no material benefits from their belief in Him. As one or two are added to the body of Christ, they can meet together for worship and Bible study. They need not organize a church in the American sense of the word, but can consider themselves to be a church.
"There are a number of 'secret believers' in Israel. They are isolated and stand pretty much alone. They need leadership, comfort and encouragement, but it must come from within their own group. The immigrant Hebrew-Christians could provide the necessary leadership, but they must be patient and willing to plan for the long run. Such action lacks glamour and demands great sacrifice.
"American Christians must realize that Jewish evangelism begins with love—not dollars."
Worth Quoting
"Intellectual development is rudderless at best and dangerous at worst when isolated from moral convictions and personal commitments that are religious in character."—Dr. Liston Pope, dean of Yale University Divinity School.
"What America needs more than railway extension, western irrigation, low tariff, a bigger cotton crop or a larger wheat crop, is a revival of religion. The kind that father and mother used to have. A religion that counted it good business to take time for family worship each morning right in the middle of wheat harvest. A religion that prompted them to quit work a half hour earlier on Wednesday so that the whole family could get ready to go to prayer meeting."—Wall Street Journal.
"Because they despise the Church, the Communists continually attempt to infiltrate unsuspecting religious organizations. What better cloak of legitimacy can be found for their programs than to present them as the offerings of clergymen and churches? The strategy of the Communists to get others to front for them and do their dirty work cannot be underestimated."—J. Edgar Hoover, chief of the U. S. FBI.
"A lot of people who travel 100 miles an hour and endanger the lives of others would be plain shocked if you told them they are just as bad morally as the man who steals money out of a safe."—Governor John F. Simms of New Mexico.
Interesting Face
America's top calendar artists agreed that Dr. Albert Schweitzer, noted medical missionary, has the "most interesting face in the world."
Runners-up were President Eisenhower, Arturo Toscannini, symphony conductor and Frank Lloyd Wright, architect. Marilyn Monroe, the film actress, was near the bottom of the list.
Deaths Hit College
The second faculty death in two years has brought mourning to the campus of Calvin College in Grand Rapids, Michigan.
Dr. Henry Zylstra, professor of English, died recently of a heart attack while serving abroad as visiting professor in literature at the Free University of Amsterdam. He was in his 40's.
Dr. Cecil DeBoer, 54, professor of philosophy, died suddenly last year.
Have something to add about this? See something we missed? Share your feedback here.
Our digital archives are a work in progress. Let us know if corrections need to be made.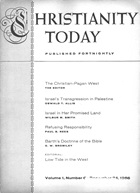 This article is from the December 24 1956 issue.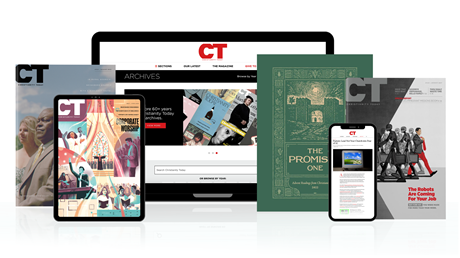 Subscribe to Christianity Today and get access to this article plus 65+ years of archives.
Home delivery of CT magazine
Complete access to articles on ChristianityToday.com
Over 120 years of magazine archives plus full access to all of CT's online archives
Subscribe Now
Protests Ignored in Consecration of Philippines
Protests Ignored in Consecration of Philippines