EASTER BUNNY THEOLOGY
"That ever popular personality—the Easter Bunny—again leads the Easter Parade … Added is the fact that he is truly an American Bunny—symbolizing the observance of another great American occasion. He suggests that you remember those you love—with Easter gifts—from Blank's."
This revealing bit of ad copy is classic Americana. The Easter Parade includes crowds of church-goers who for a single Sunday fill the pews with America's church-membership statistics in the flesh. The Easter Bunny has led them there. Church attendance on Easter is part of another great American occasion for those dressed in Easter gifts from Blank's.
The preacher may view the world's best-dressed multitude with exhilaration, compassion or even with suspicion. He can scarcely welcome the Easter Bunny so many have followed to church.
Unless, of course, the Easter Bunny shares the pulpit.
Strangely enough, he is often found in churches thronged with Easter Bunny paraders. Easter Bunny preaching regards the resurrection of the body of Jesus as a myth, as a religious symbol for grown-ups, just as the Easter bunny is a symbol for the kiddies. The preacher is delighted on this occasion simply to dwell on the "life-affirming" meaning of Easter.
Which reminds me of Bultmann and an irreverent parody:
"Hark the herald angels sing,
'Bultmann is the latest thing!'
At least they would if he had not
Demythologized the lot!"
For Easter we may more reverently parody the Apostle: "If Christ's resurrection be a myth, then is our preaching vain, and your faith is also vain.…"
EUTYCHUS
THE CHURCH AND RACE
In all of his elucidation (?) on the segregation issue, Mr. Ellis forgot that simple prayer taught by Jesus: "Thy will be done on earth as it is in heaven." Or is the "as" asinine?
ALBERT CRAMER
West Chicago, Ill.
To me Dr. Ellis's article boiled down to the hateful doctrine that men of one race are better than men of another.… Pressure for integration will lessen on the day that a white man is hanged in Mississippi for the rape of a Negro girl or a white man is sentenced to life imprisonment for the murder of a Negro man.
DUFF TUCKER
Mt. Sterling Presbyterian Church
Mt. Sterling, Ill.
An integrated society will surely come—just as man evolved out of the ape (and with the same inevitable surety). When it comes the pathetic white aristocracy—the frightened southern intellectuals—(and if it does not lend more support than has been forthcoming, the church)—when it comes those forces which have opposed it will be evacuated in the process as so much historical waste material.…
LYMAN R. HARTLEY JR.
First Presbyterian Church
Yonkers, N. Y.
I sincerely hope you will never again publish such a dishonest and sacrilegious article.… It should be answered by an honest and religious person, regardless of whether he is a segregationist or integrationist.
FLETCHER BENNETT
Trinity Methodist Church
Superior, Wis.
How anyone today can defend segregation in a church paper is more than I can understand.
G. BARRETT RICH III
Fourth Presbyterian Church
New York City
Basically he (Dr. Ellis) is trying to defend and save face for the southern system. However, the issue is not one of voluntary integration or segregation. A more fitting term would be domination.… The Negro is kept separate because the white man wants to dominate him.… Christian or not?
HAROLD C. HOSLER
First Baptist Church
Norborne, Missouri
Personally, I think you have allowed your very fine magazine to be exploited by someone who is teaching in a northern college but in his heart lingers still the way of life his native state has so long endeared.…
ROBERT C. THOMAS
C. M. E. Temple Church
Shreveport, La.
Mr. Ellis … ignores certain facts. One fact is that when society has tolerated an evil for a long time there comes the inevitable period of revulsion … during which the evil is either controlled or erased.… To deny either the necessity for these "revolutions" or to blind oneself to the reasons for them is unrealistic.
Another fact that is ignored is that the Negro people, under the system of segregation, have been given neither equal opportunities nor equal rights in either the South or the North.… Consequently I'll vote for integration and I'll try to live up to my creed.
A third fact … is this, that segregation exists in the North, too.… Let's just say that segregation of both the Southern and Northern variety have failed and that it is high time we realized this. Certainly the Kingdom of God cannot come if we refuse to make the correct appraisals of ourselves and of our systems.…
WILLIAM W. REILEY
The Methodist Church
Waterville, Ohio
The view expressed by Dr. Ellis … somewhat in the nature of a conclusion is one-sided. When he says New Testament Christianity implies that "the servant is no less a servant" … he is ignoring one of the finest declarations of the Christian ethic which the church possesses in the case of Onesimus … "not now … as servant, but above a servant, a brother beloved … both in the flesh and in the Lord." My comment has little to do with the current agitation of either the integrationist or the segregationist, which is principally focused in the educational and social fields, but it is pertinently concerned with our attitude as believers toward fellow believers in the sphere of Christian fellowship and communion.…
ERLINC C. OLSEN
New York City
It is an untrue implication that integrationists exist only in places remote from the scenes of racial mingling. I speak as a Southerner by birth, rearing and education. I have pastored churches for seven years in the South and am now minister of a church in a town with a considerable Negro element. I am an integrationist, and the woods of the South are full of us.… I am no theological liberal.… But any serious study of the New Testament … tells us that segregation and New Testament Christianity have no common affinity.… If the conservative emphasis of Christianity prevails, and if the New Testament is ever taken seriously by the Church, the social picture of the South as we know it today, is doomed.
WILLIAM S. SMYTHE JR.
Tabor City Presbyterian Church
Tabor City, N. C.
It is difficult to restrain my amazement.… With physiological sciences, the U. S. Constitution and especially the Word of God all supporting the Christian concept of integration, just what do you expect to accomplish by publishing such an article?.… I cannot help wondering if your editorial on "The Church and the Race Problem" in the same issue was not written to correct some negative impressions your readers would invariably receive from the Ellis article …
DONALD K. BLACKIE
Hope Community Church
Los Angeles, Calif.
Dr. Ellis does an excellent job … on some rather interesting aspects of the segregation issue, but he leaves much to be said and says much that isn't true.
ROBERT L. WENDT
Salem College
Winston-Salem, N. C.
While Dr. Ellis … makes many pertinent points … he has missed the chief issue involved, namely, that segregation in the South is by law with no freedom of choice given to the Negro who is the object of this discrimination.
Without drawing any distinction between such forced segregation and voluntary segregation, Dr. Ellis contends that segregation may be closer to the Christian pattern than integration. As an illustration …, he refers to a segregated housing unit in a community where race-relations were good. This is an excellent example of what voluntary segregation can accomplish but is far removed from the present situation in the South where no such freedom to choose exists. Consequently, such ideas have little meaning to either the Negro or White of the South.
It is quite probable that a large majority of the Negroes in both the North and South prefer voluntary segregation in many walks of life.… However, at present they are rebelling, and rightfully so, against being forced into this situation which is so humiliating and degrading to any human being.…
The excellent editorial of the same issue, "The Church and the Race Problem," brings out this distinction but without this distinction in his article, Dr. Ellis' contention that segregation can be a Christian pattern has no relevance to the present situation and seems decidedly foreign to the gospel of Jesus Christ.
E. T. CLARK JR.
Purcellville Baptist Church
Purcellville, Va.
I would like to commend the article Segregation and the Kingdom of God by Ellis. I feel he has properly stated the problem and has pointed out some fallacies in the usual approach.… I am getting weary of being classed as a second-class Christian because I am not willing to proclaim from the housetops that integration is the only religious way to solve the problem. I feel that unless some of the agitators on both sides show a little more of the spirit of love, we are in for a great deal of trouble.…
R. P. MARSHALL, Editor
North Carolina Christian Advocate
Greensboro, N. C.
As a Florida boy misplaced in the North and knowing the Negro, I cannot help but write a word of great praise for the article.… It really crystallizes my thought on the matter.…
RICHARD E. COLEMAN
First Evangelical U. B. Church
Flora, Ill.
Please allow me to commend … your editorial.… It is, on the whole, an excellent statement of the Christian position, with which I can disagree only in some minor respects.…
"Forced integration," you say, "is as contrary to Christian principles as is forced segregation." I would certainly agree that the use of compulsion to make anyone act against his will is contrary to Christian ethics. But here is a dilemma. In the status quo, such compulsion is heavily in force. Is not an equal or less-than-equal counter-force justified if it will rectify the situation? In the absence of more strictly Christian measures, allowing the issues to be decided in the secular realm by default, so to speak, this conclusion seems to me inescapable.… White people must decide whether theirs is a Church of Jesus Christ or merely a sanctimonious kind of exclusive social club, bearing the label "Christian church."
WILLIAM ROBERT MILLER
Nyack, N. Y.
Dr. Ellis's discussion of integration arising from a secular view of the Kingdom of God is excellent. His … distinction between segregation-in-practice and a segregation "equitably administered" will be missed by some people, but others of us appreciate it … Conscientious Christian people are being browbeaten by the crusaders who identify integration as "the Christian way." If a person is not for them they brand him an enemy, and sneer at his Christian profession.…
C. E. NOTSON
Nyack, N. Y.
I appreciate the editorial "The Church and the Race Problem" very much …
JESSE L. GANN
Wilsonville Baptist Church
Wilsonville, Ala.
CHRISTIANITY IN CHINA
The Anglican Church in China does not accept the Marxist philosophy, and she can criticize the government so long as she avoids treasonable disloyalty. She has remained loyal to her Catholic principles, and the Chinese bishops affirmed their adherence to the "Lambeth Quadrilateral" by sending to us in Australia four symbolical gifts which I catalogue in their Scriptural order: a beautifully hand-printed scroll of the Nicene Creed in Chinese, a photograph of the seventeen Chinese bishops, a supply of wafer breads for every Australian Diocese to use at the Holy Communion, a copy of the Chinese Bible.… To these four essentials [the Apostles' doctrine, the Apostolic ministry, the Sacraments, and the Bible] Christians of the Papal obedience have made one or more additions, while most Protestant grounds of Christians have subtracted one or more of them.
The Right Rev. C. E. B. MUSCHAMP
Bishop of Kalgoorlie
Bishopsbourne, Kalgoorlie,
Western Australia
• By way of comment on religious conditions in China, the opinion of our observers may be noted that, the situation is likely to remain indecisive until the government demands some simple act (such as incense and the shinto) which Christians may regard as a denial of Christ. Red China is striving to integrate its minorities into national life, and the Protestant church is viewed within this category. In the past, both evangelical and the more liberal missionaries denounced some evils of the old precommunist regime, and they cannot disown present-day corrections. The organized church appears to be independent of the government, in the sense that it is currently tolerated and ignored, and hence free compared to other societies, though not free as we count freedom. In contrast with the picture in eastern Europe, church leaders in China say from their pulpit and press that a person cannot be both a Christian and a Communist (the latter being defined as a member of the party in power, in contrast with the governed, or even with sympathizers). Christian workers who have been brainwashed have confessed to political faults; the government will not permit a religious issue. One source describes all who have confessed as "mental wrecks," pointing out that a breakdown occurs several months after release. That the Communists evoked confessions from imprisoned Christians by means of torture seems not to have adversely impressed the visiting Anglican delegation from Australia. Nor did the party see or hear any of the underground.—ED.
LITURGICAL RENAISSANCE
The article of your columnist Eutychus entitled "Liturgical Revival" in your issue for March 18, 1957 is a flagrant example of irresponsible journalism. It is difficult for me to see how a discriminating person could attempt a satirical column on a subject which he neither understands nor evidently cares to examine objectively. Not everyone will find something of value in the contemporary liturgical renaissance in Christendom; however, a responsible critic would endeavor to gain some first hand knowledge of the matter at hand and attempt to appreciate its purposes before leveling his criticism.
As I understand the liturgical revival in contemporary Protestantism, interest in the nature and conduct of worship have followed upon our reconsideration of the nature of the Church and its character as a worshipping community. The liturgical revival has emphasized that worship is an action of the whole congregation gathered together to glorify God and to praise his holy name. Each person present, minister as well as layman, has his own proper and essential work, his liturgy, to perform in this corporate action of Christ's Church. We are reminded that the Church may be defined in part as the congregation of faithful men in which the Word of God is preached and the sacraments ordained by Christ are administered. Those persons interested in the reform of worship are seeking to redress the balance which has been upset by our emphasis on preaching to the neglect, relatively speaking, of the sacraments, particularly Holy Communion. The church is defined by the word and the sacraments; our life in the church is impoverished if either of these two facets is slighted. This emphasis on word and sacrament is very good Protestant doctrine, as the writings of Luther, Calvin and Wesley will attest.
It seems to me that we honor God by worshipping him in the very best way we can—with honest architecture, tasteful and well performed music and the most fluent language which we can command. A dignified and orderly service in which the thoughts and emotions of the worshipping congregation are directed toward God entirely, without any distractions, is conducive to a joyful response to God. We do not come to church primarily to hear a great orator in the pulpit or to sing the songs we like to sing; we come to worship God. The appointments of a church, its arrangement and the kinds of things we do there depend in large measure upon the kind of God who has laid hold of us.
JOHN C. ENGLISH
Yale Divinity School
New Haven, Conn.
Doctrinal unity is a necessity to any true and lasting fellowship … But what are creeds or dogmas if they are not a real part of the life of the Church and expressed in the worship of the Church? Yet we find that worship, particularly liturgical worship, is belittled … This I cannot understand, for the liturgy is a true expression of what the Church believes to be true.…
The greater part of world wide Christianity worships liturgically. There is very little "free service" worship. The few church bodies and splinter groups that uphold the so-called "free service" are largely found in the United States. In reality … they have borrowed heavily from established church liturgy.…
RUSSEL WEBERG
Principal
First Luth. Elem. School
Compton, Calif.
Neither Rome nor the Middle Ages supplies the inspiration for the Liturgical Revival. It finds its inspiration in the earlier times … Rome allows too little participation for it to be truly liturgical.… Nor is the Liturgical Revival a movement for form without meaning but for meaning which is expressed by form … We do not believe that the real nature of worship is found until it is seen as an objective reality …
A. M. JONES
St. James A. M. E. Church
Goodman, Miss.
I will agree with the evangelicals that it is wrong to consider the tools of faith as ends in themselves. And it is a matter of internal church discipline on the part of the religious body involved, when its authorities discover a parson allowing his spiritual life to deteriorate to such an extent. However, God has given beauty to his world, and he has given power to men to make beautiful things … Why can't evangelicals appreciate this?… "Go ye therefore, and teach all nations, baptizing them …"
FRANK W. MARSHALL JR.
St. Mark's Episcopal
Newport, Vt.
CORRECTION
"… under the heading, "Claims Disputed," you refer to me as the Roman Catholic Archdeacon of Halifax, York. I am not … a Roman Catholic. I am an ordained minister of the Church of England and … vicar of the Parish of Halifax as well as Archdeacon of Halifax."
ERIC TREACY
• CHRISTIANITY TODAY regrets this error in identification.
AMERICAN THEOLOGY
In response to Mr. Wurth's hopes ("Theological Climate in America," Feb. 18) for a decline of liberalism in America: I am praying that Protestantism in Holland may have a resurgence of spiritual power, such as produced its greatest theologians, Hugo Grotius and Jacobus Arminius.
J. NOBLE ATKINS
Union Church (Christian, Methodist, Presbyterian)
Grandfalls, Tex.
The writer … speaks of "the so-called" social gospel and Rauschenbusch in a way that proves he has gone into the far country and left every bit of his objectivity at home. I first came in touch with Rauschenbusch in 1899 when I took up study in Rochester.… His social theology was deeply rooted in the grace of the Triune God and the redemptive need of man and human society. However, the other was: personal salvation and as a consequent obligation, social action. The Kingdom of God was the framework of and the end of any and all social action. But to him the Kingdom of God was a spiritual realm, not an earthly paradise.…
F. J. MONSCHKE
Alhambra, Calif.
LIBERALISM AS A MIRROR
Modernism was just one more expression of basic world evil—the motive of proud, assertive self-sufficiency—and … this motive can express itself quite as dangerously in the ideas of the philosopher as in the vices of the prodigal. World evil wears a hundred different masks; its motivation alone is constant.… There are two great motives continually confronting each other within history—the motive of humble, aspiring trust outside one's self in the grace of the infinite Other; the motive of proud, assertive self-sufficiency.… The moment the high motive is relaxed, the low motive will be expanded. This is the tragedy of the first half of the twentieth century; and only a great moral deepening of life and thought can save the second half.
HAROLD PAUL SLOAN
Browns Mills, N. J.
Dr. Rule's article … is very interesting. However, his assumption that "It would be ungenerous and presumptuous to deny the genuine Christian status of all of these liberals, yet their thinking certainly was seriously out of harmony with Christian truth" is a dangerous one. Can we so facilely separate what a man is and what he believes?.… I attended a seminary where many students and professors were liberals … They were often good men and great thinkers, but they are humanists and not Christians.
PAUL B. MCCARDEL
First Congregational Church
Woodhaven, New York
In his excellent analysis of the sources of "liberalism" Professor Rule's acceptance of apostolic Christianity is strangely lacking in apostolic execration of those who destroy men's faith.…
ELBERT D. RIDDICK
Church of the Good Shepherd
Portland, Ore.
A WORD IN SEASON
Ralston Smith's discerning tribute to Clarence Edward Macartney and Dr. Macartney's classic sermon, "Come Before Winter," reawakened my own memories of this preacher who was both great and good. Two months before he died I had occasion to thank him again for the encouragement he gave me through letters when I was a student at Houghton College and am grateful that events so conspired that I was motivated to write him "before Winter."
KENNETH L. WILSON
Managing Editor
Christian Herald
New York City
Many have come to know Dr. Clarence E. Macartney through his long life of outstanding speaking and writing, but it was my privilege to know him best as he neared the gates of death. The last year, and especially the last few months of his life, were filled with much pain and suffering. Many a martyr to the Christian faith has suffered less, but he stood stedfast unto the end. One of his last statements to close relatives was, "Tell them that the anchor still holds".… It is one thing to live well, it is another thing to die well.… Here was a man of great and strong character who finished his course with colors flying.…
FRANK H. LATHOM
College Hill Reformed Presbyterian Church
Beaver Falls, Pa.
A SORE THUMB
The quote from Harry Emerson Fosdick stuck out like a sore thumb. I could not help thinking that he would deny the substance of all the articles that the magazine contains … The cause of Christianity owes absolutely nothing to Fosdick. This is one thing in which I feel that the Lord would not be pleased.…
J. M.
Washington, D. C.
• The issue quoting from Dr. Fosdick's The Living of These Days contained a critical review of that book. But the concern for the individual in the throng was an emulable emphasis of Dr. Fosdick's ministry, and evangelical churchmen do well not to neglect it. The fine art of avoiding blanket condemnation is an almost vanished art today. The companion quotation alongside that from Dr. Fosdick, should have put the discerning reader on guard against considering the quotation itself as an endorsement of Dr. Fosdick's vapid theology.—ED.
GOSPEL ON RADIO
Congratulations on your editorial on "The Scramble for Radio-TV" … I am vitally interested in keeping the air free so the Churches of our Lord may purchase time …
MALLOY OWEN
Greenville, N. C.
Every religious broadcast dependent upon the free will gifts of the listening audience should be required by law to furnish, at regular intervals, a complete financial statement to every contributor.…
CARLTON L. MYERS
Riverside Baptist Church
Baltimore, Md.
OPPOSITION TO EVANGELISM
Your editorial … showed the ridiculous bias of your mind against the "separatists." The vitriolic language was wholly unnecessary.… I am one who still believes that God can get His gospel preached without the aid of liberals of any stripe. We do not do evil that good may come.
JOHN J. MCCALL
The Baptist Tabernacle
South Belmar, N. J.
I believe in evangelism whether it is carried on by Billy Graham or John Smith. We are a far cry from the enthusiasm displayed by the liquor and cigarette industries, in advertising our wares.
WESLEY A. MOORE
Edgecombe Junior Academy
Baltimore, Md.
I gasp and grasp at the learned dissertations in your wonderful new medium.… Wish it were all as simple as Billy Graham's preaching.
RUTH MURDOCK
Houston, Tex.
I defy anyone to prove that Jesus Christ accepted money and … close fellowship, and cooperation of the Pharisees and Sadducees … Jesus preached unsponsored. Jesus preached against these men, calling them by name!
W. C. MELOON
First Baptist Church
Harmony, Me.
Have something to add about this? See something we missed? Share your feedback here.
Our digital archives are a work in progress. Let us know if corrections need to be made.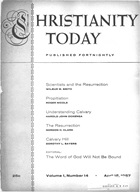 This article is from the April 15 1957 issue.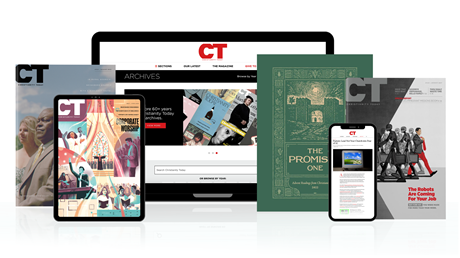 Subscribe to Christianity Today and get access to this article plus 65+ years of archives.
Home delivery of CT magazine
Complete access to articles on ChristianityToday.com
Over 120 years of magazine archives plus full access to all of CT's online archives
Subscribe Now
Eutychus and His Kin: April 15, 1957
Eutychus and His Kin: April 15, 1957