13 SHOPPING DAYS
Plunging into a parking space at the Grand Plaza shopping center, I brushed fenders with a faded sedan and recognized Pastor Peterson inside. He was waiting for his wife, and cleared the front seat of packages so that I could join him.
"Christmas shopping?"
He winced and suddenly thrust an envelope in my hand. In the growing dusk I read the penciled lines:
Hark, the tinsel fairies sing,
Santa Claus will come to bring
Lighted trees with presents piled,
Rocket ships for every child.
Gleeful all the space kids rise,
Join the sputniks in the skies
With the missile men exclaim,
'Christmas sure was getting tame!' "
It was my turn to wince. Pastor Peterson not only admitted to writing it, but insisted that he was about to prepare a "realistic" Christmas program, including a litany to Santa Claus, and with Jingle Bells for an offertory.
Why was he so bitter? It began when his children wanted to miss the Thanksgiving service to see Santa arrive at the Plaza in a space satellite. He was further depressed by the mixture of syrupy "White Christmas" music and syncopated carols blaring from the Plaza audio system. Then he had passed a bargain table crowded with plastic figurines: Santa Claus, Bambi, Flower, Rudolf, the Holy Family, and a few shepherds.
"What good will it do to put Christ back into Christmas?" he demanded. "That's precisely the trouble. Christ is buried in Christmas. The nativity is only a Christmas fable, the least interesting one, since it is Santa who pays off. We need to get Christ out of Christmas. We need Christ to save us from our Christmas Christianity!"
The parking lot speakers boomed,
"Veiled in flesh the Godhead see,
Hail the Incarnate Deity …"
Perhaps somewhere in the crowd someone heard the words, Pastor!
MOODY ORIGINALS
We are gathering and organizing historical material on D. L. Moody, especially in view of the coming 75th anniversary of Moody Bible Institute in 1961. If any of your readers have original letters, photographs, clippings, or similar material concerning Moody or the early days of the Institute … we are especially interested in … information on Moody's activities in the U. S. Christian Commission during the Civil War, and also in YMCA work during the Spanish-American War; photographs, admission tickets, etc., of Moody's campaign in the tabernacle at Monroe and Franklin Streets, Chicago, in 1876, and an illustration of the huge Forepaugh circus tent at Madison Street and the lake front during the Chicago World's Fair campaign of 1893; any definite information on voice recordings of Dr. R. A. Torrey and Dr. James M. Gray …
Moody Bible Institute
Chicago, Ill.
PROTESTANT PRECEDENT
The article on "What is Christian Separation" (Nov. 11 issue) argues that Paul's admonition to the Corinthians did not justify them, and presumably does not justify us, in being "come-outers."
If this is true without qualification, and the author does not add qualifications, then the Protestant Reformation was a mistake.
May we then expect the ecumenical movement to restore us to Rome?
Indianapolis, Ind.
Spurgeon and Morgan may have smoked but they did not smoke to the glory of God … Great men of God could become much greater if they were to separate themselves from the world … Conscience is not to be man's guide, but conviction should be based on the word of God.
First Baptist Church
Berwick, La.
David Cowie's article on Christian separation should be challenged by every Protestant. He argues that … "Paul nowhere urges the Christians of Corinth to be 'come-outers.' " While I do not prize the expression 'come-outer,' I do prize the Reformation. Cowie's argument would be an argument against leaving Rome, if pressed to its proper end.
A Christian should never leave a church until he has to. And when does he have to? When that church would compel him to sin … To tolerate and support the agents of Satan, in order to support the agents of Christ, is forbidden as doing evil that good may come.
The Orthodox Presbyterian Church
Garden Grove, Calif.
In 1910, at Nan Tungchow, China, I was a medical missionary, employed by the Foreign Christian Missionary Society, the missionary arm of Disciples of Christ. The mission employed a Chinese teacher for me, and he was an opium-smoker.
After I had admonished this teacher for several months to stop using opium, he told me he had quit. Experience with opium-smokers whom I had treated, to help them overcome the opium habit, caused me to fear this man was not telling the truth, which is the usual way out of a dilemma, for an opium addict.
So I asked this teacher how he quit so easily. His reply caused an investigation that resulted in my return to America, to invest my life. I was a graduate of two American medical colleges and did not know that tobacco is a narcotic!
Here is the reply of this Chinese to my question: "I did not find it so hard to stop using opium: I just began using your American tobacco."
Delta, Ala.
CHRIST'S COMINGS
Biblical interpretation has missed one of the most significant truths in the New Testament. It is that of Christ's reign, his comings, and his climactic coming.
Evidently Christ was already reigning when he announced: "All authority is given unto me in heaven, and in earth." I like to render that announcement, "above history, and within history." Christ, then, is already reigning unseen, above the changing episodes of history: and just as he disciplined Israel through the conquering power of Babylon, so he is disciplining the Christian world today, through the disturbing restless ambitions of a lying communism. But despite communism, Christ has all authority both above history and within history; and the release of the atom bomb was by his timing, and so also the other revolutionizing scientific inventions of our age. Christ has all authority; and he has released all these creative and threatening forces.
As such forces are released, the purpose of God within history necessarily makes advances. Jesus called these "comings"; and he said (Matt. 26:64) that his comings would be manifest in history continuously from that time forward. Our confusing English word "hereafter" has obscured his meaning, but the Greek is perfectly definite. He said (ap arti) "From now on ye shall see the Son of Man sitting on the right hand of power, and coming in the clouds of heaven." The parallel passage in Mark has no time clause, but in Luke it is equally vivid. He said (apo tou nun) "From the now shall the Son of Man sit on the right hand of the power of God" (Luke 22:69).
Evidently Jesus is using the vivid imaginative apocalyptic language, and, "sitting on the right hand of power, and coming in the clouds," refers to manifestations of his increasing influence within history. Jesus calls these manifestations, "comings," and he specified one "coming" that was very near at hand. It would take place within the then living generation (Matt. 10:23; 24:30–34). Neither of these statements refer to the Saviour's Climactic Coming, but to intermediate comings that mark off the progress of his Kingdom's increase within history. His Climactic Coming will be the crown of all his comings, and it will be as objective as his Ascension. New Testament interpretation, however, is confused when the Saviour's multiple comings are dropped out of emphasis, and his Climactic Coming is called his Second Coming, just as if these other "comings" were not equally real and equally essential to the unfolding of his purpose. It is interesting to study the successive crises of history from this point of view; and not since the Ascension has there been such a tremendous release of creative new forces into history as at the present time.
Browns Mills, N. J.
ACTION AND REACTION
The lack of consistency in content and point of view makes me agree with one correspondent, "anemic."
Calvary O. P. Church
Middletown, Pa.
I had hoped to find something great in your journal, but find instead a series of dull, wordy, self-satisfied sermonizings of schoolboy standard (but much too [sic] boring to hold the attention of any schoolboy I know). Is there NO American theology comparable with that of England, Scotland, or Germany?—and as readable?
St. Mary's Vicarage
Hawera, New Zealand
As a local preacher in the Methodist Church, I have found your magazine the finest thing that I have received in the nature of Christian publications.…
Chattanooga, Tenn.
Why not try to be as fair in evaluating the position of the "extreme fundamentalists" as you are in setting forth critical studies in other areas of Christian life in the world today?…
Bible Baptist Church
Russell, Kans.
… An intelligent, definitely high-class publication, and fills a place that no other periodical that I know does.… But I think a periodical that presented fully and impartially all the types of Christianity within my own Anglican Communion would come nearer to giving a picture of Christianity today.…
St. Paul's Episcopal Church
Salem, Ore.
The title CHRISTIANITY TODAY sounds modernistic.… something different from the Christianity of Jesus Christ Himself and His chosen apostles.… Having seen your paper, I take it to be just part of the trilogy "Yesterday, Today, Forever."
Lutheran Bible Institute
Kobe, Japan
So long as the journal continues as "good as it is" I wouldn't want it to be better. Best wishes.…
First Methodist Church
San Jose, Calif.
I am impressed by the thoughtful character of the articles and the way in which the contributors relate the Christian faith to the present day scene, and also the wide news coverage.…
Redhill, Surrey, England
I have read with deep appreciation the challenging and refreshing articles in your new publication. It is most rewarding to know that the leading evangelical thinkers in America today have fulfilled a need of long standing—to produce a periodical that is dedicated to the advancement of a sound spiritual Christianity in a highly materialistic age. Your attention to high standards of literary technique, intellectual achievement, and spiritual insight is commendable.
Zion Evang. U. B. Church
Reading, Pa.
Okay. You made a "sale." I have been receiving and enjoying your magazine all these months.… What I really wondered is whether you could and would keep up the real meat-dispensing articles.… Well, apparently you are going to do just that, and rather than miss a single issue, here's my order.…
First English Lutheran Church
Missoula, Mont.
Always a seeker after the truth, I am happy to commend you for the fairness of most of the articles.… Also, I like the keen analysis in the editorials.…
The Presbyterian Church
Seneca Castle, N. Y.
It is a great satisfaction to see at least one religious magazine stand foursquare regarding the divinity of Christ, without any apology or doubt.…
Thousand Islands Christian Service Camp
Sandy Pond, N. Y.
Your magazine will, I am sure, find a warm welcome in many a minister's study.
United Church of Canada
Orangeville, Ontario
It will be received warmly everywhere by all who love the unadulterated Word of God.… More power to your group in their high and holy endeavor …
Arlington, Calif.
You are rising above the petty grievances of many Fundamentalists and are free to tell the whole story of contemporary theology and social views.…
Evan. Free Church
Yuba City, Calif.
You are on the right track.… Keep going.
San Diego, Calif.
The most stimulating and useful tool I have yet found for my ministry.…
Presbyterian Church
Stewartsville, N. J.
Have something to add about this? See something we missed? Share your feedback here.
Our digital archives are a work in progress. Let us know if corrections need to be made.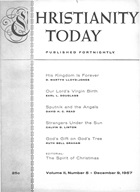 This article is from the December 9 1957 issue.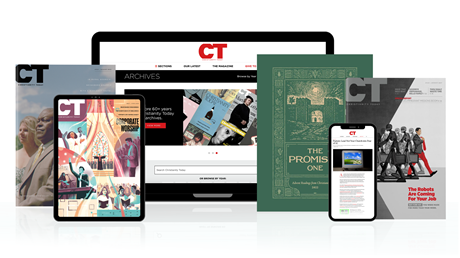 Annual & Monthly subscriptions available.
Print & Digital Issues of CT magazine
Complete access to every article on ChristianityToday.com
Unlimited access to 65+ years of CT's online archives
Member-only special issues
Subscribe
Eutychus and His Kin: December 9, 1957
Eutychus and His Kin: December 9, 1957