SACRED ELECTRONICS
Now that the Jesuits use electronic brains for research (Time, Dec. 31), it is time for harassed pastors to discover automation.
Pastor Brown is already a short circuit rider. In his saddlebag for calls on ailing widows is a tape recording of Sunday's service. His simple visitation technique is to bring a table, find an extension cord, plug in the machine, replace a fuse, splice the tape, then nap with a suitably benign expression while his best oratory thunders at the widow.
One or two ministers of visual education, with suitable staffs, can keep the largest pastorate wired for sound.
For real automation such simplification of the ministry is but the beginning. By prompt action you may still sell your library before the conservatives realize we are in the post-literary age. Soon gleaming silver-green machines will line your study wall. Their quiet hum indicates they are receiving information by direct wire from the regional office, Commission for Group Therapy, Worship Division. From this your sermon will be accurately assembled and recorded (in your own voice—somewhat improved).
Even before this penultimate stage immense benefits await you. Consider the efficiency of storing stock sermon illustrations on punched cards, to be automatically inserted on the tape where they apply! Think of the values of electronic committee meetings! Progressive pastors have already moderated meetings in absentia with a recorder wired to repeat the concluding statements of every speech in this setting: "In other words, you believe that … What reaction is there to this insight?"
A fully electronic committeee meets in the machine. Deacon Jones' chronic opposition to the pastor, Elder Harper's allergy to doctrinal questions—all such factors are filed on tape, including, in Elder Biffle's case, the pronounced views of Mrs. Biffle. Anything can be decided in 47 seconds. The trained clergyman can adjust the machine to jam and ring an alarm when fed the question, "Should the pastor be asked to resign?"
EUTYCHUS
INAUGURATION OF A RULER
The inauguration this month of Dwight D. Eisenhower … brings to mind the "inauguration" some three thousand years ago of Saul … anointed king of Israel in place of Samuel the deposed judge.
They are remarkably similar: (1) They rode to office on the crest of a political tidal wave that repudiated their traditional, conservative freedoms in favor of more "liberal," socialistic forms of government. (2) They were considered by contemporaries as "God's man" for their particular hour while embarking upon political philosophies contrary to the will of God.
Mr. Eisenhower's policies, like those of Saul, reflect the spiritual attitude of the people, for the national surrender of individual sovereignty to the state is always an outgrowth of the spiritual decline of the nation as a whole.
The Democratic Party began this trend in 1932 by taking the American people for a twenty-year sojourn through the political jungles of Saul. In 1952 Mr. Eisenhower was elected with the understanding by many people that he would return us to the type of government exemplified by Samuel and founded by the fathers of our nation. Instead, his administration so closely resembled that of his predecessors that we now have what has been called the "two-party, one-platform" system. Our endorsement of "modern" Republicanism is a repudiation of conservative Americanism.…
We are reminded of another "Inauguration" to come when the True Judge, of which Samuel was a type, will ascend his rightful throne.
EDW. W. ANDERSON
Seattle, Wash.
THE SPELL OF THE CROSS
Your leader on James Denney reminded me that I am probably the only person in these United States who was present at his inaugural address. But I left before he finished as he was beyond me, in deeper waters than a first year student at Glasgow University could follow.…
When I graduated from seminary "loaded with larnin'," as my Irish friend put it, and somewhat befogged, I was fortunate to get Denney's Studies in Theology (my copy is dated 1895, fifth edition), lectures delivered at Chicago Theological Seminary.
There I got my bearings in the New Testament and saw how God sealed my pardon with His blood, in a vicarious atonement for my sin. While under the spell of this discovery, I was lunching one Sunday with a prominent New York Avenue preacher to whom I mentioned Denney and commended his book. "Oh, he's too old fashioned for me," he replied; "the incarnation is the important thing in religion and theology." A year after that day the New York Times one Monday morning published an extract from my friend's sermon wherein he said that in several years he had never had a single conversion in his church. How could he expect converts if he lingered in Bethlehem? Men are attracted by preaching without the cross, but not redeemed.…
GEORGE MCPHERSON HUNTER
First Presbyterian Church
Mannington, W. Va.
RECOGNITION OF RED CHINA
Historical forces will eventually bring us to a recognition of Red China. It took us sixteen years to recognize Russia after the revolution in that country, though the Soviet Union had earlier been recognized by most other nations.
LOWELL MESSERSCHMIDT
Zion Church
Batavia, Wis.
How much I appreciated your editorial on "Red China and World Morality" (Dec. 10, 1956). I first went to China in 1946 as an Episcopal missionary teacher. I lived in Red China one and a half years before I was permitted to leave. I stayed behind by my own choice because I suspected that the United States government's hostility to communism led to dishonest reports of what communism really was. I lived and worked under an episcopal bishop who is now the chief Episcopal collaborator with the communists in China. I learned to my grief that criticisms of communism rather than being violently unfair are really repressed in an effort not to jeopardize the present status quo. I saw Christians in China driven insane by communist persecution; I saw peasants ruthlessly expended for the gain of the communist rulers; I saw missionaries unjustly sentenced and virtually forgotten by their sending agencies.
When I got back to the United States, I volunteered for the Korean War, for I was convinced that the sooner communism was checked, the less suffering there would be for all the world, including the communist parts of it. Since I had been ordained, I was accepted as a civilian employee, not a soldier and used for interpreting and translating Chinese. I spent two years in Japan and Korea.
And all the time, I was hurt and perplexed by the lack of support from the major American denominations. The Buck Hill Falls Foreign Missionary Conference (as I learned after my return from China) called for U.S. recognition of Red China—in spite of the way Red China disgracefully treated their own missionaries. "Peace at any price" partisans demanded American withdrawal. Thousands of Protestant church leaders dignified a foreign policy of expediency by calling it peace. I was deeply troubled with the theological shallowness and political irresponsibility that prompted community leaders to follow Neville Chamberlain's pathetic program to secure "peace in our time."
And in the midst of my despair and disgust with American church leadership, I found your editorial.… It has been literally water for the soul in a thirsty land. With prophetic clarity it enunciates the moral principles that are at stake and points toward a definite policy. Congratulations on the way you have perceived and fulfilled your moral responsibility. You have demonstrated more than I could have hoped that not all Protestant leaders ultimately worship secular expendiency.…
PAUL B. DENLINGER
Chinese and Russian Institute
University of Washington
Seattle, Wash.
MORALITY AFAR OFF
From a Christian viewpoint, the violent demonstrations of moral indignation taking place around the world, protesting Russian "enslavement" of Hungary, are highly significant. We rise to defend the moral law as binding on all men. Yet where there is personal involvement, such as our culture's flaunting of sex, the rising rates this year of crime, venereal disease and divorce, we are not so demonstrative. These we may on occasion attack but not the root of the matter in our own hearts. Here is our human culpability, our sin.
We had supposed that democracies would be ever-righteous until Britain and France demonstrated that involvement and expediency could excuse them for violating moral rectitude.
Believers, unbelievers and half-believers fought with almost superhuman tenacity in World War II, on the desperate assumption that Providence could not allow bestial tyranny to subdue the entire world. Yet, our personal righteousness, on the national average, has not noticeably improved.
We need a revival of personal righteousness and faith in Jesus Christ more than we know. With the United States standing in a sudden and unchallenged moral leadership, especially among the uncommitted nations of Africa and Asia—what a potentiality if a true revival should sweep our land! May God raise an army of intercessors!
WILLIAM E. LUMBERG
First Mission Covenant Church,
Chicago, Ill.
OUR SCHOOL SHORTAGE
The great need facing the American people today is the shortage of schools. In sundry places two sessions are held in the same building and the pressure is increasing.…
Now the schools are not only a concern to the civil government. Calvin recognized the teacher as a God-given officer. Indeed, in the early middle ages the bishop's cathedra was the only "college chair." Knox wanted a large portion of the assets of the medieval church used for educational purpose. Our Christian Reformed brethren today are saying that the schools are the primary responsibility of the parents for their children. In America the school, the church and the home have worked together for the nurture of the children.
On many occasions congregations have rented and used school facilities for Sunday worship and instruction. Conversely, the public schools are now renting classrooms on a temporary basis from different congregations. DeKalb County so used rooms of the Columbia Presbyterian Church a few years ago. Decatur is now renting rooms from the First Baptist Church, and Atlanta from the Trinity Presbyterian Church.
This article is a suggestion that these temporary arrangements be made more permanent. Many of our churches have large educational buildings, the full capacity of which is used only for the Church School hour on Sunday. During the week many of these classrooms could be used by the local schools without interfering with the work of the Church. The local school boards could afford to rent these rooms rather than raise the money to build more buildings by bonds at the present high rate of interest.
There need be no more sacrifice of the principle of separation of Church and State on a permanent than on a temporary basis. This is a case of the two institutions cooperating in a needy enterprise without either dominating the other. The fact that the Church is cooperating may be a reminder to the schools of the debt which society owes the Church for the preservation of the heritage of the ages and for her constant encouragement of education. While there should be no effort on the part of any Church to dominate the teaching done in these rented rooms, the meeting of classes under the shadow of the Church would be a silent reminder of Him Who is the Light of the World.
WILLIAM C. ROBINSON
Columbia Theological Seminary
Decatur, Ga.
MINE ONLY
… THE VIEWS EXPRESSED IN MY LETTER TO YOU PUBLISHED IN YOUR DEC. 24TH ISSUE ARE MINE ONLY AND NOT THOSE OF THE SENIOR MINISTER OR NECESSARILY THOSE OF THE SESSION OF THE CHURCH TO WHICH I SERVE AS ASSISTANT MINISTER. INASMUCH AS MY PREVIOUS COMMUNICATION WAS NOT WRITTEN WITH THE INTENTION OF IT BEING PUBLISHED, I WOULD LIKE TO EXPRESS MORE ACCURATELY MY THEOLOGICAL POSITION. I AFFIRM MY BELIEF IN THE DEITY OF JESUS CHRIST MY LORD, THE IMMORTALITY OF THE HUMAN SOUL AND ITS UNION AFTER THE DEATH OF THE PHYSICAL BODY WITH A NEW AND SPIRITUAL BODY, AND THE VICTORY OF JESUS CHRIST OVER SIN AND DEATH.
THOMAS J. KELSO
Westminster Presbyterian Church
Pittsburgh, Pa.
• The Rev. Mr. Kelso refers to correspondence asserting that he has "no truck" with "the Virgin Birth, the Bodily Resurrection, the … substitionary atonement of Jesus Christ." The Presbyterian Church U.S.A., he added, "does not require belief" in these doctrines ("if it did, a lot of us would be out on our ear …"). He also flouted the idea of conditioning church membership upon such profession of belief. There was no indication that the letter was not to be published.—ED.
Our digital archives are a work in progress. Let us know if corrections need to be made.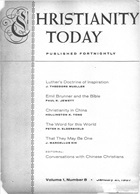 This article is from the January 21 1957 issue.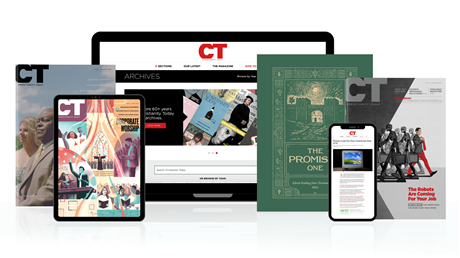 Find hope and historical insight. For a limited time, explore 60+ years of CT archives for free!
Daily devotions from Timothy Dalrymple during this pandemic.
Hundreds of theology and spiritual formation classics from Philip Yancey, Elisabeth Elliot, John Stott, and more.
Thought journalism that inspires you to think more deeply about your faith.
Join now and get print issues access to archive PDFs.
Eutychus and His Kin: January 21, 1957
Eutychus and His Kin: January 21, 1957