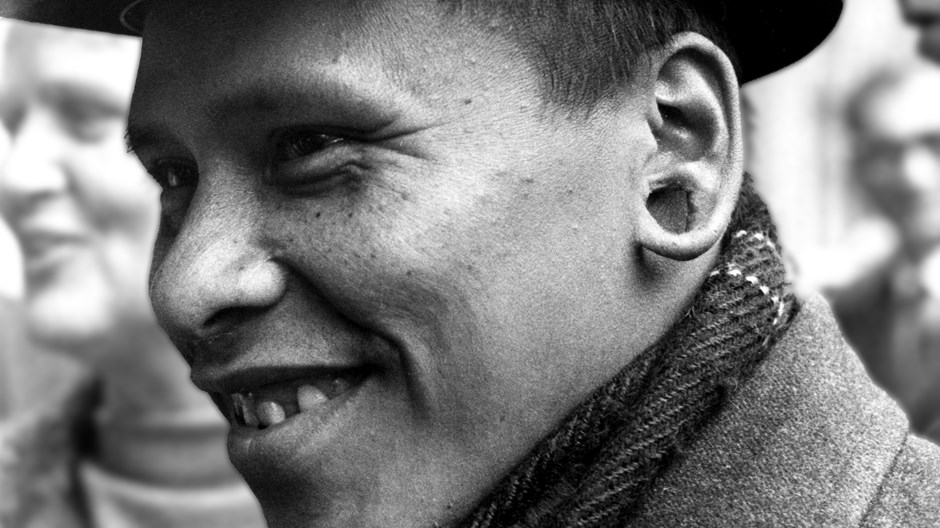 Image: Hulton Archive / Getty
On a beautiful Sunday afternoon a year ago, five young women were asking God for two things regarding their husbands: that they might be permitted to contact the Auca Indians again, and that they might be protected. As we sat in our jungle homes here in Ecuador, two in Arajuno, one in Shandia and two in Shell Mera, we little dreamed of the answer God was then giving. He answered both of those prayers, but, as is often the case with him whose thoughts are as far above ours as the heavens are high above the earth, his answer far transcended what we had in mind.
Silence on a Sand Strip
The second contact was given. Probably at about two-thirty in the afternoon at least ten Aucas arrived at the strip of sand where the men had set up their little camp. Having seen them some time earlier from the airplane, approaching the beach, the pilot had reported to his wife the anticipated contact. We can imagine the five, then, as the forest rang with their praises. They sang hymns together, committed themselves to the Lord once more and eagerly prepared for their longed for visitors. It was not long before savage yells, instead of hymns of praise, echoed through the forest, polished wooden spears slashed through the air and five young men lay dead on the Rio Curaray. Silence closed once more over the stand strip, and those beloved Indians returned nonchalantly to their thatched homes, to recount another killing to their waiting families.
The asked-for contact had been given. But what about the protection?
Protection from Disobedience
When the Lord Jesus prayed to His Father, as recorded in the seventeenth chapter of John, he asked, too, for protection for those whom the Father had given him. For what purpose? ". . . that they may be one, as we are." Protection from what? ". . . that thou shouldst keep them from the evil one." Each one of our five men, years before, had asked for the whole accomplishment of God's will in him at any cost, to the end that Christ be glorified. The Evil One is determined, however, that Christ shall not be glorified. But, in making them obedient men, God had answered the prayer of his Son, the prayer of the men themselves and the prayer of their wives. The adversary did not succeed in turning them aside from Gods highest purpose. They were protected from that most fearful of all dangers, disobedience. They loved God above all else. "Herein is the love of God, that ye keep his commandments."
The prayer of our hearts today, of the widows who remain, is the same, that Christ may be glorified.
Christ's Glory in Some Aucas
First of all, we continue asking for that which motivated the men from the beginning of the project—that Christ may be glorified in some Aucas. The contact God gave to the five was only one step in the opening of the fast-closed doors to that tribe.
Nor was it the first step. Others had thought and prayed for years about them, asking for an entrance, flying over the territory in search of their whereabouts, seeking a way to carry to them the Word of Life.
Some of the five men had long borne them before the Lord, asking for their salvation and committing themselves to God for them.
Now, thousands of Christians in all parts of the world have learned of them and are praying.
For us who have been most closely touched by the death of the five, there could be no greater joy than to know at last that the blood of our husbands has been the seed of the Auca church. Our hearts go out to the very ones whose strong brown arms sent flying the lances that killed our loved ones, for we know that they walk in darkness, knowing not even the name of Him who is more than life to us. And how shall they hear without a preacher?
So we ask for those whom God has prepared to be sent to the Aucas and only those. A well-meaning but misguided effort could ruin further opportunities to enter the tribe. But because God has done a tremendous thing in taking five of His choicest servants in this incipient stage, we are bold to expect tremendous answers to prayer in the future. We believe He will send the Light to the Aucas and have given ourselves anew for that, if He should care to choose any one of us to go. We were wholly at one with our husbands in their desire to reach the Aucas and had it been possible, would gladly have accompanied them. The last thing on earth we would have wanted would have been to hinder them in obeying the command of Christ, which was as clear to us as it was to them. He was directing; the only issue at stake was obedience. Jesus made the conditions of discipleship unequivocal—"Forsake . . . Deny . . . Follow." This is the price we are asked to pay.
Many speak of the five men as having made the "supreme sacrifice." We do not think of it in that way. They would not have called it that. One of them wrote in his diary years ago, "He is no fool who gives what he cannot keep to gain what he cannot lose." Jesus promised that whoever loses his life preserves it. Can we call this sacrifice? When we make a purchase, we pay the price, of course, but no one thinks of this as a sacrifice. How much less, then, when our lives, already paid for by Christ at tremendous sacrifice on his part, are offered to him? We lose nothing. We gain everything. Hence, we ask that God may choose those whom He wishes to carry the gospel to the Aucas, that they may be prepared by his Spirit, that they may not count their lives dear unto themselves, and that thereby the Aucas may be brought out of their bondage to know Jesus Christ, that he may be glorified in them.
Christ's Glory in Us
We ask, further, that Christ may be glorified in us. "For we know that the sufferings of this present time are not worthy to be compared with the glory which shall be revealed in us." Our hearts are filled with gratitude for the privilege He gave us in being the wives of men who were chosen to be slain for His sake. None of us is worthy. It is all of His grace, but we know that the Lamb is worthy, a thousand times, the lives of our husbands and of us. He chose to glorify himself in their death—may He now glorify Himself in our lives.
During those harrowing days when the rescue party was on its way to the beach, when we did not know what the next radio report would bring, we were conscious that whatever the outcome, God was determined to bring us to himself. He had promised, "When thou passest though the waters, I will be with thee; and through the rivers, they shall not overflow thee; when thou walkest through the fire, thou shalt not be burned, neither shall the flame kindle upon thee, for I am the Lord thy God. . . . Since thou wast precious in my sight, thou hast been honorable, and I have loved thee." How could we have proved the truth of that promise if there had been no waters? And what rivers could overflow but deep ones? And so, to show us that he meant what he said, to prove to us his love, this was what he sent, this thing which each of us had been sure she could never endure, the loss of the one who was as her own soul.
Purpose in the Stab of Pain
And how, then, can Christ be glorified in us through this experience? By our responding with thanksgiving to his dealings with us, by our declaration of our love to him in utter obedience, by our believing that his judgments are right, that he in faithfulness has afflicted us. We ask that we may go on in peace, as he has mercifully permitted us to do thus far. In talking together, we have often said that we did not want to miss one lesson which our loving Father would teach us by this thing. To us, the loss of our husbands is not a tragedy in itself—it is one more of our Father's right judgments. But it would indeed be a tragedy if, in our failure to respond to him with love, trust, and praise, we should miss what he intended for us through it. We ask that we may know him, and the power of his resurrection and the fellowship of his sufferings, being made conformable unto his death. If, through the loss of our husbands, we may cause Christ to rejoice, to see in us the travail of his soul and be satisfied, we shall never call it sacrifice. Each day, when little things remind us, with a new stab of pain, that our husbands are gone, we turn these things into prayer—"Lord, by this, too, glorify thyself. For this, too, I thank thee and trust thee, knowing that there shall be glory, as thou has promised, through this suffering."
Christ and the Little Ones
Not only do we ask that Christ be glorified in the Aucas and in us, but also in our children. Most of them will have no recollection of their fine fathers. But our Lord gave his word, "All thy children shall be taught of the Lord, and great shall be the peace of thy children." We ask for his wisdom in training them, for his Spirit in us, that they may be as obedient as their fathers. How wonderful it would be if he should prepare one or more of them to go to the Aucas! We would give them to him for his use, asking that they come to know him as Savior and Lord at an early age. Far be it from us to withhold from the Lord the lives of these little ones, children of the men who did not withhold their own lives. May they sing from true hearts,
Faith of our Fathers, Holy Faith,
We would be true to Thee till death.
Wherever the Spirit Speaks
Finally, we ask that Christ be glorified in the lives of those to whom the Spirit of God has spoken because of the death of the five men. We have received letters from all over the world, telling of the impact of the event on one and another. But we have heard of few who have actually done anything about it, who have been changed by it. We pray earnestly that those who have heard the voice of the Lord may be obedient. We pray that young men who have been attracted by the "opportunities to use their talents for the Lord in the United States" may abandon themselves, with their talents, to Christ, for his use wherever he wants them. We pray that if any young wife is hesitating to commit her husband and family to God, through fear of loss, she may believe the words of our Lord Jesus, "Truly I say to you, there is no man who hath forsaken . . . who will not receive." We have proved beyond any doubt that he means what he says—his grace is sufficient, nothing can separate us from the love of Christ. We pray that if any, anywhere, are fearing that the cost of discipleship is too great, that they may be given to glimpse that treasure in heaven promised to all who forsake.
And all our supplication is "with thanksgiving"— for his great love, for the high privilege of serving him with all of our hearts, for having given us as husbands men who were true soldiers of Jesus Christ, men to whom we could look up in every respect, men who set for us a great example of faith that acts on what it believes. We look forward with joy to that day when God will reveal to us his complete plan, knowing that we shall see clearly that every step of the way was ordained to the end that Christ might be glorified. Our husbands already walk with him, their joy complete. We, too, shall see him face to face, and be satisfied.
This hath He done, and shall we not adore Him?
This shall He do and can we still despair?
Come let us quickly fling ourselves before Him,
Cast at His feet the burden of our care,
Flash from our eyes the glow of our thanksgiving,
Glad and regretful, confident and calm,
Then through all life, and what is after living,
Thrill to the tireless music of a psalm,
Yea, through life, death, through sorrow and
through sinning,
He shall suffice me, for He hath sufficed:
Christ is the end, for Christ was the beginning,
Christ the beginning, for the end is Christ.
(From St. Paul, F. W. H. Myans)
Have something to add about this? See something we missed? Share your feedback here.
Our digital archives are a work in progress. Let us know if corrections need to be made.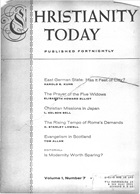 This article is from the January 7 1957 issue.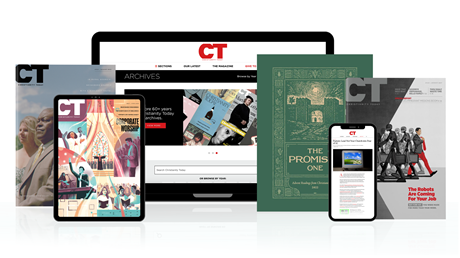 Annual & Monthly subscriptions available.
Print & Digital Issues of CT magazine
Complete access to every article on ChristianityToday.com
Unlimited access to 65+ years of CT's online archives
Member-only special issues
Subscribe
The Prayer of the Five Widows
The Prayer of the Five Widows