COMMUNICATION
After a recent title bout someone asked Sugar Ray Robinson how far the knockout punch had traveled. "I don't know," asnwered the recrowned middleweight, "but he got the message somewhere!" The crack is not so classic as the champion's left hook, but it has a future. It is made to order for all these talks about talking and should appear in a dozen commencement addresses.
Sugar Ray was only using the language of a communication-conscious age. Since our society is being reshaped by electronic means of communication, we cannot avoid the subject. With curious zeal, many people want to reduce everything to communication. Skeptics assure us that we have outgrown all talk about what is, and that we must be satisfied with the logical analysis of how we used to talk about it. T.V. surely demonstrates how much more we know about how than what to communicate!
The old liberalism believed that education would solve all problems. Today's liberal has the same naive faith in communication. Communicate in print, at the conference table or on the psychiatrist's couch, and conflicts will evaporate. The trouble is that the message, on delivery, is often a left hook to the chin!
Some preachers are far more ready to discuss communication than the Gospel to be communicated. The difference between heaven and hell becomes an exercise in semantics. By separating language from truth, men justify using expressions they no longer believe and at the same time deny that God can reveal his truth in human language.
Those who believe that God's Word is truth need a new grip on "communication"—and revelation. But they must avoid the method of the wise man of Gotham, who decided he needed a better grip while hanging from a tree branch over the sea, and therefore let go to spit on his hands.
EUTYCHUS
SPIRIT OF FOREIGN POLICY
It seems to me that you have unnecessarily confused things in this time when there ought to be support of our President in what he is seeking to do for the peace of the world.… The President's policy should be judged wholly on the basis of whether it is calculated to head off Communism and the communistic countries from making more trouble.…
EARLE V. PIERCE
Minneapolis, Minn.
I am enjoying … CHRISTIANITY TODAY and want especially to express appreciation for the editorial "The Spirit of Foreign Policy." … I feel this is one of the most constructive and timely presentations I have come upon in a long time.
PAUL S. JAMES
The Baptist Tabernacle
Atlanta, Ga.
Congratulations on whoever wrote the editorial "The Spirit of Foreign Policy" …
JEROME DAVIS
West Haven, Conn.
Permit me to congratulate you on your splendid editorial "The Spirit of Foreign Policy" (April 29).… You certainly have hit the nail on the head.…
S. H. HALAJIAN
Los Angeles, Calif.
REFLECTIONS ON MARTYRDOM
In reply to "The Prayer of the Five Widows," I was much disturbed.… To say that "… because God has done a tremendous thing in taking five of His choicest servants in this incipient stage, we are bold to expect tremendous answers to prayer in the future," is to call God a murderer. God never desires that lives which are dedicated to him be taken in death.… Unnatural death is never in God's plan but because of some sin of man.… It is not God's will that the men lost their lives.… I would say to these wives, march on in silence and God will use and reward you.
E. V. HARGREAVES
Shasta Valley Methodist Parish
Mantague, Calif.
The martyrdom of five splendid men by the Auca Indians might … stir our thinking along these lines:
Arriving by plane, setting up tents and dressed as they were, these men appeared to be as much apostles of our culture and civilization as bearers of the Gospel.
Missionary work in Asia and Africa is today suffering greatly from this very thing.… Christ came down to our level and met us under our conditions. Is it not possible he would have both ministers and missionaries examine the instructions given to the twelve and the seventy before their tours (Lk. 9:3 ff. and 10:2 ff.)? These instructions made them live at the level and within the cultural limitations of the people to whom they were sent.
A. A. TUFFIN
St. Mary's
Hayes, Kent, England
GIVING WAY TO ROME
Please, please … will you not misuse the term Catholic Church so consistently? So many people follow in using the term as pertaining to that branch of the Church which is properly termed The Roman Catholic Church. The practise of using the name Catholic as an exclusive right for those of the Roman fold is erroneously broadcast by that denomination and all the Protestants seem only too willing to give way to Rome in this regard except in some few cases. As a member of the Anglican Church of Canada I must point out that while we are a Protestant Body, and I can assure you probably the first Protestant Body (vide John Wycliffe 1320–1384), we are assuredly a Holy Catholic Church.…
CUTHBERT THOMAS
All Saints'
Cannington, Ontario
CHRISTIANITY IN CHINA
We have read with considerable interest the long editorial treatment on "Conversations with Chinese Christians" (Jan. 21 issue).… All of us can agree heartily in its comment on the inseparable bonds that exist among all Christians and the natural desire for fellowship with them across all barriers.
Reference is made in your editorial to agitation by "leading churchmen" for a delegation to visit Communist China.… We do not know of any general "agitation" or demand for such a visit by American churchmen. In fact, Dr. Mackay is the only leading American churchman we are aware of who has called for such an exchange of visits at this time.… It has been the opinion in the China Committee of the Division of Foreign Missions that for various reasons, the missionary forces do not feel that the American churches should propose such a visit at this time.
We are even more concerned, however, with the … position … that "liberal" churchmen in China have collaborated with the Communist government, and "evangelicals" have resisted government pressures and have subsequently suffered severe persecution.… A substantial portion of the Chinese church leaders who have been imprisoned are those who would be regarded as "liberals," while a number of church leaders who are freely carrying on their work and who are intimately associated with the Three-Self Movement are well known fundamentalists.
We do not believe it is accurate to say, "the majority of evangelicals were reluctant to join up," and "many of their churches have since been occupied or closed by the government." Many Chinese churches were closed. So far as we know, not a single Protestant church in any of the cities has been closed. The churches that were closed were in the rural areas, where the bulk of church membership was conservative, usually during the period of land reform.… There is also incontrovertible evidence that a very large number of these churches have since been permitted to re-open.…
All of us have the deepest sympathy with Chinese Christians who have suffered for their convictions. We believe that their suffering has come about not because of their theological position as conservatives or liberals but because of unwillingness to yield or compromise their basic Christian convictions. It is untrue and unfair to take the categorical position, or to suggest, that "evangelicals" have by and large opposed the Communist government and have been persecuted and "liberals" have for the most part conformed and are in complete control of the church today.
Many of us who tried to work under Communism in China and who have vividly seen the pervasive influence and almost irresistible pressures of a totalitarian state, feel that it is not our place as American Christians to sit in judgment on Chinese Christians but rather to continue earnestly to pray, having in mind our own shortcomings, that God's Holy Spirit may lead us and them into his perfect truth.
CLAUDE L. PERKINS, JR.
WALLACE C. MERWIN
China Comm.
Far Eastern Off.
Division of Foreign Missions
National Council of Churches
We have noted with interest the continued correspondence and articles regarding the Three-Self Movement church in China, and feel that one or two points should be re-emphasized.
First, some have the idea that we evangelicals have said that only the so-called liberal Protestants in China have cooperated with the Three-Self Movement church. We admit with deep regret that many of our strong evangelical leaders eventually aligned themselves with the Three-Self Movement church. It was said and emphasized in the original comment on this whole picture that at the start, when the Communists took over China, it was exclusively liberal churchmen who formed the Three-Self Movement church and then cooperated with the Communist government in putting pressure on church leaders all over China with the result that a number of strong evangelicals lined up with the Three-Self Movement church.
Whereas this is true, we are reliably informed that a majority of our evangelical leaders and churches, both rural and in the cities, have refused to cooperate with the Three-Self Movement church. Reports given us from inside China indicate that most of the persecution that has overtaken our Protestant pastors in China who have been conformed with the Three-Self Movement Church, has been instigated by that church. Although the reason given for the persecution has not been a religious reason, but rather a political offense of noncooperation with the State, the actual instigation was religious in most cases and not political.
There are two facts that I think we should point out. Without a doubt the Three-Self Movement Church represents formal Christianity today in China. The evangelicals on the other hand together with all those who have remained true to the faith, are members of the informal church which bases its entire faith and organization on their personal relationship with the Lord Jesus Christ.
The second thing is, that as far as we can see, the Three-Self Movement Church is but an extension of the Communist government which allows it a certain amount of freedom and probably will as long as it serves the general purposes of the government. We are convinced that it is being used as a political tool in the hands of a Communist regime which will exterminate it when its usefulness ceases.
CLYDE W. TAYLOR
Executive Secretary
Evangelical Foreign Mission Assn.
Washington, D.C.
BOOKS FOR SEMINARIES
If any seminary or Bible training school at home or abroad wishes to secure new copies of books I have written, the librarian should write me a letter, listing the titles of Blackwood hooks now on the library shelves. There are no strings attached. The books go out free, with postage paid. They are for use in the seminary library, not for the study of any individual.
ANDREW W. BLACKWOOD
Garden Court Apartments
Philadelphia 43, Pa.
Have something to add about this? See something we missed? Share your feedback here.
Our digital archives are a work in progress. Let us know if corrections need to be made.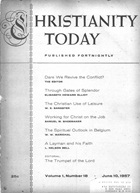 This article is from the June 10 1957 issue.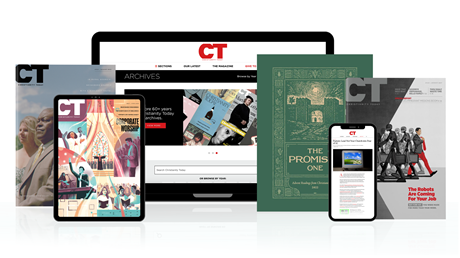 Annual & Monthly subscriptions available.
Print & Digital Issues of CT magazine
Complete access to every article on ChristianityToday.com
Unlimited access to 65+ years of CT's online archives
Member-only special issues
Subscribe
Eutychus and His Kin: June 10, 1957
Eutychus and His Kin: June 10, 1957