Our modern world is truly one world. It is indivisible. More than anything else the missionary enterprise has driven home that fact. But our world is also a sadly divided world. Yet, what happens in the U.S.A. or Western Europe has its impact on folk everywhere. How strong are our spiritual defenses?
Mother's Day is behind us. What of the American home? Kermit Eby, eminent social scientist, is alarmed about certain trends in our American economy that are a continuing threat to the home (Christian Living, April 1957). He writes on "Pressures on the Family." What are they? He lists the following: 21½ million women working in shop and office, desertions of families by fathers rapidly increasing, mass-purchasing power financed by credit and debt, the blessing or bane of installment buying, loan companies charging from 6 to 14%—and the consequent strains on millions of families in America. Eby is convinced that the price we pay for our comforts is all too high. "We have produced an economy in which major satisfactions demand the extra earnings of the wife; as a consequence the American home is being radically changed—children are 'farmed out' or allowed to roam the streets." But the pressures to keep up with the Jones' continue. "The pressures are blatant and constant; and few of us there are who can resist; we believe our happiness to be intimately bound up with what we have or want." Presently, Americans owe 28 billion dollars for luxury necessities.
Has the Church anything to say concerning usury, the use of leisure, the submarginal groups among our people caught in this economic squeeze and rampant materialism? Watchman, what of the night?
Walter Schlichting's "Christians, Luxury and Sacrifice" (Moody Monthly, March 1957) tells of the amusement that two American business men visiting Korea experienced when they saw a young farmer pulling a plow guided by his father. A missionary told them that they had sold their only ox and given the money to their church for a new building. "What a stupendous sacrifice!" exclaimed the American visitors. "They did not feel that way at all … They counted it a great joy that they had an ox to give to the Lord's work," answered the veteran missionary.
The same author tells of a returning missionary and his impressions of significant changes among Christians in America. The answer? "Yes—an increasing spiritual coldness." And then: "The Christians are too engrossed in getting things and gadgets.… In the scramble they have lost touch with God."
This writer has been alarmed about the tremendous turnover in missionary personnel. He knows of five missionary couples who have returned after one term on the field and the cost at the most charitable reckoning must have amounted to at least $10–12,000. The cost of church-ecclesiastical committees are rising every day. One even hears that missionaries on the field must spend much of their time as tourist guides to "prominent" laymen and pastors encircling the globe. What of our stewardship at home and abroad?
G. Pitt Beers, writing on "Home Missions After 125 Years" (Missions, May 1957) surveys the extensive and sacrificial work of American Baptists since 1832. When the ABHS was established in that year, our population was 12,858,670. New York City had 202,589 people, including 17 slaves. Today America numbers more than 165,000,000 people. Dr. Beers passionately argues for greater efforts to win America's unchurched millions to the Lord Jesus Christ. "Though more people are in our churches than ever before, there are also more unchurched people than ever before. There are more unchurched communities of larger populations. There are more people in deteriorated city areas, largely untouched by the evangel. The needs of the people call from every side.… It is, indeed, a time for the Christian forces to go forward."
"Evaluating Our Religious Revival" by Dr. Edward L. R. Elson in The Journal of Religious Thought, (Autumn-Winter 1956–57) is a sobering word against too hasty evaluations. We have by now heard Reinhold Niebuhr, Edward Carnell, Homrighausen and even Paul Tillich on the matter. Elson warns against cynics and snobs who prematurely decry or denounce the current religious revival. He defends both Billy Graham and Norman Vincent Peale, although he by no means is in full agreement with either. Both have been in the writer's pulpit. Elson is aware of the pitfalls of revivalism, but he rightly points out that "the methods which one religious leader rejects may be effective through another religious leader." Presbyterians in the Great Awakening (1734–58) became sorely divided into Old Sides and New Sides, yet God was in that mighty movement of grace. Elson searchingly asks:
Can it be that the lamentation of some critics is so boisterous because the real awakening does not emerge from their particular theological school, their academic cult, or their personally approved techniques and methods?
Let us beware, he warns, lest we mistake biliousness for prophetic insight. Theology is important, Elson admits, and as a Presbyterian pastor he is grateful both for the vigorous evangelism and the resurgence of vital theology of our day. However, the critics of revival need to be reminded "that men are not saved by theology. Men are saved by the grace of God. The Gospel is simply the good news that in Christ God acted on behalf of man for his redemption. The gap between the theologian at the summit and the newly initiated may be very great; but a Christian must begin somewhere, and it ought to be sufficient for him to begin where the earliest Christian began, with the confession Jesus is Lord." The concluding word of Elson's address sums up the burden of his heart:
Let us not miss the wonder and the glory of our age just because we are too close to its impact, too complacent with its stirrings, or too cautious to comprehend its meaning.
Dr. Elson's convictions were addressed to the 39th annual convocation of the School of Religion at Harvard University.
Another word of warning comes from the ever judicious missionary statesman, Professor Kenneth Scott Latourette. In an article "Rethinking Missions After 25 Years" (International Review of Missions, April 1957), he warns the leaders of ecumenical-minded missions against overlooking the rapid growth in Asia, Africa and Latin America of groups and denominations who do not cooperate with the ecumenical movement. "Indeed, the non-cooperating bodies are more and more the growing geographical edge of Protestantism" (p. 168). Their prominence, Latourette says, "should compel those churches who join in the ecumenical movement to re-appraise their methods and message in more drastic fashion than did even the Inquiry." Protestantism must ever be self-critical in the light of God's revealed truth and changing conditions.
Have something to add about this? See something we missed? Share your feedback here.
Our digital archives are a work in progress. Let us know if corrections need to be made.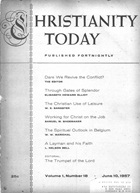 This article is from the June 10 1957 issue.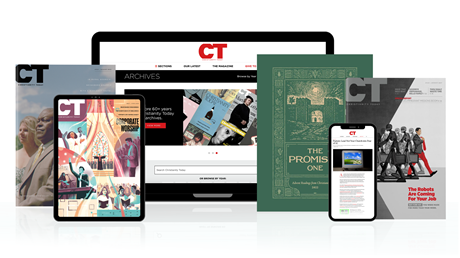 Subscribe to Christianity Today and get access to this article plus 65+ years of archives.
Home delivery of CT magazine
Complete access to articles on ChristianityToday.com
Over 120 years of magazine archives plus full access to all of CT's online archives
Subscribe Now
Review of Current Religious Thought: June 10, 1957
Review of Current Religious Thought: June 10, 1957