The most up-to-date book in all the world is the Bible. It goes beyond scientific speculation to God, the Creator of the universe; it unfolds the revelation of man's need and God's provision for that need; it is man's only infallible guide for both faith and living; and it gives an unerring glimpse into the future, into eternity itself.
But how much do you know about the Bible? Have you assigned it to a place of major importance in your life? Do you appreciate the fact that the Bible contains solutions for your multiplied daily problems? Have you met and surrendered to the Christ revealed to us in the Bible?
There are many things that we learn by experience or observation. Others we discover by experimentation, reason and deduction. But, beyond these, there are truths in the spiritual realm that man could never discover for himself. They must be revealed by God, and this he does in the Bible.
To illustrate: We pick up our morning newspaper and read of murder, theft, rape, disputes and litigations. We read of the results of pride and envy and greed in the hearts of people. And we know there is something seriously wrong.
The Bible tells us what this is; that it is a disease of the soul with which all men are born, and calls it sin. But the Bible does more than this; it declares that the wages of sin is death, that sin separates man from his God both now and for eternity. Best of all, the Bible reveals what God has done to free us from the power and penalty of sin—it tells of his Son, Jesus Christ, our Savior.
Without the revelation of spiritual truth, found in the Scriptures, man has a warped perspective. He values "things" more than truth and looks at this world in terms of the present rather than in the light of eternity.
Man needs to know that he is a transient in a transient world and that human wisdom is relative while divine truth is absolute.
Through the Bible we learn to see time in the light of eternity and material things in the light of spiritual values. Here we learn of the way to eternal life.
All of us are aware of the unending conflicts in the world, the pressures for and against right and the ebb and flow of opinions on every hand. Little wonder that life is filled with frustrations and complexes, for a life without Christ is a life without lasting meaning.
In the Bible we learn of Christ, the eternal Son of God, who wishes to become the center of our faith and worship and the companion of our daily lives. In the Scriptures we are given basic principles relevant for every generation and applicable to every contingency of life. While written nearly three thousand years ago, the book of Proverbs is a relevant treatise on personal living and, if heeded, the greatest deterrent to juvenile delinquency to be found in print.
In every generation the Bible has had its detractors. The old phrase "Yea, hath God said?" is always current. But the Bible remains and its truth continues to be the foundation of knowledge and its teachings as impregnable as Gibraltar before a pea-shooter powered by a rubber band.
The unanswerable fact is that the Bible works. Let anyone accept it at face value, letting it speak for itself, trying by God's grace to follow its teachings and live its truths and promises he will discover that the Bible works.
Let the Bible give its own estimate of its message; let it tell of its origin in the revelation of God to man; let it become a part of one's thinking and way of life. Then its complete reliability and basic authority will be found to be unanswerable.
Sit down and read the Bible and soon we find it speaking to our hearts as no other book can ever do. It pierces between the cracks and seeps into the pores of life. We see ourselves, not as we would like to think we are, or as we portray ourselves to be before others, but as God sees us. The Holy Spirit, speaking through its pages, shines the white light of divine conviction into our hearts and minds and we stand naked before the one to whom all men must answer.
This supernatural power in the written word brings a consciousness of sin, a conviction of sin and a repentance for sin. This same divine power leads us to God's answer to the sin question—his only Son.
The Apostle Paul warns the Christian that his life is a daily battle and that the enemy is Satan with all his wiles. He then goes on to tell us the necessity of wearing the God-given armor, taking in one hand the shield of faith and in the other the "Sword of the Spirit, which is the word of God."
When our Lord was tempted in the wilderness he gave us a perfect example of its use as a sword. Three thrusts, three relevant quotations from the Scriptures, and Satan left him.
Little wonder that the Devil hates the Bible. Little wonder that he has sought to destroy its influence. Little wonder that he interposes every possible excuse to keep us from reading it and making it a part of our lives. Satan does not fear holy water, nor secular knowledge that may banish many of the material and physical ills of man. Rather he dreads the Bible because he cannot stand against its power.
For those who question how God could give a revelation of divine truth through human channels, it is satisfying to let the Bible speak for itself. There we find that God prepared men through background, training and experience; then the Holy Spirit led them to speak and write according to his will, not as stenographers but as responsible agents moved by the Spirit.
The Apostle Peter wrote: "Knowing this first, that no prophecy of the scripture is of any private interpretation. For the prophecy came not of old time by the will of man: but Holy men of God spoke as they were moved by the Holy Ghost."
Our Lord, after his resurrection, said to his questioning disciples: "O fools, and slow of heart to believe all that the prophets have spoken." And later: "These are the words which I spake unto you, while I was yet with you, that all things must be fulfilled, which were written in the law of Moses, and in the prophets, and in the psalms, concerning me."
A study of Christ's references to the Old Testament scriptures reveals his implicit trust in their reliability and authority and gives us full confidence as we read them for ourselves.
We do not worship the Bible. It is the Book which tells of God and we worship him. But we must study the Bible, make it a part of our daily lives, make it our unswerving rule of faith and practice.
We need to study the Bible. Books about the Bible have their place but the Bible must come first and it must be permitted to speak for itself.
In all of this we should pray for the guidance and teaching of the Holy Spirit. The same Spirit who spoke to those who wrote the Book will speak to the hearts of those who read it if they will but heed.
Set aside those first minutes of each new day to pray to God and let him speak to us through his word.
Have something to add about this? See something we missed? Share your feedback here.
Our digital archives are a work in progress. Let us know if corrections need to be made.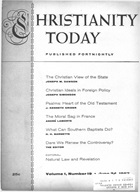 This article is from the June 24 1957 issue.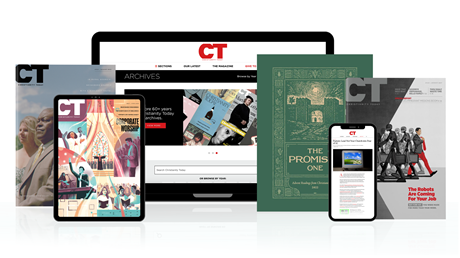 Subscribe to Christianity Today and get access to this article plus 65+ years of archives.
Home delivery of CT magazine
Complete access to articles on ChristianityToday.com
Over 120 years of magazine archives plus full access to all of CT's online archives
Subscribe Now
The Bible
The Bible