Here you have words that have soul in them and that lift up the soul. Words that have music in them and that set one's spirit soaring. Words that have tears in them and that talk it out with you when you have dark days.
The thoughts in the Psalms are as warm as sunshine, as human as a baby, as personal as the next door neighbor's greeting. They are living experience written out with incandescent words. Men sensitive to God's marvelous works are stirred to their depths so that they think high thoughts about holiness and low thoughts about sin.
With the whole heart men poor in spirit here enter into Yahweh's secret place and lose themselves in wondering adoration. They adore him as one many-sided in mercy, right ready to help all who pass through deep waters.
Not the shallow, fat-witted optimism that looks at troubles and laughs them off. Not that, here. Here you have candid camera shots. You see man as he is: sometimes in his midnights and sometimes in his noondays. And in his midnights you see him with his deep disturbed—really disturbed. Disturbed to the core, so that he hurts—out loud. Not with forced smiles does he look up, but with tears and sobs and anguish. He crys out to Yahweh. Crys out with wailing. And the Lord hears and delivers: hears and succors him; hears and shepherds him; hears and sets him singing—singing out of real victory and not out of a conjured up mental attitude that knows deep down it is not actually so.
A hymnbook sure enough. Lyrics and harmonies, rhythm of ideas and feeling—here you have them all. David, the Sons of Asaph, the Sons of Korah, and others—but mostly David—wing their way into the heavens here.
They Help The Persecuted
The Psalms were used in temple worship long ago. But they were soon loosed and given to the whole wide world.
At the Last Supper, just before the rendezvous with Judas, Jesus received strength for the gathering storm by the singing of a Psalm with the eleven.
These Hebrew songs that open the soul up on its Godward side helped Paul and Silas, jailed securely in Philippi. At midnight they broke out with psalms and God broke in with release.
The early Christians, dauntless in persecutions, hid the Psalms away in their hearts. Those who wrote the New Testament quoted them frequently. Of the 287 quotations from the Old Testament in the New, 116 are from the Psalter.
Martyrs through the centuries have been bolstered by the Psalms during their last moments. In the early days young and old faced lions in Roman arenas singing: "I will bless the Lord at all times; his praise shall continually be in my mouth" (Ps. 34:1).
John Huss, a Protestant before there were any, was condemned to death in 1415 by the Council of Constance. He walked to the stake reciting Psalm 31, a part of which reads: "For thou art my rock and my fortress; therefore for thy name's sake lead me, and guide me.… Into thine hand I commit my spirit: thou hast redeemed me, O Lord God of truth" (vv. 3, 5).
And Savonarola. Mutilated in body, but with his right hand left him so that he could write a confession of conformity, he lay in his cell and composed a meditation on Psalms 31 and 41.
And take Martin Luther. As a professor in the University at Wittenburg he lectured for many years on the Psalms. He also preached from them often in the church he pastored in that city. He considered them to be the Bible in miniature. How he relished these pantings after God! He adapted several of them for a "New Churches" hymnal. Some have not realized that he first found justification by faith in the Psalms and only later saw its full orbed teaching in such New Testament books as Romans and Galatians.
Luther had his share of persecution. After his excommunication he was fair game for anyone. And the Diet of Worms in 1521 added its authority to his death sentence. With the German populace four to one for him it was thought unwise to execute the sentence. But until his natural death twenty-five years later it remained. In his trying times Luther's strength was "renewed like the eagle's" when he turned himself to the Psalms.
Protestants by the hundreds of thousands, during a century of persecutions, died for Christ. As they went to their death on the scaffold or in the flames many of them sang, "This is the day which the Lord hath made; we will rejoice and be glad in it" (Ps. 118:24).
Their Use Otherwise
The Psalter was "the first book which the early church put into the hands of her young converts, the primer of her religious teaching: and no man could be admitted to the highest order of the clergy unless he knew the Psalter by heart" (James Robertson, Poetry and Religion of the Psalter, pp. 7, 8).
John Paterson says, "No other book appears to have entered so deeply into the general life of humanity" (The Praises of Israel, p. 8). Many noble families of England have lines from the Psalms inscribed on their coats-of-arms. Sundials, coins, and even sword blades have been engraven with passages from this literature. Of their wide use F. B. Meyer writes: "In palace halls, by happy hearths, in squalid rooms, in pauper wards, in prison cells, in crowded sanctuaries, in lonely wilderness—everywhere they have uttered our moan of contrition and our song of triumph; our tearful complaints, and our wrestling, conquering, prayer" (F. B. Meyer on the Psalms, p. 7). Samuel Terrien summarizes his wide studies in the Psalms to say of them: "No other book of hymns and prayers has been used for so long a time and by so many diverse men and women" (The Psalms and Their Meaning for Today, p. vii). And one cannot forget that T. H. Robinson declared: "No other part of the Old Testament has exercised so wide, so deep, or so permanent an influence on the life of the human soul" (The Poetry of the Old Testament, p. 107).
A Psalm prepared Wesley's inwardness for Aldersgate. We all know that his heart was "strangely warmed" as he heard the reading of Luther's preface to the Epistle of Romans. But in his Journal, in the paragraph preceding the account of his conversion one evening, he tells us that that afternoon at St. Paul's he had heard an anthem from the Psalms which had contained these words: "If thou, Lord, will be extreme to mark what is done amiss, O Lord, who may abide it? But there is mercy with thee; therefore thou shalt be feared. O Israel, trust in the Lord: for with the Lord there is mercy, and with him is plenteous redemption. And he shall redeem Israel from all his" sins.
Luther and Calvin fostered Psalm singing, along with hymns like Luther's "A Mighty Fortress is our God." But English-speaking Protestants long sang only the Psalms, considering that in worship services all words sung should be from the Holy Scriptures. They made metrical versions of the Psalms, for something had to be done to align them with the requirements of their developing sense of music. That way there was rhyme; but more important, there was definite meter so that the Psalms could be fitted to tunes. With Isaac Watts, however, there developed a new practice: that of singing paraphrases of the Psalms. This was done so that more New Testament teaching could be included in them.
Soon Watts, Charles Wesley, Toplady, William Williams, and others were writing hymns. These hymns were often based on Scripture, and frequently on the Psalms. Take Isaac Watts'
Jesus shall reign where e're the sun
Does his successive journeys run.
Psalm 72 inspired it, verse eight of which reads: "He shall have dominion also from sea to sea, and from the rivers unto the ends of the earth." Can we proceed without mention also of Watts', "O God, Our Help in Ages Past?" Psalm 90 had helped him on that one. Watts had read, "Lord, thou hast been our dwelling place in all generations" (v. 1).
A Concluding Word
In the Psalms, surely, you have the heart of Old Testament religion. In them deep calls to deep, souls speak out in their dark nights, spirits have their sinews strengthened. From the Apostles to Wesley, and onwards, we have rightly cherished this inward heart-history of Israel as an integral part of our Christian heritage. Let modern Hegels and Schleiermachers discard them if they must. But we will keep them near, even in physical proximity to our New Testaments in many pocket editions. For while we might not want to baptize them into Christ, we nevertheless find in them the language of which hallelujahs and amens are born.
END
God'S Dimension
When mankind lays the age of time to sleep
By his methodic questing after cause
Of death, the single tenuous strand that draws
A screen across the Chalice true men keep,
Then God's eternal watch beyond the deep
Of years will bring to focus all the flaws
Humanity has sanctioned by her laws
And Christ will be the Shepherd of His sheep.
Each soul will rise reclothed in his new face
To greet that dawn of ever-lucent day
Beyond earth's old dimensions, time and clay.
And all will see the aureole God gives
To men whose faith in His unceasing grace
Proves God's long-sought-for Kingdom ever lives.
JOHN RENWICK TAYLOR
J. Kenneth Grider is Professor of Systematic Theology at Nazarene Theological Seminary in Kansas City. He holds the B.D., M.A., and Ph.D. degrees, the latter from Trinity College, Glasgow. Formerly, he taught in Pasadena College.
Have something to add about this? See something we missed? Share your feedback here.
Our digital archives are a work in progress. Let us know if corrections need to be made.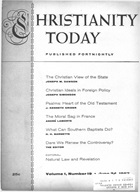 This article is from the June 24 1957 issue.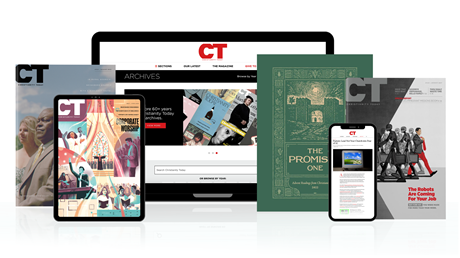 Annual & Monthly subscriptions available.
Print & Digital Issues of CT magazine
Complete access to every article on ChristianityToday.com
Unlimited access to 65+ years of CT's online archives
Member-only special issues
Subscribe
Psalms: Heart of the Old Testament
Psalms: Heart of the Old Testament