Assets Or Liabilities?
The average Christian is a layman (and I use the term to include all church members other than the clergy). The ratio to the clergy is approximately 300 to 1, and while it is the latter which are usually quoted in the papers and who unquestionably exercise the greatest influence in ecclesiastical circles, so far as the world is concerned the Church is what the average Christian is.
We laymen therefore carry tremendous responsibility, for in the world at large the influence of the Church depends on the influence of its average member. It is the ordinary Christian who runs the home, does the shopping, teaches school, operates the businesses of our country and engages in the professions.
As one layman, writing to other laymen, let us consider just what Christ expects of us as his representatives. It is a sobering thought that people outside the Church judge Christ and Christianity, not by the Bible, not by church pronouncements, not even by the occasional fragmentary reports of sermons they may read in the paper. Rather, if they form any opinion at all, it usually is from the sudden impact or day-by-day influence of some man or woman who demonstrates in the contacts of daily living that there is a different quality of life and attitude in those in whom Christ is Lord and Saviour.
While the Apostle Paul affirms that it has pleased God to save men through the "foolishness of preaching," he tells the same Corinthian Christians that they are letters written in the heart, letters which are known and read of all men.
Our Lord admonished his disciples to let their light shine before men for the express purpose of glorifying Him, and this admonition holds good today to all who bear the name Christian.
One of the difficulties in the Church today is the ever-recurring attempt to make non-Christians act like Christians. Because of this we have many people wearing the uniform and repeating a set of Christian shibboleths when they actually belong to the camp of the enemy and speak a different language.
I believe that if the average minister were asked what he feels is more important, more church members or more Christians who live as Christians, he would unquestionably say the latter. This is therefore written to that great company of believers, men and women who believe in Christ as the Son of God, trust in him for salvation and who honestly want him to be the Lord of life.
Just what is expected of us? How should we live? How can we do the things that our Lord expects of us?
A Christian is a redeemed person, one who has been transformed by the saving power and grace of Jesus Christ. He is living in the world but maintains citizenship in heaven. The very fact of this new citizenship entails on its holder a grave responsibility here and now, for the Christian should be the best citizen of the country in which he lives.
Christians are as salt in the society of which they are a part and as such should exhibit the properties of salt, among which are preservation and savor or sweetness. The social order outwardly may have a semblance of order and stability through the exercise of law and force, but true stability comes from the character of those who make up that order. Christian character is the salt which produces those qualities of society that preserve it and make it worth preserving. This "salt" may find its expression in what is spoken of as Christian influence, or it may assume the role of direct action.
Not only must a Christian be salt but he is also light, not a light of human origin or attainment but the reflected light of the living Christ who should shine in and from our lives. Without light man cannot live. By the presence of light man can orient himself and see the way in which he should walk. Light reveals grime and dirt, it cleanses and purifies, and it brings joy and hope to those who have been in darkness. Little wonder that our Lord told his disciples that one of their functions was that of light in the world.
A Christian is also a witness. Christianity has been spread by those who have heard and accepted the good news and then passed it on to others. We would not be Christians today but for the fact that some before us were faithful as witnesses. When our Lord went back to heaven he did not leave a great organization, nor did he ordain that the Church should exercise political or other worldly methods. Rather he left a set of historical facts and a divine revelation of their significance and committed these to a small group of men who, under the inspiration of and by the power of the Holy Spirit, went about telling others what had happened and why.
Today we Christians have the same task. It is our duty to tell other people about Christ, who he is and what he did, and it is also our duty to share in helping others tell about him. Missions both here and abroad would be an impossible task but for men and women who pay the bills while others go out to tell the story.
Christians are also followers. One of the weaknesses of some has been an intellectual acceptance of Christ as Saviour and an accompanying delight in promised happiness in heaven, without an accompanying realization that Christ must be made the Lord of our daily lives. This means following him, and the course may not be always pleasant, nor the immediate objective something attractive.
Being a follower of Christ is a matter of reflecting his glory, and we show this only as his presence shines from within our lives. This involves surrender to him, whereby the Holy Spirit takes possession and we become the channels through which he would reach men.
The outstanding characteristic of one who would live as a Christian is summed up in one word—love. We are not speaking of a pallid negativism which interprets Christ in terms of taboos, nor are we speaking of a "satanic sweetness" which may be a mask for a perverted and self-centered egotism. The love which should characterize the Christian is described in detail in the thirteenth chapter of First Corinthians. Later in this same book Paul enjoins that everything we do shall be based on and proceed from love. This is a quality of character no man has from within himself, but rather a fruit of the indwelling Holy Spirit. It is a quality by which our lives commend the Gospel we profess and which must be received and cultivated.
If Christians are to so live in the world there is an inescapable source of strength which must be tapped daily. The daily study of the Bible is as essential to spiritual life as food is to the body. Prayer, a talking with and listening to God, is as necessary for the Christian as breathing is to human existence. Witnessing and living for Christ are as important for believers as is exercise for bodily strength. Make full use of them and we become the salt and light the world desperately needs.
L. NELSON BELL
Have something to add about this? See something we missed? Share your feedback here.
Our digital archives are a work in progress. Let us know if corrections need to be made.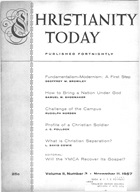 This article is from the November 11 1957 issue.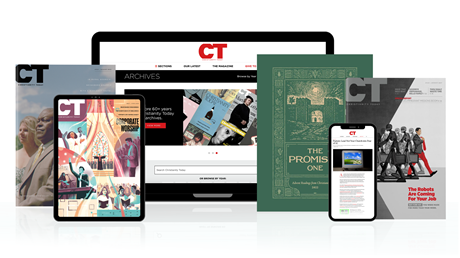 Subscribe to Christianity Today and get access to this article plus 65+ years of archives.
Home delivery of CT magazine
Complete access to articles on ChristianityToday.com
Over 120 years of magazine archives plus full access to all of CT's online archives
Subscribe Now
Assets or Liabilities?
Assets or Liabilities?