I was walking down a hospital corridor by the stretcher of a man on whom I was to operate in a few minutes. Looking up into my face, he said: "Doctor, I was saved last night. My pastor came to see me and I accepted Christ."
The anesthetist, head of the department, a man with little apparent concern for religion, overheard the remark. Following the operation, when all had left the doctors' dressing room except this doctor, he asked: "Just what did that man mean when he said he was 'saved'? How can Christ save anyone?"
Like so many of us laymen, he was confused by theological terms. Or perhaps he took Christianity as a matter of course without any idea as to its real meaning.
Knowing him well, I feared that he had been indifferent to Christ and his claims. He had an only son at the state university. I said: "I know your son is at the university and how keenly you are interested in him, his career and his welfare. Suppose that he got into serious trouble, and that on going down to see him you should find out that it was a situation where you could take responsibility for him and pay the full penalty yourself. How gladly you would do this for your boy! That, in one sense, is what Christ did for you, and for all the rest of us. Our lives are all messed up. We are guilty of multiplied sins against God, sins which demand judgment and punishment. But God has stepped in and intervened on our behalf in the person of his Son, Jesus Christ. He accomplished something we could not do for ourselves. He took the responsibility of our sin and paid the price himself on the Cross."
That which Christ effected for us on the Cross is spoken of as the Atonement. This particular word appears only once in the New Testament (Romans 5:11) but the implications of the Atonement are found throughout the Old and New Testaments and are at the very heart of the Gospel message.
How can the Atonement be explained in terms we laymen can understand? I recently examined two books on the subject. One is so exhaustive and so couched in theological terms that it was not easy to follow. The other did not explain the Atonement: it explained it away. This danger besets modern theology.
The Atonement (at-one-ment) is the means, the procedure, by which sinful man is reconciled to a holy God. There are those who deny that any reconciliation between God and man is necessary, and affirm that God is a loving Heavenly Father and that man is simply to turn to him and he will be received and forgiven. The difficulty with this argument is that the God of love is also the God of holiness, and sin and the unpardoned sinner cannot come into his holy presence. Furthermore, the justice of God demands that sin be punished. Even sinful humans recognize this necessity. Man recognizes the validity of punishment and vicarious substitution whereby one individual may suffer for or pay the penalty for another.
It seems logical to turn to the Scriptures to see what they teach. It is here that we find the historical record about Christ, who he is and what he did.
An honest reading of the Bible leads to the inescapable conclusion that Christ died for our sins. He, the eternal Son of God, came into this world, lived a sinless life and died on the Cross to take upon himself the guilt and penalty of all sinners who believe.
Speaking to his disciples, our Lord referred to an incident that occurred in the wilderness many centuries previously. A bronze serpent had been placed on a pole and stricken men were told to look towards that uplifted serpent as a token of their faith in the saving power of God. Jesus said: "And as Moses lifted up the serpent in the wilderness, even so must the Son of man be lifted up: that whosoever believeth in him should not perish, but have eternal life" (John 3:14, 15).
I know there are those who inveigh against the use of "proof texts," but any layman—particularly one who is a lawyer and interested in and affected by the law—knows that precedents, decisions and judgments are constantly cited in court and are a part of a valid procedure. How much more have Christians the right to take the Bible and accept what it teaches by statements in multiplied places; these together constituting an overwhelming volume of evidence.
In 1 John 2:2 we read: "And he is the propitiation for our sins: and not for ours only, but also for the sins of the whole world." Now "propitiation" is not a common word and we laymen may wonder what it means. According to Webster it signifies, "to appease, to render favorable, to conciliate, to atone, to effect reconciliation," etc. The Prophet Isaiah, speaking to Israel, made a statement which is valid today: "But your iniquities have separated between you and your God, and your sins have hid his face from you, that he will not hear" (Isa. 59:2). Those who argue against the need of reconciliation to God through Christ's atoning work simply evade the awfulness of sin on the one hand and the holiness of God on the other.
Isaiah recognized man's need when he wrote: "But he was wounded for our transgressions, he was bruised for our iniquities … and with his stripes we are healed."(53:5), while the Apostle Peter confirmed this in these words: "Who his own self bare our sins in his own body on the tree, that we, being dead to sins, should live unto righteousness: by whose stripes ye were healed" (1 Pet. 2:24). The same thought is expressed many times and in many ways in the Scriptures. Man can reject this concept but in doing so he is rejecting the work of Christ and the Word of God.
"Christ redeemed me" is a familiar phrase. Christ did just that for us, paying the price to buy sinners back to himself.
There are many "theories" of the Atonement. It is popular today to say that no one theory does full justice to this truth. There are many phases of the Atonement and this side of eternity man will never know the depth and height and breadth of the love of God which made our redemption possible and effective. But when we try, with the frailties and limitations of the human mind, to describe the greatest of all Christian doctrines let us be careful that we do not explain it away.
"Christ died for our sins, according to the Scriptures," affirms the Apostle Paul. This has been the heart of the Christian message down through the ages and the efficacy of his death was confirmed by the fact of his resurrection.
Sinful man needs redemption. God knows that need and has made full provision to meet it. In Christ on the Cross the need and the sinfulness of man is forever met. Here we see the grace and mercy of God united with His holiness and justice in one supreme act of atoning love.
L. NELSON BELL
Have something to add about this? See something we missed? Share your feedback here.
Our digital archives are a work in progress. Let us know if corrections need to be made.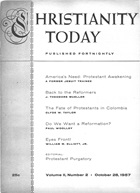 This article is from the October 28 1957 issue.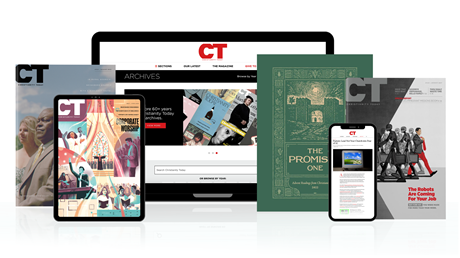 Annual & Monthly subscriptions available.
Print & Digital Issues of CT magazine
Complete access to every article on ChristianityToday.com
Unlimited access to 65+ years of CT's online archives
Member-only special issues
Subscribe
What Did Christ Do For Me?
What Did Christ Do For Me?