Special Report
Facing mutual concerns in shaping a Christian philosophy of science, evangelical scientists and theologians gathered June 9–11 at Trinity Seminary (Evangelical Free Church), Chicago, for the third biennial joint meeting of American Scientific Affiliation and the Evangelical Theological Society. Of 800 ASA scientists (all professing theists) and 350 ETS divinity scholars (all acknowledging the Bible's authority), more than 80 members from Massachusetts to California shared views touching the modern cleft between religion and science. More than ever they reflected determination to avoid "loophole approaches" and "dichotomies between science and revelation."
From the outset the sessions bristled at times with candid exchanges by speakers, discussants and delegates. When discussion turned metaphysical, a "practical-minded" scientist divided delegates into sheep who "get things done" and goats (philosophers) who "merely talked about it." And when idealists and realists debated the existence of "a world independent of consciousness and its contents," another scientist pleaded that the kingdom of heaven requires more fruitful pursuits.
But the philosophers nonetheless finally exacted one important concession from reluctant scientists: that science does not give us truth about nature, but only useful symbols—a daily alterable set of logical constructs—whose purpose is the control or reconstruction of physical entities. This emphasis—that science is interested in what works rather than what is true, and the scientific methodology can never achieve fixed principles beyond revisability—at first seemed to many evangelical scientists to demean their vocation. But this seeming indignity was removed when theologians and philosophers stressed the importance and legitimacy of the scientific task—both its curbing of diseases and invention of useful devices, and its status as a Christian "calling" equal in dignity with that of the evangelist and theologian.
Theologians acknowledged that conclusions are not to be ecclesiastically "forced" from the scientist in his specialized field, and that the scientist is not responsible for deriving Christian results through experimental techniques.
In fact, the way in which scholars drew the line between science and metaphysics proved one dominant—if not unanimous—development.
In recent decades, evangelical circles have reflected a curious contrast in apologetics. While many influential theologians have stressed the weaknesses of so-called "theistic proofs" (from nature to God), many influential scientists have stressed the cosmological and design arguments, and have frequently sought to invest these arguments with power through their scientific researches.
But the current tendency of evangelical philosophers is to approve "operationalism" as a scientific method, that is, to define what the scientist does as simply providing a statement of operational procedure. This strips the physicist of any right to speak of the "real" world, "natural laws" and "uniformity" on the basis of his methodology. All the physicist has are revisable mental constructs useful as manipulative symbols that he continually abandons in the interest of more workable constructs. Hence, the scientist's methodology yields no truth about nature, let alone the supernatural.
At the Chicago conference Dr. Gordon H. Clark of Butler University and Professor Thomas H. Leith of Gordon College stressed this limitation. Dr. Clark insisted that no "laws of nature" have ever been discovered by science, and only "unbounded optimism" could encourage one to think such laws will now be discovered. Science is simply a statement of operational procedure, he stated, although admitting that in biology the operational viewpoint is least plausible (although not irrelevant). Does this imply—he asked—that not all scientific material is to be handled by the same concepts, and that the ideal of unified science must be relinquished (insofar as it is postulated in view of scientific methodology alone)?
Alongside this widening approval of scientific operationalism, evangelical theologians stress the Bible as the source of revealed axioms for metaphysics. Dr. Carl F. H. Henry, editor of CHRISTIANITY TODAY, noted that the scientist seldom stops with the agnosticism demanded by his methodology. He falls prey either to scientism, absolutizing his method as the sieve through which to screen the whole of reality, or to myth-making, postulating false gods (in the last century, the Law of Causality, or Ether; in this century, the Intelligibility of Nature, Free Will, and so forth) which his methodology really does not vindicate. The scientist is locked up to revelation for assurance that nature is an antecedent creation, and is rational and purposive.
Professor Oscar Walle of Concordia Senior College, Fort Wayne, stressed that scientific principles are derivative rather than determinative. An evangelical philosophy of science, he said, will include biblical teaching regarding the past, present and future relations of God to man and nature; will incorporate fundamental axioms and procedures of science that do not contradict these; and which must also apply and relate the foregoing into a consistent pattern of thought and procedure that tests the latter by the former, and uses them to show the relevance of the former.
Dr. R. Laird Harris of Covenant Seminary, St. Louis, emphasized the Bible's truth "when and as far as it speaks on scientific matters. There is not a general conflict of science and the Bible. Christianity does not object to the scientific method of hypothesis, experiment and generalization. Neither does Christianity base itself on that method."
Alongside the emphasis on the Bible as the source of authoritative guidelines for an evangelical philosophy of science, speakers also emphasized the reality of God's revelation in nature, history and conscience. While scientific method restricts the approach to nature to quantitative questions, the scientist himself is a bearer of the image of God, even if that image is distorted, and he is addressed by a divine revelation in nature. Dr. Albert J. Meyer of Goshen College emphasized this revelation in nature, but noted also the dual fact of "fallen man" and "fallen nature." Dr. Henry warned against minimizing the significance of general revelation; the scientist's failure to acknowledge it is due primarily to the science, not to the evidences of God. He noted that the Apostle Paul both in Romans 1 and in his Mars Hill address set creation alongside redemption in speaking of divine revelation. Dr. Henry stressed that the rational integration of life's experiences and the unity of culture are tied up with "the great fact that the God of creation and revelation and of redemption and of sanctification and of judgment is one and the same God."
In the closing session, Dr. Stanley W. Olson, dean of Baylor University College of Medicine, presided over a panel comprised of speakers and discussants. A competent summary of the conference was presented by Professor Leith. Delegates went their way recalling the words of Dr. Clark: "The problems we face are both difficult and important, though the results of this meeting may seem meager. That these two societies should hold joint meetings to discuss them is an encouraging sign."
C.F.H.H.
Names In The News
A Little Crack
Back from a five-day visit to Russia, Billy Graham said "the door has been opened a little crack."
Asked about the possibility of an evangelistic crusade in Russia, Graham said: "God leads one step at a time. We don't push. The door has been opened a little crack. Perhaps it will be opened further later."
The evangelist flew to Moscow as a tourist, having stopped in Europe while en route home from his Australian meetings. He attended a two-and-a-half-hour Sunday morning service in the Russian capital's First Baptist Church, where he was greeted warmly but not asked to preach. He also visited a Russian Orthodox monastery 40 miles from Moscow.
Whose Voice?
A storm of protest raged on both sides of the Mason-Dixon line following dismissal last month of the Rev. Robert B. McNeill as minister of the First Presbyterian Church in Columbus, Georgia. In a national magazine article two years ago, McNeill urged "creative contact" between whites and Negroes.
McNeill suffered a heart attack following his dismissal. Two weeks later, he was still in "serious" condition.
Opinion in the North was largely critical of a Southwest Georgia Presbytery commission which ousted McNeill. The commission found dissension within his 1,200-member congregation and asserted that "the voice of the pulpit should be the voice of the congregation." The commission chairman said the dismissal was "in no sense a rebuke to Mr. McNeill." One report said the issue involved more than the minister's racial stand.
Some in his own denomination rallied to McNeill's support, including Ernest Trice Thompson, moderator of the General Assembly of the Presbyterian Church in the U. S. and a bloc of parishioners.
McNeill was subsequently offered a position with the Mt. Lebanon (Pa.) Presbyterian Church, where Dr. John Calvin Reid, McNeill's predecessor in Columbus, is minister.
Carnell Resigns
Dr. Edward J. Carnell, who at 40 is one of evangelicalism's top scholars, resigned last month after five years as president of Fuller Theological Seminary.
In face of failing health believed attributable to excess strain, Carnell was given a sabbatical leave until next January, when he is scheduled to return as professor of apologetics, the position he held prior to being named president.
Dr. Harold J. Ockenga will be acting president until a successor is named.
Carnell, a Baptist, was the nation's youngest seminary president when he took the Fuller reins. Under his administration, the seminary received accreditation in 1957 from the American Association of Theological Schools.
People: Words And Events
Deaths: The Rev. James C. McCoy, 74, charter member of the Executive Committee of the Southern Baptist Convention, in Memphis … Dr. Rees Edgar Tulloss, 77, prominent Lutheran churchman and president of Wittenberg College, in Springfield, Ohio … Dr. F. W. Boreham, author and distinguished Baptist preacher, in Melbourne.
Elections: As president of the Reformed Church in America, Dr. Howard G. Hageman … as president of the Augustana Lutheran Church, Dr. Malvin H. Lundeen … as moderator of the Presbyterian Church in Canada, Dr. Alexander Nimmo … as president of the Australian Council for the World Council of Churches, Anglican Archbishop R. C. Halse … as chaplain-general of the Sons of the American Revolution, the Rev. Willis Bergen … as second counselor in the First Presidency of the Church of Jesus Christ of Latter-day Saints, Henry D. Moyle.
Appointments: As president of Marion College, Dr. Harold K. Sheets, head of the Department of Home Missions and Church Extension of the Wesleyan Methodist Church of America … as professor of archaeology at Midwestern Baptist Theological Seminary at Kansas City, Missouri, Dr. J. Morris Ashcraft; as professor of church history, Dr. G. Hugh Wamble; as professor of religious education and church administration, Dr. Frank E. Royal … as professor of church history at the Southern California School of Theology, Dr. Leland H. Carlson.
Resignation: As president of Colby College, Dr. Julius S. Bixler.
Have something to add about this? See something we missed? Share your feedback here.
Our digital archives are a work in progress. Let us know if corrections need to be made.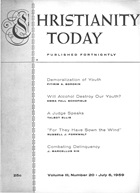 This article is from the July 6 1959 issue.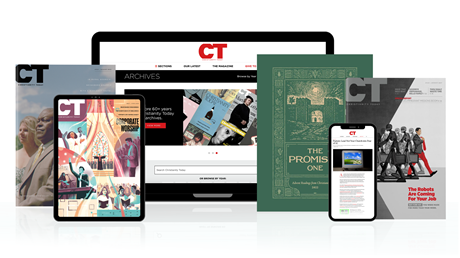 Annual & Monthly subscriptions available.
Print & Digital Issues of CT magazine
Complete access to every article on ChristianityToday.com
Unlimited access to 65+ years of CT's online archives
Member-only special issues
Subscribe
Evangelicals Shape Philosophy of Science
Evangelicals Shape Philosophy of Science