NEWS
CHRISTIANITY TODAY
Religious Assemblages
In a masterful exhibition of organizing skill, the Southern Baptist Convention conducted annual sessions May 19–22 at Kentucky's new Fair and Exposition Center in Louisville. The program momentum within the arena, before nearly 12,000 messengers and some 6,000 visitors, reflected Southern Baptist momentum without, as America's fastest growing large denomination.
The listener might well imagine the nearby thunder of hoofbeats from Churchill Downs. But, it turned out, unexpected burrs under the saddles enlivened convention activity.
Indeed, whenever convention machinery appears to be running smoothly, Baptist freedom dictates the possibility of perhaps a country preacher's fervent speech dissolving a year's work of some committee. This year, despite contrary hopes and predictions, two troublesome issues reached the floor—segregation and last year's Southern Baptist seminary faculty dismissals.
The Louisville site had been chosen for this year by the convention in honor of Southern seminary's centennial. Commencement ceremonies comprised the first evening's program. Shadowing festivities somewhat was the threatened loss of accreditation which hovers over the Louisville school. Retiring convention President Brooks Hays, also retired—more abruptly—from Congress last fall by his Arkansas constituents, made it plain to the ministers that while mistakes had been made at Southern, trustees and others were properly seeking rectification. There was no need, Hays said, for convention action.
But Dr. James S. Bulman, East Spencer, North Carolina, pastor and long a convention critic, had other ideas. Maintaining that he was neither for nor against the dismissed professors, Bulman sought to show that there remained on the faculty those whose teaching contradicted the seminary's "Abstract of Principles." Professor Eric C. Rust's views on the inspiration of Scripture, biblical myth, and miracles were advanced as examples. Among other things, Rust was quoted as denying that Jesus turned water into wine at the marriage at Cana.
"Malicious distortion," replied Dr. Duke K. McCall, seminary president, who read from an article from Rust affirming that miracles, the virgin birth, and the resurrection are historic facts.
Bulman later made the charge of distortion mutual but by time limit and convention vote was forbidden to continue. He was physically assisted out of microphone range.
In his presidential address, Mr. Hays spoke at length on the race question, amidst much applause, pointing out that missionaries abroad are handicapped by racial discrimination in American society. He recommended a meeting between leaders of the Southern Baptist Convention and leaders of the two largest Negro Baptist conventions to examine the problem of misunderstanding between the races. But when a resolution to this effect came to the floor, it drew fire usually accorded to issues directly bearing upon integration, which this did not. The motion appeared not to be clearly understood. But any further agitation on the race question was feared by some as to its possible effect upon financial support for the convention program. Said one messenger, "I know you brothers. You vote one way here and another at home. Now vote your convictions and not your ideals!" After lengthy debate, the resolution passed in slightly amended form, though there appeared to be many abstentions.
Coming under criticism in the foregoing debate was Dr. Ramsey Pollard, pastor of Broadway Baptist Church, Knoxville, Tennessee, who only the day before had been elected new president of the convention over the other finalist, Dr. Roy O. McClain, Atlanta pastor. A messenger charged Pollard with making "timid statements" to the press on the race issue. The new president, who has been very active in evangelistic work, had identified his position with that of the convention in endorsing the Supreme Court decision on school segregation, but gave the impression that on this whole question he was slightly to the right of his predecessor, Mr. Hays, who was retiring after serving the maximum two one-year terms.
A World Peace Committee urged: additional support for world missions, prayer for peoples of all nations, financial support for agencies proclaiming the message of freedom and democracy, support for efforts toward international disarmament while at the same time opposing pacifism and unilateral disarmament, and prayerful support of the United Nations. The convention voted to "provide a Non-Governmental Organizations observer at the UN." Committee chairman Walter Pope Binns spoke out against the idea of a church convention's passing on specific matters of state, which are better handled by government experts.
Minnesota's Congressman Walter Judd outlined the ideological basis of present world conflict and called for righteousness in international relations, masterfully presenting the case against admission of Red China to the U.N. He was roundly applauded.
Phenomenal growth experienced by the loosely-knit Southern Baptists continues to be a source of wonderment to many. Presently numbering 9,206,758, they seem destined to overtake as largest Protestant denomination in the United States, barring another Wesley, the Methodist Church, which in 1957 provided 4.7 per cent of the total gain of U.S. church membership as compared to Southern Baptists 10.1 per cent. While it took this 115-year-old convention 34 years to reach its second million members, it has since 1946 gained a million every four years. The number of converts baptized in Southern Baptist churches in 1958 was 407,972. Approximately 200 Southern Baptist ministers are engaged in full time evangelistic work. Sunday School enrollment is 7,096,175. Total gifts in 1958 amounted to $419,619,438; the value of church property: $1,825,474,318. Total theological seminary enrollment is 5,524. The two largest seminaries in the world are Southern Baptist—Southern with 1,428 students being topped by Southwestern's (Fort Worth, Texas) 2,395. With all of this, it is hard to believe that the average Southern Baptist church is a small one of 292 members. Of 31,498 churches, only 25 per cent are urban.
As everyone knows, Southern Baptists are moving north. Having formed state conventions in Alaska as well as in several other northern states and counting churches in 42 states in all, their name has become more of an historic term than a geographic one. And they wish to retain it. A technicality in this year's convention put off their decision as whether to enter Canada, to which most of the leadership seems opposed in the interest of good relationships with the Canadian Baptist conventions. While many northern U.S. churchmen welcome new allies, others look nervously at this "Confederate comet blasting out of the South."
But the sweeping advance extends beyond these shores. In 1958, the appointment of 137 foreign missionaries brought the total of those active to 1,320. The prediction for five years from now is 2,000. This year's convention heard 62 appointees introduce themselves in the foreign mission board presentation, which seems to be the highlight of all the sessions. Here the drama of missions is movingly portrayed. There is no hint of sharing insights with pagans but rather of carrying the Gospel of salvation to the lost. Here in this service one senses he is at least in the proximity of the Southern Baptist raison d'être.
F. F.
Have something to add about this? See something we missed? Share your feedback here.
Our digital archives are a work in progress. Let us know if corrections need to be made.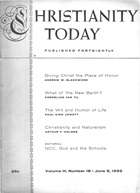 This article is from the June 8 1959 issue.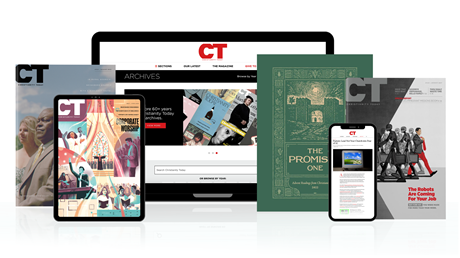 Annual & Monthly subscriptions available.
Print & Digital Issues of CT magazine
Complete access to every article on ChristianityToday.com
Unlimited access to 65+ years of CT's online archives
Member-only special issues
Subscribe
Expanding Southern Baptists Widen Horizons
Expanding Southern Baptists Widen Horizons