BIG SMOKE
Americans spend 3 billion annually for their churches and 6 billion for cigarettes. To the cigarette industry it may seem that the churches have done well, considering their modest advertising budget and extremely soft sell.
Suppose Madison Avenue were to be given some ecclesiastical accounts. Imagine national magazines featuring color cover ads with a rugged fullback emerging from church: Join the men who know; get that big clean feeling!
Or perhaps in the church news column we might read, "First Church has reduced theological irritants to the lowest level among all leading pulpits. First Church preaching is smooth. It's First for filtered truth!"
Television spots could feature the new preacher in his pulpit at Central Church: It's what's up front that counts! Such proven slogans as There's no substitute for quality! would need no revision. The spring freshness theme would be another natural; it should apply to religion almost as well as to tobacco.
The super-science of the cigarette ads might be harder to adapt. "Important break-through in biblical research. Get that extra Dead Sea flavor in every sermon." Church architecture suggests other scientific areas: "High porosity in our acoustical vault air-softens every choir note."
The better the makin's, the better the sermon. This could caption an oil painting of a craggy-browed clergyman among his books. Of course he would have his sleeves rolled up to show an anchor tattoo. "If you're thinking of changing churches, tattoo this in your mind.… Deepwell's exclusive preaching formula gives you religion you can get hold of."
The competitive claim might not prove attractive to church advertisers. A new campaign could be developed: "Remember, the brand makes no difference! Wherever church bells ring you get the real thing."
Is this sufficiently absurd? We have almost stopped laughing at those serious cigarette ads; when we do, we are not far from the king-sized pitch in religion—enjoyed in all the 50 states!
EUTYCHUS
SATAN'S POWER
Dr. Piper's article (The Power of Evil, Sept. 28 issue) troubles me greatly. I looked for a clear, direct discourse.… Instead I found only terms and phrases suggestive of biblical truth, terms and phrases which could be filled in and defined according to the knowledge and faith of the individual reader.
A fuzzy-minded evangelical might be satisfied that the truth was presented; and no liberal or neo-orthodox would find anything in this article to compel him to question his own convictions.…
I read the Prophets and Apostles, and I know what evil is as to its nature, origin, effects and remedy. I read Piper and I find that I know only some of its baneful temporal effects. I learn nothing as to its nature, origin, or remedy—terms and phrases notwithstanding. Piper says, "The question is not how we should therefore represent the devil and the forces of evil, but rather, how we are to react to their activity in this world." How can we properly "react to their activity" unless we have ascertained "their" nature, power, and program? Hitler was not defeated until the allies faced up to his nature and his potential; and neither will Satan be put down until we accept the Bible's definition of his personality and power. Piper gives no such definition of the devil and evil; and his definition of "world" has no similarity to that given in the New Testament.
THEOPHILUS J. HERTER
St. Matthew's Reformed Episcopal
Havertown, Pa.
SHIFT TO THE RIGHT
I would like to answer the letter of the Rev. Henry Smith Leiper (August 3 issue). I would first answer the question in Rev. Leiper's last paragraph. Yes, those who now think as John Foster Dulles did nine years ago are still "leftish." Because only Mr. Dulles changed when he tried to stop the National Council of Churches Cleveland Conference from voting for recognition of Red China and admission of Red China to the U.N. Then Mr. Dulles strongly fought Communism and died of cancer still fighting and a hero!
To further substantiate my answer that previously Mr. Dulles and those who nine years before thought the same, I suggest that Mr. Leiper read "Collectivism in the Churches" by Edgar C. Bundy (published by Church League of America, Wheaton, Illinois, 1958). On pages 164 and 165 [are] the eight shocking points drafted in March, 1942, by the Federal Council of Churches at a national study conference at Ohio Wesleyan University at Delaware, Ohio, (chairman: John Foster Dulles) for a just and durable peace (?) after World War II. All one-world ideas.…
On page 177 of the same book Mr. Dulles says, "The free enterprise system has yet to prove that it can assure steady production and employment." Leftist!
Page 179: "We know, from testimony given during the hearing on Alger Hiss by the Committee on Un-American Activities that John Foster Dulles and Alger Hiss were friends of long standing." (Both were chairmen of important committees of the Federal Council of Churches.)
In November, 1950, the Federal Council of Churches changed to the National Council of Churches. Thus the same leftist, socialist, one-world, procommunist ideas were continued.
Mr. Leiper ought to know. He was an official of the Federal Council of Churches from 1930 through 1948.
FRANK P. STELLING
Oakland, Calif.
Most religious organizations, whatever the name, have come to be in America commercial and social with a degree of religious tincture.
O. L. HUFFMAN
Hot Springs, Ark.
I would like to comment concerning your attitude, and also that of some of your correspondents, towards the report of the NCC Conference at Cleveland regarding the recognition of Red China. Is not your attitude that of worldly wisdom which you reject? Jesus, our Divine Lord and Saviour said, "Ye have heard it said of old time love thy neighbor and hate thine enemy. But I say unto you love your enemies, do good to them that hate you".… The acid test of our religion is not how well we get along with our friends but what we do about our enemies.
MELVIN ABSON
Geneva, N. Y.
I venture to share a brief quotation from a letter received recently. The writer is a young Chinese, teaching in the Lutheran Theological Seminary in Hong Kong. He has been in many parts of the Far East.
In one of the articles I read in an official Buddhist magazine displayed in a train in Taiwan, the Buddhists urged the government to drive all the American missionaries and their enterprises out of Taiwan as a protest to the statement made a few months ago by a World Order Study Conference sponsored by the National Council of Churches of Christ in the U.S.A. concerning the recognition of Communist China. Knowing that I had just come back from the U.S., a number of young Christians asked me a lot of questions, such as, "How could the American Christian leaders do such a thing?" "Is it an expression of their Christian faith or of their political interests?" "Is it the voice of all American Christians or just that of a few so-called leaders?" etc. I feel really sorry—I am not to pass any judgment on this matter—that this statement, whether it he right or wrong, has brought so many problems to our work, caused so much trouble among our people, and given such an unnecessary excuse to the heathen religions for attacking our church.
It is to be hoped that the Conference weighed all the issues before their pronouncement was made.
PAUL F. BARACKMAN
Fair Lawn, N. J.
[In regard to] "The Problem of Power" (Eutychus, Aug. 31 issue) …, the concern of Christians is not primarily the balance of political and military power in the world. It is rather the sad fact that peoples are being overrun with tyranny and cannot be free. What happened in Hungary, Poland, Tibet, Laos and other satellite countries is the great wickedness that we resent. It is that peoples are being robbed of their countries, of liberty, their families and of life. The issue is democracy or tyranny—"God or Mammon."
ALVIN J. LEE
Salem, Va.
Only nominal Christians or … hypocrites or cowards are afraid of the present communism.… It is not Russia or communists who are preparing for the third war, but the West—particularly our religionists and militarists in Washington who spend billions … for … war weapons.
A. J. MONCOL
Cleveland, Ohio
Please accept the thanks of the American Council of Christian Churches … for the … factual and unbiased … [news story] "Red Atrocities" (June 22 issue). We believe that when the public is given the facts of Red China's activities, that people by the millions will arise to repudiate the recommendation of the NCC Fifth World Order Study Conference.…
RALPH I. YARNELL
General Secretary
The American Council of Christian Churches
New York, N. Y.
ON THINGS GREEK
The Rev. Leslie Chard's (Eutychus, July 6 issue) taking exception to a Jesuit-expressed view of the Greek Church is ill-founded. I fear he is giving expression to a phenomenon characteristic of many Episcopal priests—an excessive admiration for things Greek, founded more on zeal than on right information. For the Greek Church's view of tradition, I suggest he read any authoritative work on the Orthodox Church—Frank Gavin's (an Anglican) Some Aspects of Contemporary Greek Thought would be suitable (and Fr. Gavin had really studied the subject). In all important particulars, the Greek Church's view of tradition may be said to be identical with the Roman Catholic view (except wherein the latter involves the Papacy). Right or wrong this may be, but the attempt to make the Orthodox out to be an exotic sort of Protestant or Anglican is doomed to failure—it simply is not the case.
His expression of the Greek teaching on Our Lady is as inaccurate. The Immaculate Conception of Mary was a common teaching in the Orthodox Church prior to its definition by Pius IX, especially. Indeed, Gregory Palamas, probably the most important Greek theologian of the late Middle Ages, upheld the doctrine. Herein is simply another example of an unfortunate Greek propensity of opposing Rome at all costs—one of its most ridiculous instances in history being the accusation that the use of unleavened bread in the Eucharist was heretical! (And I challenge him to find any representative Greek theologian who attributes actual sin to Mary.)
I cannot write as much on the "Filioque" as it deserves; but I think Mr. Chard will find that while it had long been commonly recited in the West, the Easterns did not make an issue of it till they entered into a controversy with Rome on other matters—it was something more to throw at the Pope! Many Greek doctors had taught that the Holy Ghost proceeds from both the Father and the Son, as from one principle—and the Western Church has never asserted that there were two principles involved. If the Holy Ghost is the bond of love between the Father and Son, if he did not proceed from both it would imply that the Son loves the Father less than he is loved by the Father. Also, if the Spirit is called in the Scripture the Spirit of the Son, and the Son is said to "send" him, to deny that he proceeds from the Son as well as from the Father involves a plain contradiction. All this apart from the very questionable morality of "mental reservation."
D. L. IRISH
Saint Paul's Church
Brooklyn, N. Y.
APPRAISING BARTH
I wish that every reader of Van Til's article (June 8 issue) might also read G. C. Berkouwer's appendix to his recent book, The Triumph of Grace in the Theology of Karl Barth. Although by no means a Barthian himself, Berkouwer here takes the subjectivity weapon out of Van Til's hand and turns it back upon Van Til himself in a most unexpected and telling fashion.… He plainly states, "Van Til's analysis does not correspond to the deepest intents of Barth's theology." And again, "At issue in this is the matter of a truly responsible analysis, for it is only on the basis of a penetrating and thoroughgoing analysis of a person's intents and bearings that solid criticism can be based."
It is evident that Van Til's appraisal of Barth is vastly different from Bromiley's. Their basic attitudes toward the Swiss theologian are so well-nigh incompatible that the thoughtful reader is obliged to choose between them. If it is indeed true, as Van Til asserts it is, that Barth doesn't have any gospel at all in the evangelical sense, that he is just as much a modernist as is Bultmann, then we can hardly at the same time agree with Bromiley when he says, "It will be seen at once that he stands in line with three of the great emphases of evangelicalism: the historicity of God's saving action; the supremacy of the Bible; and the objectivity of God's work, particularly in atonement." If Barth is really the apostle of a new modernism, as Van Til takes him to be, then no condemnation is too great for him; then we all should join Brother Van Til in his vehement forbidding of the man because he follows not us. But if on the other hand Bromiley's appraisal of Barth is more nearly correct, as I personally believe it to be, then we can earnestly hope that someday Van Til may see and acknowledge that in this particular matter he may have been as sadly mistaken as were the ardent disciples of our Lord on that occasion.
DAVID DUFFIE
Seventh-day Adventist Mission Hospital
Mayaguez, Puerto Rico
SINCE LUX MUNDI
Mr. Geffen (Eutychus, Jan. 5 issue), while correctly noting a certain area of agreement between Anglo-Catholics and evangelicals in matters of doctrine, is misleading in his wider implication that evangelicals can look for convinced support from that quarter.… I will not elaborate at length on the difference in attitude to Scripture—sufficient of itself to put a different construction on the matter from Mr. Geffen's—except to say that while the early Tractarians were conservatives on Scripture, since the publication of Lux Mundi the Anglo-Catholic movement has defected to the liberal camp, with only a few stragglers standing firm on Gladstone's 'Impregnable Rock of Holy Scripture.'
Granted, Scripture apart, that Anglo-Catholics have a sounder grasp of certain doctrines than the 'liberal humanists' because of their deference to the creeds. They are in fact credal dogmatists. But so too are the Holy Orthodox and the Roman Catholics: yet who would argue from this that they are upholders of evangelical Christianity? We have to think in terms not merely of the content, but of the nature of belief: not merely of fides but of fiducia. This indeed is the distinctive principle of evangelicalism—faith both understood and experienced as a supernaturally originating and supernaturally-imparted divine gift.
Evangelicals believe that this principle lies behind the word "must" in Jesus' words to Nicodemus in John 3:7, "Ye must be born again".… This, then, is the distinctive proclamation of evangelicals to all the world—not 'Believe the creeds,' or 'Take the conservative view of salvation, grace and Scripture' (though we do both), but "Ye must be born again." Thus the real question is whether Anglo-Catholics are allied to and identified with evangelicals in this proclamation and in this determinative principle. I think that your correspondent and your readers will find that it is not so. How near and yet so far. But let them once adopt this principle whole-heartedly, making known their position to all the world, and there will be no end to the blessing that will be released. Only this evangelical principle makes certain that the husks of the 'liberal humanists' have been finally abandoned either by the Anglo-Catholics or by their 'High Church' Methodist counterparts; and only on this high supernatural principle will our prodigal age ever be led back to the Father's house in reconciliation and peace.
C. A. F. WARNER
Chingola, N. Rhodesia
ON A LIMB
I wish to commend Mr. L. Nelson Bell for his wonderful article "The Bible and Sex Education" (June 8 issue). I will "place myself on a limb" … by adding: We as ministers have failed by failing to teach from our church class rooms and from the pulpit the evils of immoral dress and adorning of the body, as these tend to induce wrong sexual desires, as well as allowing these evils to become "one of us" by allowing membership in our assemblies.
FRED HENDRICKSON
First Assembly of God Church
Paris, Ill.
Have something to add about this? See something we missed? Share your feedback here.
Our digital archives are a work in progress. Let us know if corrections need to be made.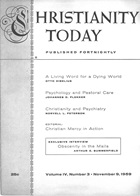 This article is from the November 9 1959 issue.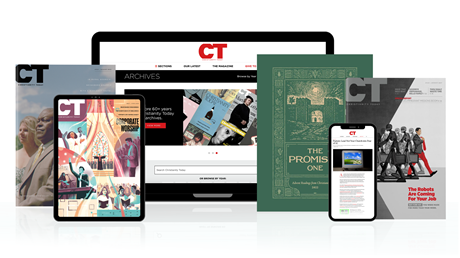 Subscribe to Christianity Today and get access to this article plus 65+ years of archives.
Home delivery of CT magazine
Complete access to articles on ChristianityToday.com
Over 120 years of magazine archives plus full access to all of CT's online archives
Subscribe Now
Eutychus and His Kin: November 9, 1959
Eutychus and His Kin: November 9, 1959