A major church-state incident this month involved the National Council of Churches in a stern rebuke of the U. S. Department of Defense.
At issue was a new, easy-reading Air Force training manual, one lesson of which taught non-commissioned reservists how to safeguard military information and how to recognize subversive techniques.
The manual quoted a newspaper editorial which criticized a Protestant church convention for urging that Red China be recognized by the United States and admitted to the United Nations.
"The implications of this editorial are clear," the manual observed. "Communists and Communist fellow-travelers and sympathizers have successfully infiltrated into our churches. The foregoing is not an isolated example, by any means; it is known that even the pastors of certain of our churches are card-carrying communists."
A reservist in Trenton, New Jersey, told his minister that he was disturbed at this and other parts of the manual. The minister notified the local council of churches, which in turn called NCC headquarters in New York's Interchurch Center.
James Wine, an associate general secretary of the NCC, immediately fired off a strongly-worded letter of protest to Defense Secretary Thomas S. Gates.
Five days later Wine and two other NCC staff members came to Washington because, according to a spokesman, the Defense Department "was not treating the matter with the sense of importance we thought it deserved."
The following day Air Force Secretary Dudley Sharp was quoted as having "categorically repudiated the publication" as representative of Air Force views.
Sharp also ordered the manuals withdrawn, only to learn that such an order had already been issued—six days before. The Air Force said the manual was brought to the attention of "responsible officials by a member of the reserve forces." An investigation was launched.
Wine and his NCC associates still wanted to know "how the material was printed in the first place." They held conferences with Gates and Sharp before leaving Washington. A spokesman said he was encouraged with the reaction of Defense Department officials.
Wine planned to record the incident in his report to the NCC General Board when it met in Oklahoma City February 24–25.
Excerpts From The Protest
Under a letterhead of the National Council of Churches, Associate General Secretary Wine wrote to Defense Secretary Gates:
"The appearance of this material, in the circumstances, is a patent contravention of the first amendment of the Constitution of the United States.
"To imply some relationship between the Revised Standard Version of the Holy Bible and Communism is insidious and absurd.
"To aver by innuendo that the National Council of Churches is associated or in any way influenced by the Communist party is an example of irresponsibility at its worst.…
"I am sure you know that the National Council of Churches is the representative body of 33 Protestant and Orthodox denominations of the United States.…"
In a separate statement, Wine declared, "Beyond the very grave implications of this outrageous attack in an official government document on American churches and the National Council of Churches, we are conconcerned, and deeply so, about what may be a pattern of official indoctrination that amounts in itself to a form of subversion."
What The Manual Said
The following is taken from the Continental Air Command's Air Reserve Center Training Manual (NR. 45-0050, Incr. V, Vol. 7) which aroused NCC indignation:
Subversion. Subversion is any activity by which any person or group willfully attempts to interfere with or impair the loyalty, morale, or discipline of any member of the Armed Forces, or American citizens in general.
To establish a workable program of subversion, the Communists have discovered what they think is an almost foolproof weapon—the front organization. Have you ever heard of … The Abraham Lincoln Brigade, American Youth for Democracy, The League of American Writers, American Patriots, Inc., Committee for Protection of the Bill of Rights, Labor Research Association, Inc., Committee for World Youth Friendship and Cultural Exchange, The National Committee for Freedom of the Press, National Federation for Constitutional Liberties, The Voice of Freedom Committee. These sound quite American, don't they? Yet the Attorney General of the United States has officially declared them to be subversive Communist fronts.…
Don't join any organization or sign a so-called "peace petition" until you are certain it isn't a Red front. You may check organizations against the subversive list in AF Regulation 124–5, "Designation of Organizations in Connection with the Federal Employee Security Program." This regulation lists more than 280 organizations whose political or social philosophies (not necessarily all Communistic) are foreign to the American concepts of democracy. Among these are a number of schools which presumably teach alien ideologies, such as the Samuel Adams School, Boston; the Tom Paine School of Social Science, Philadelphia; the George Washington Carver School, New York City; the Jefferson School of Social Science, New York City; the Joseph Weydemeyer School of Social Science, St. Louis; the Seattle Labor School; and the Philadelphia School of Social Science and Art. Also listed are the front organizations named earlier.
Communism in Religion. From a variety of authoritative sources, there appears to be overwhelming evidence of Communist anti-religious activity in the United States through the infiltration of fellow-travelers into churches and educational institutions.
The National Council of Churches of Christ in the U. S. A. officially sponsored the Revised Standard Version of the Bible. Of the 95 persons who served in this project, 30 have been affiliated with pro-Communist fronts, projects, and publications.…
Dr. Harry F. Ward, long a recognized leader in the National Council of Churches, was a Professor of Christian Ethics at Union Theological Seminary in New York City for some 25 years, during which time he influenced thousands of theological students. Dr. Ward was identified by Louis Francis Budenz (an ex-Communist) before the Senate Internal Security Subcommittee as a member of the Communist Party.…
Communism and Religion in Red China and North Korea. Reverend Shih-ping Wang, East Asia Director of the Baptist Evangelization Society International, appearing before the House Un-American Activities Committee in March 1959, described at some length the commune system recently instituted in Red China. This system has hurt the churches, he said, because it has given the government much more complete control of the people and all worship has been forbidden in the communes.…
The foregoing hearings before the House Committee on Un-American Activities were published in an official Government bulletin on 26 March 1959, and doubtless released previously to the Nation's press. Nevertheless, a United Press International News dispatch of 27 May 1959 said, "A distinguished American theologian has some stern words to offer on the problem of Communism and Christianity." The distinguished theologian was none other than Dr. John A. Mackay, retiring President of Princeton Theological Seminary. The news dispatch went on to say: "Dr. John Mackay … charged that America is turning its back on untold thousands of Christians in Red China. Dr. Mackay called for the recognition of Red China … backing a resolution that had been adopted at the General Assembly.… Dr. Mackay told the delegates that while Red China had done some terrible things, so had the United States."
Protestant Panorama
• With the appearance of a twelfth edition this month (500,000 copies now in print), Zondervan's Amplified New Testament emerged as one of the most successful evangelical publishing ventures in modern times. The publisher hopes to issue the first section of an Old Testament counterpart in 1962 and the remainder in 1964.
• Students at Central Bible Institute, Assemblies of God school in Spring-field, Missouri, broke out in spontaneous, round-the-clock periods of prayer and confession this month. Chaplain Glenn Reed said "revival' began when students accepted the challenge "to see Pentecost in our day" during chapel services conducted by evangelist Warren Litzman. Reed viewed the moving as a climax to President J. Robert Ashcroft's stress on "apostolic academics."
• The International Convention of Christian Churches (Disciples of Christ) plans to launch a 10-year denominational expansion program July 1. The Disciples' goal is 1,500 new congregations in the United States. They now have about 8,000.
• Southern Baptists now claim the largest Sunday School enrollment of any Protestant denomination. Their record total for 1959 as released by the Baptist Sunday School Board was 7,276,502, which ranks above The Methodist Church for the first time. Southern Baptists also reported a record total of baptisms, 429,063.
• New York City's interdenominational Riverside Church launched a bilingual ministry this month with a weekly Spanish-speaking worship service in Spanish.
• Dr. Charles W. Lowry, well-known in religious circles in the nation's capital, is reported to have renounced his Episcopal priesthood. Lowry was rector of an Episcopal church in Chevy Chase, Maryland, before helping to form the Foundation for Religious Action in the Social and Civil Order. He had also been at one time a professor at Virginia Theological Seminary. He was recently elected president of the American Peace Society.
• The Presbyterian Church in Korea, hit by a split last fall, held a reuniting assembly this month with 80 per cent of commissioners present. Both factions were represented among newly-elected officers.
• Good News Publishers of Westchester, Illinois, plan a new $1,000,000 headquarters building.
• Pentecostalist movements are growing rapidly in the Netherlands and are making inroads into congregations of the major Protestant churches, according to a report of the Dutch Ecumenical Council of Churches.
• World Vision is sponsoring a pastors' conference in Tokyo March 1–4. Among speakers: Dr. Bob Pierce, Dr. Richard C. Halverson, Dr. Paul S. Rees, and Dr. Bernard Ramm.
• The Evangelical Seminary of Puerto Rico, the island's only Protestant theological school, plans a long-range expansion program subject to approval of its six sponsoring denominations in the United States.
• The Nazarene Congregational Church of Brooklyn is conducting a six-month experimental project to rehabilitate 10 delinquent boys aged 11 to 14 who have been referred by the borough's children's court.
• The A. J. Holman Company releases the first of three volumes of an international and interdenominational exposition of the English Bible March 1. Titled The Biblical Expositor, the new work represents combined efforts of 65 evangelical scholars from three continents. Consulting editor is Dr. Carl F. H. Henry, Editor of CHRISTIANITY TODAY. The publisher reported that of the first printing of 6,750 sets, 3,352 were sold a month before publication.
• Six original pamphlets written by Martin Luther between 1532 and 1538 were recently donated to the Foundation of Reformation Research.
• A teletypewriter network linking agencies of the Southern Baptist Convention and state Baptist papers was to be put into operation March 1.
Have something to add about this? See something we missed? Share your feedback here.
Our digital archives are a work in progress. Let us know if corrections need to be made.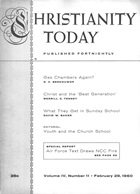 This article is from the February 29 1960 issue.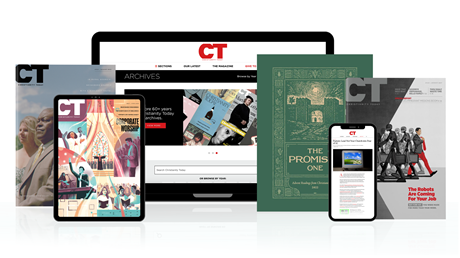 Annual & Monthly subscriptions available.
Print & Digital Issues of CT magazine
Complete access to every article on ChristianityToday.com
Unlimited access to 65+ years of CT's online archives
Member-only special issues
Subscribe
Air Force Training Manual Draws NCC Fire
Air Force Training Manual Draws NCC Fire