First in a Series
Has Europe's "springtime in theology"—as contemporary dogmaticians sometimes fondly describe the Barth-Brunner era—now lapsed into "theological wintertime"?
A probing of the theological situation on the European mainland will soon reveal that a major shift in theological perspectives once again engulfs the doctrinal outlook of the Continent. It is increasingly evident that, despite their high intention, the "crisis theologians" have failed to rally twentieth century Protestant dogmatics firmly to the central message of apostolic Christianity, the biblical kerygma.
The current theological reaction is already in process. Will it dissolve completely neo-orthodoxy's hard-won theological gains over speculative liberalism in the first decades of this century? Will a renaissance of liberal dogmatics, shaped mainly by the influence of Rudolf Bultmann, soon sweep European theology into a "Christian end-time"? Is Continental Protestanism to confront the hard-fisted naturalism of Communist ideology with merely a romanticized naturalism overgilded with a pretense of Christian faith?
Or can we yet hope for a sound evangelical revival, once again to plunge the roots of biblical theology, ethics, and evangelism deeply into the life and culture of lands wherein the light of the Protestant Reformation is now dimmed? Does the Continental turmoil in theological discussion supply a fresh opportunity for a strategic soundly biblical theological thrust? Or will Protestant orthodoxy—now seldom championed at the theological level and sparsely defended by influential clergymen—let the present season of realignment stiffen into a new era of liberal rationalism, and fail to plant and reap a contemporary harvest for biblical theology and evangelism?
BULTMANN KING FOR A DAY?
Without a doubt, theological convictions are again shifting in Europe. In recent weeks we spent a stimulating hour with Karl Barth in Basel and with Emil Brunner in Zürich. These "crisis-theologians" more than any others have influenced the neo-orthodox impact upon European theology in our time. Both dogmaticians—Barth at 74, Brunner at 71—are now completing the final volumes of their systematic theology.
There in Switzerland we spoke briefly of Continental theology in the recent past, spoke more fully of the outlook for the decade ahead. Barth and Brunner personally disagree on many points—from general revelation to eschatology. But in their evaluation of the present theological situation in German-speaking Europe, they are in substantial agreement. Today the theological initiative with divinity students lies no longer with the neo-supernaturalism of Barth, nor of Brunner; rather, the initiative has passed to the theological existentialism of Rudolf Bultmann. Today Bultmann is king. The retired Marburg professor of New Testament, now 76, has captured the imagination of many young intellectuals. Bultmann's call to "demythologize" the Gospel—a call which Bultmann's critics deplore as virtually destructive of the kerygma and as a battle cry for the renaissance of liberalism—has rallied many divinity students and younger ministers to his side.
"Today Bultmann is king," Brunner concedes, although he adds the confident comment, "but not for long—because he thins out the Gospel too much." And Barth, while reluctant to cast himself in the role of an aging prophet, thinks the theology of the immediate future may rest between Bultmann and Lutheran confessionalism.
Meanwhile, New Testament interpreters like Oscar Cullmann, aware of the threat to biblical faith inherent in Bultmann's position, increasingly orient their theological discussions to the growing influence of the Marburg scholar's speculations.
BEYOND THE GERMAN BORDERS
In the past, European theology has decisively influenced American and British theology—through graduate students on the Continent, many of whom returned from studies to their homelands to teaching posts, through translations of German works, and through lecture tours by Continental scholars. Even today, if one surveys the Scottish seminaries with an eye on the theologians, he will swiftly sense the lengthened shadows of German thought: Barth's influence in Edinburgh, Brunner's in Aberdeen, Bultmann's in Glasgow, and Neo-Kantianism in St. Andrews. European theology has exerted world influence through its systematic comprehensive structure (contrasted with popular, topical and programmatic discussions that characterize most American scholars, and also ecumenical conferences) and through its determination to speak relevantly and definitively to the moving front of the cultural dilemma.
As early as 1951 Bultmann spent three months in the United States as guest lecturer in different universities and theological schools. English translations of some of his major writings appeared as early as 1934, simultaneously with the works of Barth and Brunner, as Anglo-Saxon interest widened over the struggle between the left and right wings of the neo-orthodox movement in Germany. Any shift of theological moorings from Barth to Bultmann, therefore, promises repercussions far beyond the borders of Germany.
Of the 26 per cent of the Protestant clergy in America who are nonconservative in theology (CHRISTIANITY TODAY's survey indicates that 74 per cent of the ministers prefer to be classified as conservative or fundamentalist) 14 per cent range themselves as theologically liberal, and 12 per cent as theologically neo-orthodox. Despite the remarkable influence of Barth and Brunner on Continental theology, it is curious that Protestant liberals continue to outnumber neo-orthodox ministers in America by a slight margin. The "theology of crisis," moreover, has produced no great American systematic exponent of its dogmatics (Reinhold Niebuhr's literary efforts are concentrated mainly in anthropology and social ethics).
This circumstance has served to enlarge the influence of Paul Tillich, now often designated by the secular press as America's leading theologian. Tillich's philosophy of religion (as his Systematic Theology is more aptly described) is significantly identified with the revolt against the manner in which both Barth and Brunner appeal to special revelation, and also with the growing transition to Bultmann's emphasis on decision and "new being." Both Bultmann and Tillich analyze the human predicament in terms of modern existentialist philosophy. Both scholars make the modern scientific credo so decisive that the biblical miraculous is dissolved in deference to the closed system of nature. In Bultmann's exposition whatever is supernatural is "demythologized." No place remains for God's supernatural activity in the creation, preservation, and redemption of the world—not even in transforming man into a new creation. The only remnant of the biblical tradition—if one may call it thus—is God's address, his speaking, to the individual man. Tillich's God is not a living Creator of man and the world, is not a personal, acting God of righteousness and grace, but simply the dimension of depth in every creature which "becomes personal" when man "rightly" relates himself to it.
If Bultmann still stresses God's special encounter, God's "saving" address to man in Jesus Christ (whereas the note of general revelation stands in the forefront of Tillich's philosophy), Bultmann's critics, and even some admirers, more and more take him to task precisely at this point. As Herman Ridderbos reminds us, there remains no room in a consistently developed desupernaturalized theology for the confrontation of man by the special action and word of God: "If one would apply radically Bultmann's proposed de-mythologizing, what basis remains for conceiving the Christian proclamation (kerygma) as a Word of God intervening in this world?… Bultmann at least at this point breaks with his own schema …" (Herman Ridderbos, Bultmann, p. 37. International Library of Philosophy and Theology, "Modern Thinker Series," 1960). Similarly, Schubert M. Ogden, in his introduction to his selection and translation of shorter writings of Bultmann just issued under the title of Existence and Faith, asks whether, on their own presuppositions, the divine-human encounter postulated by the existentialist and dialectical theologians can be actualized "only through Jesus Christ" (pp. 20 f.; 299, n. 3). Other scholars, like John Macquarrie (himself quite enamoured of Bultmann's rejection of the bodily resurrection of Christ, but troubled by the exclusion of all supernaturalism from the life of Jesus Christ) ask: If the Redeemer-image is wholy mythical, what compulsion remains for sacrificially espousing his cause, the Cross?
THE CONTROLLING PREMISE
Nonetheless, contemporary European theology is still bound together by its underlying and controlling premise: the infinite qualitative difference between God and the creature. This premise is then delineated to mean much more than the sovereignty of God and the finitude of man, which is part and parcel of the Christian view of God and the world. Rather, it serves to endorse a specific and highly debatable notion of divine revelation. This "infinite qualitive difference" between God and man is said to allow only a dialectical relationship between the eternal and the temporal: 1. God's revelation is never objectively given in concepts, words, or historical events; he reveals himself (not truths about himself and his purpose) by encountering man subjectively. 2. God cannot be grasped rationally but can be experienced only in obedient response. Before Barth and Brunner popularized the "theology of crisis," Sören Kierkegaard (1813–1855) had shaped the speculative outlines of this view by his delineation of the infinite, qualitative difference between eternity and time.
Despite the struggle between Barthianism and Bultmannism today, this dialectical restatement of special revelation remains the undisputed premise of contemporary European theology. Not only have many German theologians and ministers "learned to live happily" with this exposition, as one is often reminded by champions of the dialectical view, but the historic evangelical theology which insisted on divinely revealed doctrines and on an inspired Bible is premised—so it is now said—on an assumption about God's relationship with man that destroys the very actuality of revelation.
The post-Barthian era in German theology, therefore, does not question the legitimacy of the dialectical reconstruction of prophetic-apostolic revelation. The post-modern dialectical premise remains theologically determinative. Bultmann, no less than Barth and Brunner, sets out with this same presupposition.
But it is against this premise that a genuinely evangelical, or Bible-bound, theology directs its criticism. In fact, evangelical orthodoxy raises three important questions:
1. Does the instability of the neo-orthodox theology of Barth and Brunner flow from an unsuccessful attempt to force central elements of the Christian revelation into the speculative dialectical mold?
2. Does not Bultmann develop the dialectical premise more thoroughly than Barth and Brunner, Bultmann's reaction being provoked in part by the ambiguous manner in which Barth and Brunner themselves relate faith to reason, to science, and to history?
3. Does the dialectical exposition of the character of revelation really conform to the witness of the Bible, or is it rather a speculative conception to which aspects of Christian theology and experience are arbitrarily and unjustifiably appended?
Samuel M. Shoemaker is the author of a number of popular books and the gifted Rector of Calvary Episcopal Church in Pittsburgh. He is known for his effective leadership of laymen and his deeply spiritual approach to all vital issues.
Have something to add about this? See something we missed? Share your feedback here.
Our digital archives are a work in progress. Let us know if corrections need to be made.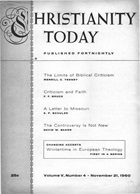 This article is from the November 21 1960 issue.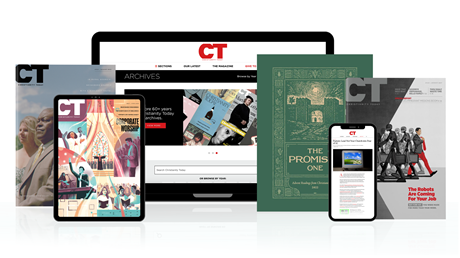 Subscribe to Christianity Today and get access to this article plus 65+ years of archives.
Home delivery of CT magazine
Complete access to articles on ChristianityToday.com
Over 120 years of magazine archives plus full access to all of CT's online archives
Subscribe Now
Has Winter Come Again? Theological Transition in Europe
Has Winter Come Again? Theological Transition in Europe