INVISIBLE BUT REAL
A motion picture camera has been developed which operates at a speed of 5 million frames per second, compared to the 64 frames per second for an average slow-motion camera.
With such equipment, an instantaneous event can be stretched into a film lasting several hours.
A super-fast X-ray camera has been developed with the power and speed to visualize a bullet as it passes through the barrel of a revolver.
Even the "tracks" of cosmic rays passing through the atmosphere at speeds close to the velocity of light can now be photographed and thereby held for the human eye to witness.
On every hand secrets of the hitherto unknown material world are being discovered, and we either marvel at these things or shrug our shoulders and accept the wonders of modern science.
There are invisible forces working in the world, however, spiritual forces as real as the material and embodying a significance that is infinite in implications.
The whole subject is probably one of the most comforting and at the same time fear-inspiring to be found in all of the Bible. That we live in a day when superficial realism rules out things which cannot be gauged by scientific measurement in no way invalidates truth on which divine revelation has much to say.
Any who may be interested in this subject have but to take a Bible concordance and look up the references having to do with angels, spirits, and demons to come face to face with a tremendous volume of truth which otherwise is unnoticed or willfully ignored.
Some years ago Dean Inge spoke for millions of people when he said, "It is, I think, indisputable that the center of gravity in religion is shifting from authority to experience." With that shift has come the loss of many of the spiritual values and implications of God's revealed truth in men's hearts; for when man believes only that which he can prove or see with human instruments, he has lost a sense of the supernatural, and God and Satan become mere names, not personalities of transcending importance.
Even within the Church there is a strange unawareness of the invisible forces working in the world. We admit that God is a spirit but few of us go on to recognize that he is infinite, eternal, unchangeable, in his being, wisdom, power, holiness, justice, goodness, truth, and love.
As for Satan, he is, according to the multitudes, only a name used in profane language, a figure of speech referred to in jest. The fact that he is a personality, a malignant being exercising great power, is even questioned or denied outright in some theological circles.
As Professor Emile Cailliet has so aptly said, "The neatest trick Satan has ever performed is to convince so many people that he does not exist."
Our ignorance of the invisible forces around us no more eliminates them than does our failure to apprehend the marvels of nature, the surface of which is constantly being scratched by ever-probing scientific investigation.
We know there is but one God, the living and true God, and that there are three persons in the Godhead—the Father, the Son, and the Holy Spirit. But how often do we fail to recognize or ascribe to the Holy Spirit his distinct work and prerogatives?
And when it comes to angels, we are prone to relegate them to pious stories of the past in much the same category as elves, fairies, leprechauns, and folklore personalities.
But angels are God's ministers, his agents of good. The Psalmist speaks of God "who maketh his angels spirits; his ministers a flaming fire, "while from the Bible as a whole we get a glimpse of this innumerable host who do God's bidding.
"The angel of the Lord encampeth round about them that fear him, and delivereth them" is far more than a figure of poetic speech; it is a glorious reality for which we should thank a loving God.
When Paul affirms, "And we know that all things work together for good to them that love God, to them who are the called according to his purpose," the presence and work of angels in God's economy could well be a part of this comforting truth.
But just as God has his opponent in Satan, so angels have as their active opposites evil spirits who do the bidding of the devil.
That demons had residence in the personalities of men during our Lord's earthly ministry is a matter of continued reference in the four Gospels. That such evil spirits inhabit people today is known to many who live in areas where spirit worship is practiced. Whether such a phenomenon actually exists in America is probably debatable, but the minions of Satan are certainly not inactive.
Surrounded by a host of the Syrian army, the servant of Elisha cried out in fear: "Alas, my master! how shall we do?" To which the prophet replied: "Fear not: for they that be with us are more than they that be with them."
The servant lacked spiritual vision; he was aware only of that which he could see with his eyes. "And Elisha prayed, and said, Lord, I pray thee, open his eyes that he may see. And the Lord opened the eyes of the young man; and he saw: and behold the mountain was full of horses and chariots of fire round about Elisha."
God forbid that we should ever get entangled with the realm of spiritualism; but, on the other hand, we may and ought to take comfort and warning from the truths that are clearly taught in Scripture.
In the Bible we are told that the company of angels is "innumerable"; that they are subject to the commands of God; that they join in the praise of God around his throne; that they are powerful; that they exercise a protecting ministry; that in an inscrutible way they have charge over God's children; that at God's behest they have stopped the mouths of lions; that an angel delivered Peter from prison; and that they are "sent forth to minister to them who shall be heirs of salvation." All of these truths should be a source of comfort to Christians.
But in a consideration of the invisible forces about us, there is also grave warning: Satan is intensely active! Paul reminds us, "For we wrestle not against flesh and blood, but against principalities, against powers, against the rulers of darkness of this world, against spiritual wickedness in high places.
John tells us, "and the whole world is under the power of the evil one."
What then is the position of the Christian? God has provided us with armor in order to stand against the wiles and power of Satan. He has also provided the Sword of the Spirit by which the evil one is put to flight.
The invisible forces are very real, but for the Christian they hold not terror but comfort and hope.
L. NELSON BELL
Have something to add about this? See something we missed? Share your feedback here.
Our digital archives are a work in progress. Let us know if corrections need to be made.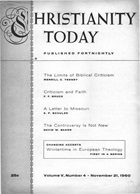 This article is from the November 21 1960 issue.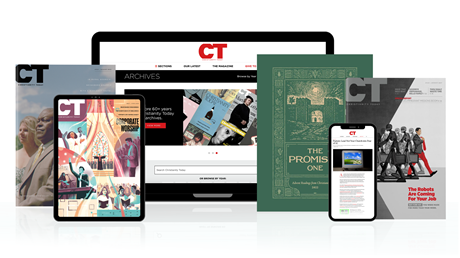 Subscribe to Christianity Today and get access to this article plus 65+ years of archives.
Home delivery of CT magazine
Complete access to articles on ChristianityToday.com
Over 120 years of magazine archives plus full access to all of CT's online archives
Subscribe Now
Invisible But Real
Invisible But Real