Meeting in Switzerland this summer were two consultation groups which, otherwise unrelated, were linked by a common theme. One was called "World Consultation on Evangelism" with the World Council of Churches as its aegis; the other, "Twentieth Century Evangelism," whose convener and chairman was Dr. Billy Graham.
Evident in the World Council group was the tendency (often noted) of the "Continental" members to be heavy on the side of the academic and the theoretical, and of the "American" section to be articulate on the side of the pragmatic and the mechanical. Generally recognized was the need of getting to grips with evangelism far more seriously and lucidly than could possibly be claimed hitherto, at least so far as wide sectors of the Christian front are concerned. The "theology of evangelism" evoked lively discussion, as it should. But when this is taken to mean that an evangelism which is contemporarily valid must be poured into the thought form and the vocabulary matrix of Kirkegaard, Barth, Brunner, Bultmann and Tillich, sympathy is generated for one member of the group from the United States, who asked: "Is this to be followed by another brand which we must understand before we can get busy to win people in a nation desperately fighting for its soul?" This query was not offered, it should be made clear, in contempt of the importance of a basically biblical theological underpining for all evangelism that is Christian.
The brethren in the World Council gathering gave some of their longest thoughts to Dr. Graham and the "mass evangelism" which he so influentially represents in today's world. Two things emerged, one concrete, the other intangible (but perhaps even more significant): (1) for the first time the evangelism section of the WCC drew up a resolution of approval with respect to "mass evangelism" as a method, and (2) what amounted to hostility toward Dr. Graham's work became at least a partial "thaw" as honestly sceptical men got to know the man and his motives.
The other consultation, "chaired," as our British friends say, by Dr. Graham, brought together a cross-section of leadership ranging geographically from Glasgow to Sydney in one direction and from London to San Francisco in another; and, ecclesiastically, from the "free church" tradition and the "faith missions," on the one hand, to the Church of England on the other.
Live issues that impinge on evangelism and which require a fraternal and fruitful "airing," are felt by Dr. Graham to be: (1) the theology of "universalism" which, either implicitly or explicitly, is held in wide areas of the Church's life today; (2) the unique authority of the Bible and the form in which it may be maintained; (3) contemporary trends in ecclesiology, with an increasing polarity between centralizing tendencies (as in the growing acceptance of episcopacy) and decentralizing tendencies (as in the church-in-the-house advocacy of Karl Barth's son in Chicago); (4) the variety and validity of evangelistic methods, including possible modifications in mass evangelism; (5) eschatology, a field in which radical theologians are moving toward a more realistic New Testament position and conservative theologians are moving from ultradispensationalism to what one of them has called "classical premillennialism;" (6) a resurgence (particularly in Great Britain) of hyper-Calvinism, with overtones (in some quarters) of antinomianism and with aggressive disavowal of "modern evangelism" and its whole apparatus; and (7) the whole question of an "experience" of the Holy Spirit distinguishable from conversion, an option represented, along with historic Wesleyanism and Keswick "deeper life," by contemporary Pentecostalism in its more mature and less bizarre expressions.
It was submitted by one of the members of the group that evangelicals generally are failing to grasp, in depth, the magnitude of the evangelistic problem. They tend to feel that they are getting on with the job if they are tinkering with mechanisms or methods. Overlooked, for one thing, is the immensely urgent task of definition. "Mission," "missions," "revival," "witness," "evangelism"—what precisely do we mean by these words on which we ring the changes?
Communication bulked large in all the discussions. All agreed "we are not on speaking terms with vast sections of the community." Why? For one thing, because the community of the believing seems not to realize the extent to which the community of the unbelieving has had drained from it all consciousness of life's eternal dimension. "Man has become one-dimensional." True, from Cain to King Farouk there have been secularists and sensualists. What is extraordinarily appalling is the depth and spread of what Sorokin calls a "sensate culture" as the milieu in which Western man is content to live. Some of our Christian writers discern this situation and endeavor to speak to it. C. S. Lewis does. Trueblood does. Carnell does. Some of our evangelists do: Bryan Green, Alan Walker, Billy Graham.
This, however, falls far short of meeting the need. What is missing is the "witnessing community" within the dynamic context of which the public proclaimer of the evangel—be he evangelist or pastor—will be able to speak both more relevantly and convincingly. It was asserted that three strands in this "witness" to be given by the "community of the redeemed" are: (1) kerygma (preaching), (2) koinonia (fellowship), and (3) diaconia (service). The fundamental (as distinguished from the peripheral) marks of such a community of witness are (1) learning, (2) worshipping, (3) sharing. How does it emerge? Along three lines: (1) prayer, (2) obedience, (3) preaching.
If more of the great "unwashed" in our cities could see Christ climbing a tenement stair, it would be easier for them to see Him in a parson's sermon.
Have something to add about this? See something we missed? Share your feedback here.
Our digital archives are a work in progress. Let us know if corrections need to be made.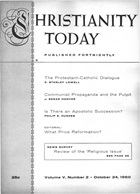 This article is from the October 24 1960 issue.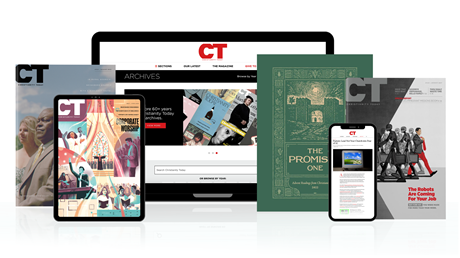 Annual & Monthly subscriptions available.
Print & Digital Issues of CT magazine
Complete access to every article on ChristianityToday.com
Unlimited access to 65+ years of CT's online archives
Member-only special issues
Subscribe
Review of Current Religious Thought: October 24, 1960
Review of Current Religious Thought: October 24, 1960