Not all writing need achieve a place in the annals of literary art to be a great witness for the truth. Many an effort which can hardly be dignified as literature has been a great stimulus to the spirit. To know that when we die in faith, the works which we have done in faith, however lightly esteemed they may have been on earth, will be remembered by the Father in heaven is not only mightily comforting but true.
There is a sense in which we may speak of "relative values" in the printed word. Much of what passes today for literary art in the novel, for instance, is naturalism of the grossest kind. One reads about evil as something in which to delight; filth and unredeemed perversity are exhibited as though they were natural and right. This kind of production may be, and frequently is, couched in very arty language, but it is not responsible literature, and its final worth, so far as the barest respect for the truth is concerned, is below the level of the telephone directory.
Just an ordinary blotter bearing the imprint of a rural church but having on it a great principle or portion of God's Word will far exceed An American Tragedy by Dreiser or Bryant's Christless Thanatopsis in the ultimate value of its message or the influence it will have for the good.
Certainly writing does not have to be applauded by the world to bear a successful witness for Christ. Thousands of books deficient in erudition and brilliance of language have led men to heaven because they clearly presented the gospel of Christ. A tract which fulfills its function of proclaiming the Saviour's message may lead a soul to the Lord, while a well-written novel whose vision of life is defiling and invalid may point the way to hell for countless souls. We forget that it is not necessarily art but the "foolishness of preaching" that avails. For "God hath chosen the foolish things of the world to confound the wise, and God hath chosen the weak things of the world to confound the things which are mighty, and base things of the world, and things which are despised, hath God chosen, yea, and things which are not, to bring to nought things that are, that no flesh should glory in his presence."
But to infer from this that we need not write what we profess in the best way we can, revising and reexamining our words until we are sure we cannot do better, is a mistake. The Lord is worthy of infinitely more than we can ever put forth as our best. The language we use should be vital enough to flesh our sword. Much of avowedly Christian writing (particularly what is written for theologians and pastors) betrays a certain diffidence, a lack of vigor and power which would imply possibly that the writer does not really believe the thing he is saying. Is there not frequently a complacent indifference toward evil, almost a genial tolerance toward it? All this may pass for good breeding, but it plays directly into the hands of the enemy. Had Martin Luther written as flabbily and spinelessly as even some of our evangelicals do, his attempts at Reformation would not have caused a ripple anywhere. When the trumpet issues only tremulous and tentative hemidemisemiquavers, the battle becomes a sham, a polite feinting of "gentlemanly" polemics. Such writing will never make literature, much less does it serve Christ.
Great writing, of course, cannot be taught. A writer must have the gift to begin with; and he must have the discipline to train that gift perseveringly. But to be a great Christian writer demands something more. We shall never have worthy literature to the glory of God unless we first have genuine Christians filled with the Holy Spirit and dedicated to His purposes. God alone can raise up such men, and if they are not around, we had better petition Him for them or supplicate the gift of the Holy Spirit, as Milton did, so that we ourselves may accomplish the task, at least in part.
Meanwhile, go back to your King James Bible, one of the greatest works of English literature on the market, the most popular and the most neglected, the only book one really needs on a peaceful desert island or in a cosmos hurtling to destruction. Study it, meditate deeply in it. You might absorb enough of its spirit to stimulate you to become a Milton in your own right. But even if you do not, linger—for you will find there him who is the aim and end of all Christian literature,
Man's friend, his Mediator, his designed
Both ransom and Redeemer voluntary,
Him who came
To conquer sin and death, the two grand foes,
By humiliation and strong sufferance …
To earn salvation for the sons of men.
PRESSURES FOR GOVERNMENT FUNDS IN EDUCATION, SECULAR AND SECTARIAN
Mounting grants of federal funds to educational institutions, and ecclesiastical attempts to deploy such funds to sectarian institutions, distress us. State aid to universities and colleges is objectionable because an educational system increasingly dependent on government ultimately will find itself under state influence and then control. An educational system not wholly free to criticize the state should be resisted rather than encouraged in the present climate of world totalitarianism.
The tendency to exploit state subsidy in behalf of sectarian church colleges is no less strongly to be condemned. In behalf of the Roman Catholic hierarchy, Francis Cardinal Spellman and others advocate use of public funds to support denominational schools. Since Roman Catholics now hold much political power in America, the danger of ecclesiastical pressures for partisan ends widens at legislative, executive, and judicial levels. President Kennedy, first Roman Catholic president in American history, was elected to office on record against use of Federal funds for religious institutions. The citizenry should reinforce this sound American conviction against ecclesiastical influences. This can best be accomplished by continual alertness, lest the unceasing pressures of certain church groups bring about a change while we are looking the other way.
Already the New York state legislature is faced with a sneak proposal to circumvent an explicit prohibition of the state constitution ("Neither the state nor any subdivision thereof shall use its property or credit or any public money, or authorize or permit either to be used, directly or indirectly, in aid … of any school or institution of learning wholly or in part under the control or direction of any religious denomination, or in which any denominational tenet or doctrine is taught …"). The proposal is that a $100 or $200 grant be given every private or denominational college resident student, payment to be given the college toward tuition costs. The New York Times alertly editorializes that the proposal's advocates "instead of thus trying to evade the Constitution" should frankly "advocate amending the Constitution to permit the use of public funds for the support of denominational schools and colleges. We think such a proposal would be wrong, but at least the issue would be posed openly."
Commenting on Romanist pressures, Dr. Oswald C. J. Hoffmann (whose Lutheran Church-Missouri Synod operates the nation's largest Protestant elementary school system) said: "Let Cardinal Spellman speak for himself.… He does not speak for us Lutherans." Neither, we might add, does the Cardinal speak for public policy both firmly planted and deeply rooted in American political traditions.
SEARCHING FOR A PHILOSOPHY IN AMERICAN HIGH SCHOOLS
Recent studies raise the question of the advisability of teaching Philosophy in American high schools. The booklet "Philosophy in High School," a report on a Lilly Endowment project by MacMurray College in Jacksonville, Illinois, tells the story of a three year experimental course in Jacksonville High School.
A few observations on Philosophy in high school may not be amiss. The place to begin, we think, is with a course in Logic, stressing the rules of the syllogism. Logic is used in geometry, a standard high school course, and some study of the method itself would be useful (even for fortifying students against some speculative prejudices of opinionated teachers to whom they sometimes are specially vulnerable).
Ethics is a poor subject for high school study. Although insisting that the young should be trained to live morally, the Greek philosopher Aristotle rightly noted that good judgment on ethical questions requires a maximum experience. (Logic and mathematics require a minimum.) Are high school students sufficiently mature for creative ethical decision?
The promotion of Philosophy in high school reminds us of the public school system's tendency systematically to ignore the Christian view of all subjects. It puts the wrong emphasis on Western history by neglecting the truth of the Reformation. The readings in English avoid solidly Christian writing. A course in Ethics would surely refrain from locating the reason for moral distinctions in the will of God. Have not the courts in some cases already banned the Ten Commandments? And may we not expect them likewise, in deference to minority pressures, to decide that the Beatitudes and the final chapters of some of the Epistles are un-American? Indeed, un-American because Christian?
CHRISTIAN BACKGROUNDS AND OUR AMERICAN CULTURE
Miss Verna M. Hall had been invited to speak to a small PTA meeting. When the school board learned that she planned to speak on the Christian background of the Declaration of Independence and the Constitution, they canceled her invitation. Christian ideas in the nation's history are apparently too un-American to be aired before the parents of school children.
As a result of the experience Miss Hall has published a 481-page volume, Christian History of the Constitution of the United States of America (The American Christian Constitution Press, San Francisco, 1960). The volume contains a great deal of documentation, both from European and American sources. Some of it is unfortunately second-hand. On the other hand there are 69 pages photographically reproduced from the 1714 edition of John Locke. Locke's social compact theory, still popular, is of course no more Christian than that of J. J. Rousseau. But this great English philosopher exercised a great influence on American government; his separation of the three powers is a great bulwark against statism and totalitarianism.
Books of this type are needed in these days, for the public school system often seems bent upon eradicating all memory of Christianity. A Pennsylvania parent complains that the public school in his town prohibits the pledge of allegiance to the flag because it contains the words "under God." In Colorado a fifth grade teacher had his contract revoked a few days before the beginning of the September term because he had conducted a Christian camp during the summer. And these two are not isolated examples.
In such a situation many Christian parents seem more and more disposed to found and operate their own schools, and understandably so. They purpose to give their own children a good education, and to avoid a species of bigoted secularism that distorts history by omitting the most important factor in our culture. The American spirit cannot be grasped without regard for Christian traditions and dynamisms. Whoever deletes these from the chronicles of the past rewrites American history with an alien intent.
I Believe …
To interpret creedal statements as poetry as over against prose is a treacherous development in the life of the Church. By granting to them only a symbolic sense, theological dissenters may repeat the creeds but utterly reject their stated truth. Eventually laymen must surely discover that such clergy do not actually believe what they emote in poetry and song. By this devious procedure, what is sung has meaning and response only in personal, subjective terms; creeds as poetry offer escape from the objective claims of revealed doctrine. At Christmas a Unitarian may thoroughly enjoy singing the Messiah and a minister who disbelieves the Virgin Birth, the Apostles' Creed. In fact, a humanist who denies the Living God altogether can sing the first article of the Creed with the same gusto as an Episcopalian bishop who, although he denies the Virgin Birth, sings the fourth and fifth articles. To set doctrinal truths to verse and music is one thing, to make poetry and song a covert for theological unbelief is quite another.
THE SEASON OF LENT AND CHRISTIAN DENIAL OF SELF
The season of Lent is a period of forty days extending from Ash Wednesday (February 15 this year) to Easter (April 2 this year)—a reckoning which does not include the six Sundays that fall within this season. The word Lent comes from an old English word for the season of Spring. For centuries the Church has observed the forty days of Lent in commemoration of the period of forty days spent by our Lord in the wilderness at the time of his fasting and temptation. By many it is used as an opportunity for self-denial and spiritual discipline. This can be of real value provided it does not become a mere formalistic observance. If Lent is no more than the endurance of an annual interlude in what is otherwise a life of self-indulgence, then it is no more than a meaningless mockery. If Lenten abstinence gives a boost to human pride and self-merit, then it had better be omitted altogether. The season of Lent, properly observed, is an occasion for reminding ourselves that our whole life should be one of self-abnegation in obedience to the Master's admonition that he who will follow him must deny himself and take up his cross daily, just as the whole life of him whom we profess to follow was one of humility and self-emptying for our sakes. It should remind us, further, that Christ himself is no stranger to the feeling of our infirmities, in that he was tempted in all points as we are, though with this one important difference, that he did not yield to temptation and commit sin; and therefore that if we, weak and inadequate as we are, are to overcome the tempter, it will not be in our own power, but in the power of him who is our living and victorious Saviour and Lord.
Added significance is given to the season of Lent by the fact that, in the Christian year, it leads up to the solemn remembrance of our Lord's passion and death on Good Friday. It is a period during which spiritual life may be enriched through literature written in contemplation of the Cross as the place of our redemption, and especially through the prayerful study of God's Holy Word.
EVANGELICAL CONTRIBUTION WIDENS IN THE WORLD OF RELIGIOUS BOOKS
CHRISTIANITY TODAY'S annual list of 25 choice evangelical books has the merit of calling special attention to some of the many volumes pouring from the religious press today whose evangelical worth might otherwise be underestimated. Not only are thousands of pastors today scanning this list for works falling into their particular areas of interest, but librarians in Christian schools and churches inform us that the nominations provide helpful guidance in making current additions.
It is heartening that the quality as well as the quantity of evangelical literature is on the rise. The need remains, however, for works of theological and literary merit, and major publishing houses today are open to them as seldom in our generation. Yet the restrictions employed annually in preparing our list are such that some works of merit fall outside its scope.
One thinks of the $100-a-copy limited edition of Don Norman's The 500th Anniversary Pictorial Census of the Gutenberg Bible (Coverdale Press). At the other extreme, mention may be made of significant paperbacks, especially the Modern Thinkers Series (Presbyterian and Reformed) on contemporary theologians; Helmut Gollwitzer's The Dying and Living Lord (Muhlenberg), a series of stirring sermons preached in the face of Nazi tyranny; the fine booklet Challenge and Response, under which title the Christian Labour Association of Canada reprints its 1960 convention address by Bernard Zylstra; the report of discussions at the Protestant Council on Roman Catholicism at Buck Hill Falls titled Revolt and Commitment (Stuart P. Garver, editor), issued by Christ's Mission; and the bibliography for The Biblical Novel: A Checklist with an introductory essay, compiled by Arnold D. Ehlert.
Nor have the Editors listed contemporary biographical essays, such as Richard Gehman's firsthand survey of the dynamic work of Evangelist Bob Pierce titled Let My Heart Be Broken (McGraw-Hill) and Ethel Wallis' The Dayuma Story, a colorful glimpse of missionary fruit among the Auca Indians (Harper). In view of the 400th anniversary of the Scottish Reformation, moreover, note should be taken of J. H. S. Burleigh's Church History of Scotland (Oxford) and A. M. Renwick's The Story of the Scottish Reformation (Eerdmans), the two volumes gaining added interest from the identification of Principal Burleigh (former editor of The Evangelical Quarterly) with New College, and of Professor Renwick with nearby Free Church College, Edinburgh. The year 1960 also saw such additions to the New Tyndale Commentaries (Eerdmans) as R. P. Martin's Philippians and R. V. G. Tasker's The Gospel of John. No additional work has appeared in the New International Commentary on the New Testament (Eerdmans) since the first volume of John Murray's Romans more than a year ago.
Have something to add about this? See something we missed? Share your feedback here.
Our digital archives are a work in progress. Let us know if corrections need to be made.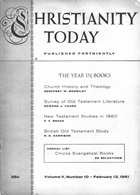 This article is from the February 13 1961 issue.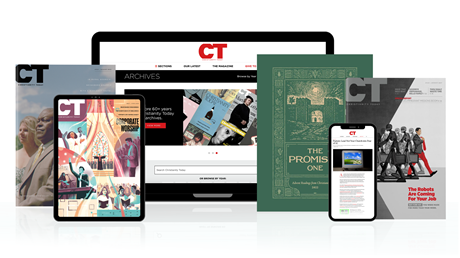 Annual & Monthly subscriptions available.
Print & Digital Issues of CT magazine
Complete access to every article on ChristianityToday.com
Unlimited access to 65+ years of CT's online archives
Member-only special issues
Subscribe
A Sword Tipped with Ink
A Sword Tipped with Ink