SAY IT WITH MUSIC
Thank you for your recent editorial about a prominent churchman who cannot recite the creed as prose affirmation, but is happy to sing it. Pastor Peterson was fascinated; at once he began an improvisation to a familiar tune:
Sing the creeds away;
Sing and smile and say,
"Since I'm low, and broad, and high,
I sing the creeds away!"
Chant the creeds away,
No matter what you say,
Music with the truth of myth,
Is perfectly okay!
Some questions remain, however. What about a singsong preacher's tone? Does this permit unlimited indulgence in orthodox terminology? Could we have some discussion of demythologizing and singspiration? What do you suggest for a myth-minded monotone, like the chap in the picture? To borrow a term from a friend of mine, I am
Singcerely yours,
EUTYCHUS
A FATEFUL HINGE
"The Living Plus Sign" (Jan. 2 issue) … is a magnificent, moving, revelatory and biblical proclamation of the Christian message.…
We are very grateful for this welcome addition to an already outstanding Christian fortnightly.
T. R. SISK, JR.
First Baptist Church
Hogansville, Ga.
Above the confusion of many voices it is good to hear voices unashamedly affirming "the foolishness of God." To what extent no one can determine, but it is an impelling conviction that unbelief must eventually feel the effects of CHRISTIANITY TODAY.
WILLIAM L. BORCH
Salem United Church of Christ
(Evangelical and Reformed)
Columbia, Pa.
"… The first transcontinental railway was completed" when a golden spike was driven in Utah, 1869.…
LOUIS HIEB
Long Beach, Calif.
Bible preaching is indeed the hinge on which our evangelical future swings.
HAROLD F. GREEN
Parkview Baptist
Lake City, Fla.
The only way it is at all possible for me to appear weekly in the pulpit without suffering from "overexposure" is to stick to the Script.
RONALD H. LIND
Mizpah Lutheran Church
St. Louis, Mo.
THE ANGUISHED CRY
I am sure that if Brother Hoffman will forgive Brother Schulze for writing "modal monarchianism," Brother Schulze will forgive Brother Hoffman for the tautology involved in "indispensable sine qua non" (Eutychus, Jan. 2 issue). Ever since it became necessary to shorten the name of "The Evangelical Lutheran Synod of Missouri, Ohio, and Other States," all true Missourians have been in favor of shortening names wherever possible. Here it is Brother Schulze who is riding the wave of the future.
Your readers should know that we in the Missouri Synod are wrestling with the real problems which led to the anguished cry of Brother Schulze. However, it would be more God-pleasing, I am sure, if the time and energy which is used to cover and to hide the problems were used instead to confess them humbly, to face up to them courageously, and with God's help to solve them. I hope and pray that those who have come to love and to respect the Missouri Synod for its staunch defense of Lutheran orthodoxy in the past will say a prayer or two for a church that needs the prayers and the sympathy of all those who love the Lord Jesus Christ.
SIEGBERT W. BECKER
Associate Professor of Religion
Concordia Teachers College
River Forest, Ill.
THE ART THAT'S ALIVE
If in the field of painting, a medium that is almost dead anyway (Editorials, Dec. 5 issue), you want to find significant painting—don't look at the New York galleries or their shirt-tail riders out in the universities. Look rather in the very small galleries around the country. Here and there you will find painters who are trying and to some extent succeeding in relating God and their work. But because they do not fit into the neat categories of the museum of modern art, their work will not be celebrated in the national magazines or other national media. But really, to carry on about modern painting is to flog a dead horse. The art that is really alive and really helping to bring God before the people is architecture. There are, of course, exceptions—but we are living in a new day of church architecture. A change like this—as deep as this—hasn't taken place since Gothic times.
JAMES SWIFT
St. Mark's Episcopal Church
Crystal Falls, Mich.
INHERIT THE WIND
Thank you for your enlightening review of "Inherit the Wind" (Nov. 21 issue). It is a reflection upon the alertness and loyalty of evangelical Protestant folk that films such as this (as well as "Rain" and "Elmer Gantry") are shown with almost no protest.
GEORGE WEISS, JR.
Sea Cliff, L. I., N. Y.
Contrary to Mr. P. E. H.'s opinion, the film follows very closely the factual account of what happened in Dayton, in 1925. "Purporting to reproduce the Scopes 'monkey' trial of 1925," the film does exactly that, and does it well.
DAVID E. ENGDAHL
Mission, Kans.
CATHOLIC BUT NOT ROMAN
I feel I must draw your attention to an error in your article "Archbishop of Canterbury to Meet Pope John" (News, Nov. 21 issue).
There is no Roman Catholic Archbishop of London. He is Archbishop of Westminster, a quite different thing. The Archdiocese of Canterbury never was Roman Catholic. The Church in England was Catholic but not Roman.
WILLIAM DRAPER
St. Mary's Rectory
Hillsborough, New Brunswick
It has always seemed to me that you were quite careful to check your statements of fact. But you assuredly let one get by you.… The simple fact is that Canterbury never was "Roman" Catholic. Beginning with the Norman conquest in 1066, indeed, the ancient British Church was forced to accept the jurisdiction of the Popes. But it was fought continually, and appeals to Rome were forbidden from time to time. In 1215 King John signed the Magna Carta, the great charter which guaranteed that "the Church of England shall be free, and have her rights entire and her liberties uninjured." Under Henry, and again under Elizabeth, the English Church threw off the power and authority which the Popes had usurped so long: it did not secede from the unity of Catholic Christendom. Actually, the term "Roman Catholic" in English ecclesiastical history dates from the year 1570, when Pope Pius V deposed Queen Elizabeth and absolved her subjects from all allegiance. It was at this time that the recusants withdrew from the long-established Church, set up altar against altar, and organized into a mission on English soil to compete with the Church of England for the loyalty of Englishmen—all at the instigation of the Papacy. But it was the Roman Catholic Church which was the new body, not the catholic Church of England. To say that Canterbury was "formerly Roman Catholic" is not only to say what is not true: it is to misunderstand the whole history of English and Roman ecclesiastical relations.
FRED C. RUFLE
Wichita, Kans.
The "strong churchmanship" (Editorials Nov. 21 issue) which is supposed to be one of the blessings of liturgical worship as seen in the Church of England, is of dubious value as exemplified by either Dr. Fisher or the church which quietly permits him to open the door to unity without consideration of truth.…
ROBERT OVERGAARD
Immanuel Lutheran
Eugene, Ore.
RACIAL DISCRIMINATION
In regard to Reinhold Niebuhr's pronouncement of some time ago frowning upon the preaching of Christ to the Jews, … since Jesus Himself was a Jew, it was wrong for God to make Him the Christ. It was wrong for Christ to preach or proclaim Himself as Christ to the Jews.
MEYER MARCUS
Staten Island, N. Y.
RELIGION AT HARVARD
I fail to see any connection between the religious controversy at Harvard and the failure of Harvard to invite conservative American preachers to the Memorial Church pulpit (Editorials, Dec. 19 issue). I think it is rather the sincere thought on the part of the Board of Preachers that most conservative preachers either have little to offer an intellectual community or else would arouse much antagonism to the cause of Christ.
JAMES H. HORNSBY
Harvard College, '61
Cambridge, Mass.
The regrettable thing about the situation at Harvard is that so much of what passes for Christianity bears little resemblance to the teaching of Christ and the preaching of the Apostles. Much effort is expended by professors, section men, et al. in demolishing what they take to be the Christian position. Students whose critical armament is insufficient to enable them to distinguish the true doctrine, on which the Christian faith must stand or fall, from fallacious or fanciful embellishments, often lose their footing in the deluge of witty but frequently irrelevant invective.
Unfortunately … only the exotic are welcome here. Even the Harvard Christian Fellowship went (Stott in 1957) and goes (Prior in 1961) abroad to find a preacher to bring the Gospel to Harvard.
The stumbling block for Christianity in Harvard's religious revival is the widespread willingness to be interested in religion, opposed to a considerable fear of becoming personally involved. Since personal involvement is the heart of Christianity, no amount of "religious interest" will really further the cause of Christ. Memorial Church wants auditors, but not converts. Dr. Buttrick did convert several people during his tenure, and was rather at a loss as to what to do with them, since the Church really has no sacraments or fellowship life.
HAROLD O. J. BROWN
Second Congregational Church
North Beverly, Mass.
EXISTENTIALIST'S PRAYER
Source of all being, Who art the basis of reality, Hallowed be Thine objectification. Thy dominion enfold us. Thy will permeate existence, till existence realize its purest essence. Grant us daily sustenance. Accept us despite our essential distortions, as we accept those whose essential distortions tend to repel us. And lead us not into the objective-subjective dilemma, but deliver us from negation. For Thine is dominion, potential and actualization, forever. Amen.
PAUL B. BEATTY, JR.
St. Paul's Evangelical Lutheran Church
Hamlet, N. C.
REPORT FROM TORONTO
Katherine Jansen says that nuns are teaching in public schools in some States "because the State has no schools in those communities" (Eutychus, Oct. 24 issue). This, surely, is strange reasoning. The schools in which the nuns' teaching has been objected to are public schools paid for by the taxpayers. Since the R. C. church does not operate public schools, it must be that the schools operated "in those communities" are the state public school. What does she mean that the "State has no schools"?…
Beyond this queer argument is a more serious statement, which, for blind bigotry is hard to surpass. The same writer, in referring to orphanages, says: "Any knowing non-Catholic would know that they have no dedicated people to run orphanages." In refutation of this undeserved insult, may we quote from a news report in The Toronto Globe and Mail of Oct. 3 covering a meeting of The Canadian Conference on Children. Five of nine provinces (Quebec did not report) had "an over-supply of Roman Catholic infants … and a shortage of Roman Catholic homes … an over-supply of Protestant homes willing to adopt children." This reveals that there are more R. C. children (either illegitimate or from broken homes) and/or R. C. citizens prefer to have the State (including Protestant taxpayers) care for the products of Roman Catholic homes. This situation prevails in every large city, as in Toronto, where children's aid work is twice as heavy for the R. C.'s as their proportion of the population would warrant; but how their church will exert legal and other influences to snatch a child of a mixed-marriage, while they have "an over-supply of their own infants and a shortage of homes for them." Toronto, Ont.
LESLIE H. SAUNDERS
Rome's real threat is religious, not political. While I fully agree with the many Protestants who continually point out the political threat of Rome and the danger of mixing Church and State, I believe that Rome's false life and practices stem basically from false doctrine.
JAMES G. MANZ
Chicago, Ill.
In all the Protestant debate on the issue of a Catholic president, it seems to me that the most obvious point has been overlooked. That is, that the New Testament never suggests that the church of Jesus Christ can expect the political authority to show it any special favor.… The early church grew and flourished in spite of political hostility that often erupted into open violence.
ROBERT W. MEARS
Chicago, Ill.
Have something to add about this? See something we missed? Share your feedback here.
Our digital archives are a work in progress. Let us know if corrections need to be made.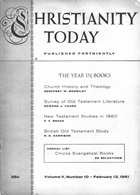 This article is from the February 13 1961 issue.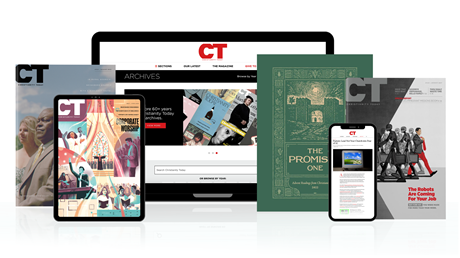 Annual & Monthly subscriptions available.
Print & Digital Issues of CT magazine
Complete access to every article on ChristianityToday.com
Unlimited access to 65+ years of CT's online archives
Member-only special issues
Subscribe
Eutychus and His Kin: February 13, 1961
Eutychus and His Kin: February 13, 1961