There is a feeling of uneasiness in the air, a foreboding of pending disaster, shared by people in almost every walk of life.
When the 87th Congress convened, Speaker Sam Rayburn told the House that the world situation is more grave than at any time since Christ came.
A few months ago Dr. Wernher von Braun wrote: "In their constitutionally guaranteed pursuit of happiness many Americans seem to refuse to look at the dark clouds which are rapidly moving up. I fear it is later than we think, and our position in the world is gravely endangered."
In January of this year a National Planning Association urged incoming President John F. Kennedy to "tell the country the stark, unvarnished truth about the national emergency" created by the challenge of Soviet communism.
Making full allowance for man's myopic vision of that phase of history of which he finds himself a part, the fact remains that the small world in which we now live is torn by conflicting movements which seethe and erupt simultaneously in many parts of the world. Today it may be Cuba and Laos, the Congo and Berlin. Tomorrow other areas will be the scenes of unrest.
With all of its ominous implications—infiltrating, subverting, and taking advantage of every opportunity, is the world-wide Communist conspiracy which works relentlessly and successfully towards its goal of world domination.
Anyone aware of the current world situation, be he an intelligent analyst or merely a bewildered observer, is conscious of a sense of uncertainty—waiting for something to happen. And it will!
For the leaders of Communism see to it that the free world is kept off balance. Expanding populations, nationalistic aspirations, economic pressures all make for a spirit of unrest with mob violence and other precipitate actions adding to the opportunities of well-organized, disciplined Communist followers to further their plans of conquest.
These may not be the "last days" (while on the other hand they may be), but certainly the words of our Lord are being fulfilled today: "Men's hearts failing them for fear, and for looking after those things which are coming on the earth."
This sense of uncertainty and foreboding is engendering in non-Christians a grave instability. Even Christians are in danger of being confused, for no longer do we find convictions about right and wrong the controlling factor. Men and nations are resorting to expediency, looking for immediate gain rather than for ultimate righteousness.
Whether expressed or not, men are looking for escape, for a place to hide. Not long ago a news commentator recounted a number of world catastrophies and facetiously ended with this query: "Anyone know of a nice cave in which I may hide?"
Many are seeking escape in pleasure, sex, alcohol, material possessions. Others look for safety in the philosophy of Babel—organizations and man-devised panaceas—and hope by these to counter the acknowledged unrest and disintegration in every part of the world.
World uncertainty carries with it a longing on the part of men for someone to lead, a man with commanding personality, great ability, and recognized international sympathies.
Let some man appear on the world scene who has the magnetism to attract, a financial genius, a sympathetic administrator with an iron will, one who holds out hope of a "just and durable peace," and the world as a whole will enthusiastically accept his leadership.
But in all of this, the unregenerate world is ignorant of or is wilfully ignoring the One in whose hands are to be found the answers to the world's dilemma.
While the "whole creation groaneth and travaileth together in pain until now" few indeed, in terms of the world's millions, look to the One who says: "Come unto me, all ye that labor and are heavy laden, and I will give you rest."
One can sense the yearning of the Saviour who came to redeem us from hopelessness. To us, as to the people in Jerusalem in his day, he says: "How often would I have gathered thy children together, even as a hen gathereth her chickens under her wings, and ye would not!"
Does not this situation present to the Church one of her greatest opportunities? The Church has the message of the One who came to seek and to save. She has the assurances which men need, and should emphasize the priorities which our Lord himself stressed, namely, a regenerated citizenship for a Kingdom which will stand forever.
Rather than look to organizational and ecclesiastical alignments (important as they may be), the Church should again emphasize the message of redemption and regeneration. Have we not been neglecting to adjust our perspective to eternal verities?
The apostle Paul leads the way when he insists: "While we look not at the things which are seen, but at the things which are not seen: for the things which are seen are temporal; but the things which are not seen are eternal."
The writer of the Epistle to the Hebrews expresses this creation's future in these words: "And, Thou, Lord, in the beginning hast laid the foundation of the earth; and the heavens are the works of thine hands: they shall perish; but thou remainest; and they all shall wax old as doth a garment; and as a vesture shalt thou fold them up, and they shall be changed; but thou art the same, and thy years shall not fail."
For the Christian there is the assurance of Isaiah: "Thou wilt keep him in perfect peace, whose mind is stayed on thee: because he trusteth in thee." Countless other promises in the Bible are directed specifically to the comfort and hope of the believer in the midst of world disintegration.
Against the dark background of a world in chaos there shines the clear radiance of the Christ who came to save not a dying world order but individuals involved in its system. That He is so obscured by those who profess his Name, and that both individual Christians and the Church are failing to rise to the challenge and opportunity which the present uncertainty engenders are the major tragedies of our time.
In the midst of confusion, people are looking for certitude. Confronted by a crumbling social order, they long for something that will endure. Subjected to the conflicting claims of ideologies and philosophies which rise no higher than man himself, they long for Someone who speaks with divine authority.
To those who believe, the hope of His coming will replace foreboding; assurance will supplant fearfulness, and primary concern will shift from the temporal to the eternal.
And while waiting, we serve our fellow men for their good and for the glory of God.
L. NELSON BELL
Have something to add about this? See something we missed? Share your feedback here.
Our digital archives are a work in progress. Let us know if corrections need to be made.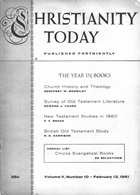 This article is from the February 13 1961 issue.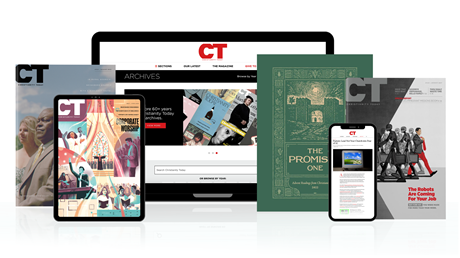 Annual & Monthly subscriptions available.
Print & Digital Issues of CT magazine
Complete access to every article on ChristianityToday.com
Unlimited access to 65+ years of CT's online archives
Member-only special issues
Subscribe
Waiting!
Waiting!