HEY, DIDDLE
This sermonette, condensed from a long discourse with no loss, is offered for clinical study. It is a sparkling example of relevance, psychological-symbolic depth, and restrained sentiment; it is a tribute to an art which has been so intensively cultivated that it can bloom, as in this case, without any soil whatever. Modern preaching can be airborne.
Hey, diddle, diddle,
The cat and the fiddle,
The cow jumped over the moon.
The little dog laughed to see such sport,
And the dish ran away with the spoon.
From our common heritage of nursery wisdom, no rhyme comes with more compelling relevancy than this charming myth for the space age. Recapture its message, and share in exuberant release from anxiety: Hey, diddle, diddle! Has the steam of modern life dimmed your "diddle?" Consider the affirmations of this verse.
Three profound insights into the human situation are presented: the soaring possibilities of existence; the positive affirmation of existence; and the romantic fulfillment of existence.
First, the transcendent possibilities of existence are expressed in the mythical symbol of the lunar leap. Our space-men first conceived of the possibility of moon travel in the imagery of this verse. Observe that a cow performs the feat. This is not a reference to milk prices, but the cow here is a totem animal, a mother surrogate. We are linked to the cow by milkshakes, hamburgers, and TV. If the moon is in the range of the cow, the cowboy star can shoot there too.
The great challenge of existence brings a positive response from the dog. The little hound finds excitement and merriment in the cow's achievement. Life can be fun, this mongrel barks. To the merry tune of the cat's fiddling he bays at the moon.
This musical gaiety introduces the climax: the dish ran away with the spoon. What a romantic ending! The dish and spoon are so evidently made for each other. Silver and china are wedding gifts, symbols of happy domesticity. Put yourself in this place setting; see your initials on the dish and spoon. Then, back to your fiddle with a hey, diddle, diddle!
EUTYCHUS
ON THE FRINGE
In our opinion CHRISTIANITY TODAY is the best Christian publication of our generation and the December 19 issue tops all other issues yet published.
GEORGE FISHER
Co-Editor
The Baptist World News
Birmingham, Ala.
In his article "Seventh-day Adventism" (Dec. 19 issue), Walter R. Martin leads out by stating that this church came "in the wake of the defunct Millerite Movement." He explains that William Miller, a Baptist minister … predicted Christ's coming in 1843. Then he states: "When Miller's calculation was proved false, after a second guess, October 22, 1844, he manfully admitted his error and dissociated himself from the movement."
How more effectively … dispose of Adventists? Think of it, they blindly go forward to build a church on a foundation that the founder himself repudiated!… But the undebatable, documented record proves Martin's statement incorrect. On August, 1845 Miller wrote his Apology and Defence, a 36-page pamphlet. I quote: "That I have been mistaken in the time, I freely confess.… With respect to other features of my views, I can see no reason to change my belief.… The prophecies which were to be fulfilled previous to the end, have been so far fulfilled that I find nothing in them to delay the Lord's coming" (p. 33). That position he maintained till his death. He wrote a letter on April 10, 1849—his last, for he was now almost blind—which reaffirmed his faith: "Lift up your head, be of good cheer, be not faithless but believing. We shall soon see Him for whom we have looked and waited." He died eights months later.
… I willingly give Mr. Martin credit for his evidently sincere and somewhat extended examination of Seventh-day Adventism during the last few years—I know of no similar examination. That was what led him, and the late Dr. Barnhouse, to go on record that Adventists are Christians, and not a cult—whatever this malodorous term is supposed, precisely, to mean. Consistently, Mr. Martin takes essentially this same position in … your journal. And that, despite the fact he takes issue with certain of our beliefs.
In the same issue you list us with the cults, thus neutralizing the conclusion that Martin and Barnhouse felt that in simple fairness they must reach. I have no concern here to take issue. I have not been appointed to answer every indictment of our theology. I have written in comment only on a grievous historical error. I am not at all concerned whether a Christian leader looks down in righteous condemnation upon me and says "cultist." Name calling, as you know, has long been a favorite, though sorry, weapon in theological polemics.…
F. D. NICHOL
Editor
Review and Herald
Takoma Park, D. C.
F. D. Nichol attempts to evade the issue under discussion, namely William Miller's repudiation of the "new" views of those who became the founders of the Seventh-day Adventist Church. In fairness to the facts of history, I must differ with Mr. Nichol's statement that: "… The undebatable, documented record proves Martin's statement incorrect."
The sources Nichol quotes do not disprove what I wrote. They only show that Miller remained a believer in Christ's eventual return. This I never denied. Miller and his followers had contradicted Christ who taught that no one knows "of that day and hour.… Ye know not what hour your Lord doth come.… For in such an hour as ye think not the Son of man cometh" (Matthew 24:36, 42, 44; 25:13).
William Miller, it should be noted, was never a Seventh-day Adventist and stated that he had "no confidence" in the "new theories" which emerged from the shambles of the Millerite movement. Dr. LeRoy Froom, Professor of Historical Theology at the Seventh-day Adventist Theological Seminary of Andrews University, Berrien Springs, Michigan, in the fourth volume of his masterful series "The Prophetic Faith of our Fathers" (pp. 828–29) succinctly states exactly what Miller's position was: "Miller was outspokenly opposed to the various new theories that had developed following October 22, 1844, in an endeavor to explain the disappointment. He deplored the call to come out to the churches that had been given, and he never accepted the distinctive positions of the Sabbatarians. The doctrine of the unconscious sleep of the dead and the final destruction of the wicked was not, he maintained, part of the original Millerite position, but was introduced personally by George Storrs and Charles Fitch. He even came to deny the application of the parable in the 'Midnight Cry' to the Seventh-month Movement and eventually went so far as to declare unequivocally that the movement was not 'a fulfillment of prophecy in any sense.' "
Mr. Nichol is a good apologist for his church, but Dr. Froom is recognized as its chief historian. In this case, it is Nichol vs. Froom, or apologetics vs. history; and what I wrote, Dr. Froom has validated from history.
WALTER R. MARTIN
Editor
Religious Research Digest
Livingston, N. J.
I was a missionary in India 1912–1920.… At Saharanpur the Seventh-day Adventists got the names of villagers who were converted and reported them as their converts.
WILLIAM WAIDE
Xenia, Ohio
Adventists fail to identify themselves properly when conducting campaigns.… This year I was deceived to believe I had given to welfare, until I read the literature left with me. Is there any legal procedure that one could take against this?
RICHARD L. POTTER
Lind, Wash.
The article "Jehovah's Witnesses" [includes] … several inaccurate statements: P. 16, speaking of the Jehovah's Witnesses: "… Its earlier days are strangely passed by in its more recent literature." This has been the case in the past. But January 1, 1955 through April 1, 1956 marked the publication of a 31 part series in the cult's Watchtower magazine. This series is entitled: "Modern History of the Jehovah's Witnesses," and it takes the history of the movement from its beginnings in 1870 on to early 1956. In 1959, the book Jehovah's Witnesses in the Divine Purpose appeared. This book is the first book-sized history of the movement. This 311 page (plus charts) book is based heavily on the series.…
P. 18, "… It must be said that they are rather uneducated." This statement was once true, and it is possibly to some extent true today. But there is evidence that the Witnesses are dipping more and more into the college and business man's ranks. The Witnesses have put an increased emphasis on education, although not secular.
EDMOND C. GRUSS
Los Angeles, Calif.
Christian Scientists … regard Science and Health in somewhat the same way that most of your readers probably regard the great historic creeds which undertake to spell out doctrines which they believe to be implicit if not explicit in the Bible—in other words, as an inspired interpretation of Scripture. But the Bible (King James Version) remains central for Christian Scientists.…
Dr. Gerstner quotes part of a sentence from Science and Health which states that Jesus Christ is not God, but he omits the latter part of the sentence, which goes on to describe the Saviour as the Son of God. We obviously differ doctrinally on this important point, but it is only fair that your readers should know that we do believe that Jesus was born of a virgin, showed forth the nature of God in all his works, died on the cross, was resurrected from the tomb "and is set down at the right hand of the throne of God" (Heb. 12:2).
J. BUROUGHS STOKES
Christian Science
Committee on Publication
Washington, D. C.
I object to … terming the Rosicrucians as a "cult." This is a philosophical organization and is made up of practically every religious belief in the world. To my present devoutness to Christianity and my solid reliance [on] … the Old-School Presbyterian method of interpreting theology as the Master would so direct His students, I can truthfully say that my conception of God and the mediatorship of Christ was solidified more through the Rosicrucian teachings than had ever occurred or been increased in any church affiliation or sermon.…
M. E. HAYS
Memphis, Tenn.
The most egregious error … alleges that Christ's only function for Mormons is to guarantee men a resurrection. It is hard to believe that this statement follows serious reading of the Book of Mormon, whose title page announces verification that "Jesus is the Christ" and whose message emphasiszes, "it is by grace that we are saved, after all we can do" (2 Nephi 25:23).…
As a dedicated Mormon, I freely accept classification outside the Protestant structure, for the Church of Jesus Christ of Latter-day Saints claims divine revelation adding truths not known to modern Christianity. But to classify Mormonism as a "cult" presents non-Christian connotations. The central act of every Mormon Sunday service is the Sacrament of the Lord's Supper, with the revealed prayer to partake in witness that "they are willing to take upon them the name of thy Son, and always remember Him.…" Because Mormons are serious enough to spell out practical ways of achieving this goal, must they consistently be judged by an easy "works preclude spirituality" formula?…
Whatever one may think of Joseph Smith's revelations, Mormonism does appeal to both mind and soul. Its intellectual success can be demonstrated, for it was essentially untouched by fundamentalistic debate.… It will be adjudged progressive in the nineteenth century and conservative in the twentieth.
RICHARD L. ANDERSON
Speech Dept.
University of California
Berkeley, Calif.
The editorial … raises grave question of the accuracy of judgment of its writer.… The … allegation is that MRA has been supported by some very militant fascists. Names are omitted and the sly inference is that only fascists support it. This is itself a political judgment and has no place in the context of the editorial. It is also designed to create a negative attitude in the reader. And the important fact is omitted that fascists and communists, capitalists and workers, royalty and commoner, Catholic and Protestant, black and white, are finding thru MRA an experience of Christ that unites them all into a world fellowship.
JOHN E. BATTERSON
Chaplain
U. S. Army
Redstone Arsenal, Ala.
PENGUINS STAY PENGUINS
Nothing "evolves higher"—from ameba to ant, paramecium to penguin, mouse to moose.… There aren't any originating genes to build new organs! All organs are built by the genes and chromosomes of the "kind" whose genes they are.… Radiation-induced mutations are deleterious, lethal, breaking life down in accord with physical principles of entropy. Everything stays in its kind, or dies. Evolution is a 100 per cent fake, we claim—after many years of research.… Genesis is right!
L. V. CLEVELAND
Sec., U.S.A. Division
Evolution Protest Movement
Canterbury, Conn.
Have something to add about this? See something we missed? Share your feedback here.
Our digital archives are a work in progress. Let us know if corrections need to be made.
This article is from the January 30 1961 issue.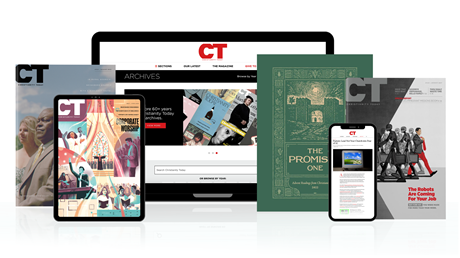 Annual & Monthly subscriptions available.
Print & Digital Issues of CT magazine
Complete access to every article on ChristianityToday.com
Unlimited access to 65+ years of CT's online archives
Member-only special issues
Subscribe
Eutychus and His Kin: January 30, 1961
Eutychus and His Kin: January 30, 1961