POWER—MIRAGE OR REALITY?
Secular power is a reality, not a mirage, but spiritual power proves to be an ever-receding mirage unless it is sought on God's terms.
The psalmist asserts that power belongs to God, and we can readily accept this affirmation as he is the Sovereign God, the Creator and Preserver of the universe.
However, in His infinite wisdom he has seen fit to place certain power in the hands of men. Civil authority derives its power from God, whether or not the agent of that power recognizes its source.
But in the realm of spiritual endeavor, power is an elusive factor until and unless its divine source is tapped and we become channels through which God himself acts.
Who of us engaged in Christian work has not had the humiliating experience of expending time, energy, and every available human resource on some particular activity only to know within our hearts that the effort has failed?
For the carrying on of Christian work there are a number of assets that are very valuable, provided they are combined with the power by which alone they may be implemented. But in none of them does power reside of itself.
Orthodoxy as faithfulness to revealed truth is a vital part of the Christian witness. But it must never be confused with spiritual power. Something else is necessary.
Organization is important as the Lord's work ought always to be carried out decently and in order. But neither the size nor the type of ecclesiastical organization guarantees success in the work of God's kingdom.
Programs occupy a necessary part in the work of the Church, even though the very burden of multiplied schedules for Christian work may carry the seeds of their own failure. There are programs which may excel, and there are others woefully deficient in spiritual content; but all will fail if something vital is missing.
Promotion has come over into the Church from the business world. There is nothing wrong with trying to sell Christ to the unreached, and there is full justification for promoting every legitimate agency and activity of the Church. But we have to remember that it takes more than promotion to reach men effectively for Christ or further their growth in him.
Personality can be a wonderful asset if it is permeated by the winsomeness which comes from the indwelling Christ. But some Christian work has failed miserably because men have tried to sell themselves rather than Christ, to impress others with their own erudition and cleverness rather than make themselves obscure behind the Cross of Calvary.
Meetings are certainly a necessary part of a church's activities. In the very exercise of public worship, in the groups congregated for study of God's Word, in the assembling of those interested in a particular phase of the work of the church, there is to be found a part of the machinery which is essential to the on-going of Christ's kingdom. But meetings in themselves are not the source of power.
Money makes possible the outreach of the Church at home and abroad. God has ordained that those who preach the Gospel shall live by the Gospel. He has ordained that we who bear the name "Christian" shall give as the Lord has blessed for the establishing and maintaining of the many necessary phases of the Church's work. But how futile is the power of money alone; how useless is it without spiritual power!
Methods also have their legitimate place in Christian work. There are new techniques today which God blesses for preaching the old Gospel. Methods of proven worth can most wisely be substituted for those that have been proven ineffective. But God help any of us who depend on a method rather than on the message itself!
Why is it that these worthwhile assets to Christian work can prove so frustrating in themselves? Why do a combination of these good things often lead to miserable failure?
The answer is simple. They are adjuncts to Christian work. All have a good and legitimate use insofar as they are avenues through which God demonstrates his own sovereign grace and power.
We all are familiar with the words of the prophet Zechariah: "Not by might nor by power, but by my Spirit, saith the Lord of hosts." Do we not often give intellectual assent to these words, but fail to take them into practical account?
Christian work cannot be successfully carried out aside from the presence and power of the Holy Spirit. For that purpose he came into the world and to that end he requires two things: prayer and faith in God's revealed truth.
Prayer is absolutely necessary for spiritual power, for it is the spiritual respiration whereby we breathe in God's holy presence. In his infinite wisdom our prayers release divine power. It is through prayer that the humanly impossible becomes the divine certainty. It is through wrestling with God in prayer that things assume their proper perspective. It is while we pray that God speaks to us and we see his way and walk in it—haltingly perhaps, deeply conscious of our own limitations, but also conscious of his presence and power.
Finally, spiritual power vanishes when we question or distrust the one offensive weapon with which man can wage a successful warfare against Satan—the Sword of the Spirit, the Word of God.
It is a demonstrable fact that the assets for Christian work just mentioned lead to futility unless they are coupled with faith in and use of the Word of God. It is because such faith is often lacking today that much Christian activity resembles the pressure foot of a sewing machine—up and down but never arriving anywhere.
We sense something of the significance of the Holy Spirit in the world in our Lord's assertion that it was necessary he return to heaven so that he might send the Spirit.
We see the effect of his coming, for at Pentecost ignorant and fearful men were suddenly transformed into bold and powerful witnesses, not because of miraculously acquired intellectual gifts or changed backgrounds but because they were filled with the Spirit of the living God.
As blessed as had been the experiences of these men during the three years with their Lord, they were unfit to be his witnesses until the Holy Spirit empowered them. "But ye shall receive power at the coming of the Holy Spirit upon you, and ye shall be witnesses to me …" was the prediction of a necessary and real experience. This same empowering is necessary today.
For such power we too must tarry in the Jerusalem of his presence. We too must pay the price of complete surrender.
Then, and only then does power cease to be a mirage and become a reality.
L. NELSON BELL
Have something to add about this? See something we missed? Share your feedback here.
Our digital archives are a work in progress. Let us know if corrections need to be made.
This article is from the January 30 1961 issue.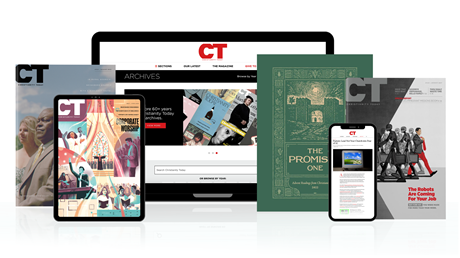 Annual & Monthly subscriptions available.
Print & Digital Issues of CT magazine
Complete access to every article on ChristianityToday.com
Unlimited access to 65+ years of CT's online archives
Member-only special issues
Subscribe
Power–Mirage or Reality
Power–Mirage or Reality