A significant change in the educational climate of our country during the past ten years is the growing preoccupation with the handicapped or exceptional child. Public school leaders have engaged in extensive research and effort to provide specialized education for these children. We are hopeful of facilitating the social adjustment of most of these children and developing their full economic potential.
Out of more than 4 million children born annually in the United States, three per cent, or approximately 120,000, show signs of mental deficiency. The recent trend is to hospitalize only the most severe and inadequate cases, and to encourage families to care for their own children as long as possible. This statistical prediction therefore inescapably faces every facet of society in nearly every community of our land.
Sooner or later the Church is bound to be confronted with her responsibilities for these children and will be asked to relieve some of the sorrow and despair attending a handicapped child. For the Church this challenge is not simply an educational matter; it is also a matter of conscience.
Some may well ask, do church schools have to receive the mentally retarded, with all the costly special teaching facilities they require? And will the expensive effort accomplish any real and lasting spiritual good that can be related to the total gospel outreach?
At first glance, a lot of well-meaning folk will shout "yes." However, a happy affirmative does not effect a solution to the most difficult and trying problems which education of this type imposes upon the church school and those concerned with its management. Nor will it enlighten those uninformed communicants in the church body who believe all such handicapping is "the result of sin."
Simply accepting the child into the church community will not guide the pastor in counseling the anxious and sometimes guilt-ridden parents, nor will it show the harassed church school teacher how to teach such a child.
For example, some time ago well-meaning church members introduced into our church community an indigent, mentally deficient family in which four out of seven children were retarded. The family came desultorily and only if members made extra effort to transport them by car. The children were unkempt, at times dirty and repelling. They constantly embarrassed our young church community when visitors were considering making our church their spiritual home. During worship and church school, the children mostly sat apathetically. But one small boy was a real behavior problem. I well remember my own struggle for self-control the night of a Christmas program in which my children were appearing. In the crowded auditorium this child was sitting on his mother's lap, next to me, and systematically spat all over a new suit I was wearing, covering it with unsightly stains. From time to time his mother shifted him to a new position. A dull and inadequate person, she seemed unable to control him and indifferent to his need of firm discipline. Finally she let him slip from her lap and for the balance of the evening he ran and squealed up and down the church aisles, disrupting the enjoyment of the program for the whole audience. Frankly our church community rather sighed with relief when the family chose for themselves one of the new Pentecostal churches on the fringes of our town.
Ever since, I have asked myself, was my attitude toward this child and family correct? Was there a proper and sensible way to handle this situation? And what if another occasion should arise in which perhaps a severely retarded child of one of our better families might attend our church? What should be our attitude? What might we do in such a situation to be truly effective and useful to Christ? Could such a child be brought to a saving knowledge of our Lord, and admitted to church membership, baptism, and the communion table?
There are no easy answers. But certain understandings are available to workers in the field of educating the mentally handicapped with which the Church should be conversant. For example, 30 years ago it was believed that 80 per cent of all mental handicaps derived from familial or genetic causes. Prior to that, many folk considered the severely handicapped child to be possessed of a demon as the result of some sin of his own or of his parents. Today it is known that less than 20 per cent of all retardates derive their handicap from conditions traceable directly or indirectly to genetic difficulties. The major cause of retardation is due to injury or illness prior to or at birth.
Therefore, it is to be expected that 80 per cent or more of the children in any program for educating the mentally retarded will come from families which are normal and in which they will probably be the only one so afflicted. It is also encouraging to know that, of all retarded children, more than 80 per cent have less than serious afflictions and can probably function well in a church school setting with informal atmosphere and concrete portrayal of lesson materials.
A family with several retardates, such as we knew in our church community, is actually a rarity. The chances are less than one in 10,000 that another family so severely beset with retardation might reappear in our area.
It is the children with organic disorders who are most often going to appear at the door of the church school seeking acceptance: the cerebral palsied, the brain-damaged, the perceptually handicapped, the controlled epileptic, and the aphasic. And they will come from families of average or above average intelligence and ability to make a good spiritual contribution to the church family. The families of these children will have spent thousands of dollars and thousands of hours of intensive effort, and they will have suffered long periods of anguish, sorrow, and spiritual searching trying to understand why this has happened to them. Often the parents will suffer inward guilt and shame over their child's condition. They will alternately try to hide his condition on the one hand, and pressure him into being "normal" on the other, thus compounding his mental handicap with emotional and behavior disorders.
THE CHURCH FAMILY
Such a situation clearly presents a spiritual challenge to the entire church community. Often forgotten, until one is oneself a sufferer, is the fact that the Christian life finds its true challenge in victorious living and overcoming power in the face of overwhelming tragedy and even death. Thus it is that the Body of Christ, which is the Church, must supply the spiritual solace to relieve the sorrow and anguish of the parents over a damaged child, and simultaneously develop within that child all the spiritual resources of which all humanity, no matter how handicapped, is capable.
Upon the pastor, of course, will fall the primary responsibility of dealing with and directing such a sensitive situation. For this he must be a spiritually strong, adequate, and vital person with intimate knowledge of the paths that lead through the valley of shadows. He must be able to control his well-intentioned flock and steer them delicately through the maze of conflicting emotions which beset the troubled family of a handicapped child with all its fear of pitying stares or downright rejection. He must be able to lead the parents surely to the illuminating verses of Scripture which will convince them that Christ needs and will use even the sorrow and troubled factors surrounding the life of a handicapped child.
Beyond pastoral leadership in dealing with the family of a retarded child lie the responsibility and carefully disciplined behavior of the church family. The primary concern of all must be full acceptance of the child. Withdrawal, stares, even over-concern, reflect a form of rejection to the overly sensitive family, which prefers the minimum amount of attention drawn to their plight when they are undergoing their initial assimilation into the church family.
These are but beginning steps. Children with organic damage often suffer a multiplicity of handicaps. They may have hearing problems, crippling conditions, and can evidence such unpleasant physical symptoms as drooling, uncontrolled jerking, speech defects, and odd gestures and posturing. They may also demonstrate severe distractibility, short attention span, and disturbing behavior symptoms. Their anguished parents are well aware of this but yet hopefully look to the church as their one haven of understanding and restful acceptance in their total community experience. At first glance it would seem utterly impossible for any church community to provide such an ideal atmosphere. What church school, already quite disorganized by normal restless youngsters, is going to be able also to absorb into its midst so disturbing a factor as an odd-looking, unmanageable, brain-damaged child? And where could one ever hope to find a church family which would not be likely to have one person who would blurt out a mistaken offer of sympathy?
Jesus Christ, however, is the Lord of impossible situations. That is proven by every healing outreach of his hands while upon earth. The leper, the hopelessly blind, the epileptic, and restless children were not turned away by him because the person might be unpleasant to have around. Nor is it ever recorded that he poured out upon such a person or his family any maudlin sympathy. His duty was to reveal the Father, and he went about healing and offering freedom from the bondage of the affliction. "That the works of the Father might be made manifest …" is the clue, not only for the stricken child and his family, but also for each member of the church family as they prepare themselves to accept this little one into their midst. For "making manifest" also means that we, the normal, may see that this child presents a golden opportunity to let the love of Christ flow out from us to him. It is the way God's creativity will give this child a richer social opportunity and spiritual blessing.
Modern education has proved that even the most difficult brain-damaged or disturbed child can be brought to quietness in a properly arranged setting. And even a novice in special education can do much to bring such a child under control if he or she is innately peaceful and an inwardly mature person. Such children have rare sensitivity to the inner lives of others.
Surrendered Christians can bring healing power into these troubled lives. These children can be taught simple facets of the Christian faith. In a quiet secluded atmosphere, with only a few children at a time, the flannelgraph board and concrete object lesson can be used. Stories and songs will be learned and loved by the youngsters as they come to know about Jesus.
In the work of teaching and helping handicapped children, members of the church group will sooner or later question themselves about certain theological realities. How much can such children ever come to understand about church doctrines or salvation by faith? While facing these concerns, church folk should realize, first of all, that there are wide varieties of retardation. Once terms like "imbecile," "idiot," and "moron" were used to designate these differences. But with the passing of the years these terms have become so overloaded with misinformation and misunderstanding that educational thinkers have discarded them. Today all such children, ranging from the helpless residential case at the bottom level ability to the slow learner at the near average levels, are divided into only two groups. One group is designated educable and the other trainable. Clinical psychologists can make subtle distinctions between these two groups and work out many precise formulas for deciding their learning capacities. However, for any church school which would educate these children, certain simple differences between them can be used to illustrate their fundamental learning capacities and teachability.
An educable retardate can grow up to earn a living, marry, raise a family—if his limitations are understood and he isn't pressed to work beyond his capacities. A trainable child can only look forward to a very sheltered future. However, he can definitely be a socially acceptable being, often humorous, and definitely lovable.
The curious fact that I can attest—after seeing many, many severely retarded children and many with ugly deforming physical handicaps—is that their humanity always shines through. Some have such a positive luminescence and purity of soul, free of all the artificial sophistries, that they work spiritual miracles in the hearts of those around them. It is probably for this reason that so many folk like to work with these children. It makes them feel closer to God.
The differences in the categories of retardates reveal the theological challenge provided by each group. The educable child can undoubtedly be led to make a decision for Christ. He can probably understand that God sent a person in Jesus Christ to reveal his loving nature and to forgive sins. While he may be a bit vague about the depth of sin, he can probably be readied to accept Jesus Christ as his personal Saviour. Educable children can usually fit into regular church school classes and catechism sessions, provided we remember not to expect too much of them. They will thrive on simplicity, graphic illustrations of Bible stories, and object lessons illustrating spiritual truths.
It is the trainable child who will require special educational structuring within the church school, just as he does at home and in the public school. Furthermore, he will require a different moral and theological approach to the problem of his salvation. Because such a child cannot by any power of intellect which he possesses ever make any decision for himself at all, he is certainly inadequate to make the most important decision ever made in any human life—the decision to accept Christ as a personal revelation of the Father-God, a propitiation for sin, and the motivating and creative power operative in his life through the Holy Spirit. But it would seem inconceivable that the Father who loved us enough to send his only begotten Son to make such a sacrificial atonement for our sins would not have provided a way for these stricken lambs to come into his fold.
Pure Religion
No longer need theology be hard.
Comparative religion free from taints
Comes simply on a three-ring binder card,
And paperbacks by highly-rated saints
Are planned to suit the reader's contemplation
Of topics spanning "Adam" to "Vocation."
The digests have the Bible on the run.
So easy to consume, they won't confuse—
Just like a college crib sheet, neatly done—
Which gives me an idea that God could use:
He ought to print a Gospel condensation
For crammers facing His examination.
D. BRUCE LOCKERBIE
Samuel M. Shoemaker is the author of a number of popular books and the gifted Rector of Calvary Episcopal Church in Pittsburgh. He is known for his effective leadership of laymen and his deeply spiritual approach to all vital issues.
Have something to add about this? See something we missed? Share your feedback here.
Our digital archives are a work in progress. Let us know if corrections need to be made.
This article is from the January 30 1961 issue.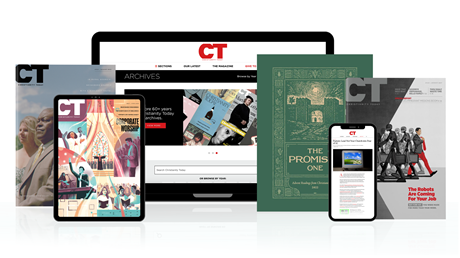 Subscribe to Christianity Today and get access to this article plus 65+ years of archives.
Home delivery of CT magazine
Complete access to articles on ChristianityToday.com
Over 120 years of magazine archives plus full access to all of CT's online archives
Subscribe Now
A Neglected Ministry: What of the Handicapped Child?
A Neglected Ministry: What of the Handicapped Child?