Significant accomplishments marked the White House Conference on Aging, January 9–12. It took long strides toward the solution of a problem too long ignored and too little understood. Religion was recognized as a major factor in the ultimate answer.
The United States government has been shocked into action by the realization that there are now over 50 million Americans 45 and older who are facing retirement. Increasing longevity indicates that by the year 2000 two out of every three persons reaching 60 will have a living parent or close relative over 80. Unemployment, medical care, and scores of other emergencies confronting aging citizens cry for immediate action by community, state and nation.
The Washington conference drew 2,700 official delegates from 53 states and territories and 308 participating national organizations. Key federal agencies, the Congress, and state welfare departments were represented. President Eisenhower expressed the general feeling of many of the leaders when he said, "In striving to achieve a better life for all our people, we must give proper regard to the needs and abilities of our older citizens. The opportunity to live a dignified, productive and satisfying life in old age is the aspiration of every citizen and an important goal of our American society."
Twenty citizen-directed sections—including "Religion and the Aging"—dealt openly and freely with all phases of aging. Politics catapulted health care into the spotlight. Seven sections were swamped with discussions over relative merits of the Kerr-Mills law and the Kennedy proposal of broader benefits under the Social Security system. Six out of the seven favored the new plan and it is believed that coming legislation will reflect that view.
The role of religion in the life of older persons was spelled out by representatives of Jewish, Protestant and Roman Catholic faiths. They agreed that "religion maintains a basic concern with human dignity at every stage of life's span because of its conviction that this dignity derives from the fact of each individual's creation in the image of God. As a consequence, religion seeks to provide a living fellowship of believers in which the aging find and give the true benefits of being a part of the household of God."
It is this conviction which has caused the churches to provide an amazing network of institutions for the aged. It was revealed that Roman Catholics have 326 homes with more than 31,000 "guests." Protestant bodies maintain over 500 such institutions. A National Council of Churches survey (1954) showed some 4,000 Protestant health and welfare agencies serving 17 million people annually. They employ 200,000 full-time workers including 27,500 registered nurses, 26,000 physicians and 14,400 social workers. An increasing proportion of this program is on behalf of the aging.
Trends in church care, however, are moving beyond mere institutional programs. There is an increasing conviction that the elderly should have a place of dignity and respect in the family. Roman Catholics, who emphasize the preventive approach in dealing with retirement, boast that well over 90 per cent of their aged are still living in their own homes. Protestants and Jews believe that older persons should be kept in the main stream of life as much as possible and that the church's program should begin long before the aged are ready for retirement or physically incapacitated.
Among proposals of the section on Religion and the Aging: (1) educational programs conditioning the aged for retirement, (2) establishment of community services to help individuals adjust to new circumstances, (3) training of clergymen and lay workers for a better understanding of the problems of the elderly, (4) providing a larger role for the aging in the life of the local congregation, through worship, social life, guided tours, office work, vocational projects and visits to shut-ins. The recommendations said, "Religion can assist the aging in finding within themselves and in fellowship of faith the resources to meet those problems and fears which seem inevitably to occupy one's later years."
The conference urged cooperative studies by religious bodies and public authorities to improve community services. At this point the years-old issue of separation of church and state reared its head. The dangers of community control involved in state and federal financing were frequently mentioned. Church leaders felt that community services should be encouraged but that the role of religion might be so minimized that it would no longer be a major factor in a balanced life pattern for the aging. A warm debate developed over chaplaincy services in public institutions caring for the aging when it was proposed that state, county and municipal governments provide public funds for such services. The controversial issue of Hill-Burton aid and FHA loans to church-owned homes and sub-divisions for the aged was avoided despite several attempts to introduce it in the open forums. It was evident that a clear-cut unified Protestant church-state policy needs to be developed in this new area of inter-church concern.
As in the 1960 White House Conference on Children and Youth, there was apparent by-passing of right-wing Protestant personnel in setting up the conference and lack of biblical theological orientation in the public addresses. It was left to Roman Catholic representatives to furnish anything approaching such emphasis. When a group of psychologists and sociologists proposed that an Institute for the Aging should be established within the National Institutes of Health to study homo sapiens on the same basis as animals, it was the Romanists and evangelical Protestants who protested and got a change in the text of the recommendation.
There was a strong move to set up a vast network of national and state government bureaus to deal with the problem of the aging. Opponents saw the whole conference as intended to set up a top-heavy bureaucracy and central government interference with voluntary community programs. Such a development would create thousands of new government jobs for professional gerontologists and social workers in a growing welfare state.
By and large the January White House Conference marked an important milestone in enlightened progress toward a solution of the problems of the aging. America's oldsters may well live to see the realization of Rabbi Ben Ezra's classic "Grow old along with me, the best is yet to be."
Washington Skyline
A 300-foot carillon tower planned by Washington Cathedral promises to become the dominant feature of the national capital skyline.
Work on the $1,800,000 tower is now scheduled to begin in April of 1962, according to Episcopal Bishop Angus Dun. It will be one of the world's largest church spires.
Construction of the cathedral itself, begun back in 1907, may not be completed until after the year 2000. Thus far, some $12,500,000 has gone into construction of the edifice, now said to be between 50 and 60 per cent complete. Present seating capacity: 3,000.
Pentecostal Pioneer
Pentecostals by and large have little sympathy for the ecumenical movement, and probably expect even less in return. At least one Pentecostal preacher, however, repudiates such standoffishness, yet manages to remain in relatively good standing with his brethren in the holiness tradition. He is the Rev. David J. DuPlessis, a 56-year-old native of South Africa now ordained by the U. S. Assemblies of God. DuPlessis, a descendant of the French Huguenots, is marking the 10th anniversary of his calling "to bring about better understanding and closer fellowship between Pentecostal movements and to bring the Pentecostal message and blessing into the ranks of all Christian churches in the world."
DuPlessis began a one-man campaign of witnessing to ecumenical leaders fully expecting to be ignored. Instead, he was taken in and given repeated opportunities to testify in behalf of "the baptism of the Holy Spirit." He was a guest at the Evanston assembly in 1954, at International Missionary Council meetings, and at Presbyterian World Alliance conventions. He has participated in numerous ecumenical seminars, in Geneva, St. Andrews, and elsewhere. He has lectured at Yale Divinity School, and at Union and Princeton theological seminaries. His conclusion is that top Protestant leaders are vitally interested in the Pentecostal message and that "there are now many Spirit-filled, yes, indeed, 'tongues-speaking' ministers in the National and World Council of Churches."
"I shall not be surprised," says DuPlessis, who currently resides with his wife and six children in Dallas, "when our 'fundamentalist' friends who attack the Pentecostals as severely as they do the World Council, begin to 'expose' this 'Pentecostal trend' within the ranks of the ecumenical movement."
The Church Critic
In Phoenix, Arizona, the religion reporter of a local newspaper is taking some cues from the drama columnist.
Each Saturday, the church pages of the Arizona Republic carry a "review" of a worship service witnessed by the reporter, who writes her impressions under the pseudonym of "Grandma."
"Grandma" recently moved to Phoenix after spending 30 years with a university in a nearby state. She drops in on a service unannounced, and guards against revealing her identity. She feels that making herself known would detract from the "objectivity" of her appraisal.
She never offends. Said a recent review:
"Never, but never, have I been in a more informal worship service. I didn't say it was not good. I just said, informal. The minister thanked 'Katherine' for her solo. He asked 'Ted' up in the balcony to make an announcement. He thanked 'O. J.' for keeping the choir from being the war department of the church."
Of the sermon, she said:
"It was the first sermon I had heard in several weeks which did not touch on world affairs. Except for one reference to a recent baptism noted on the front pages, it might have been preached in 1860, 1760, or 60 A.D."
Up from the Ranks
The new pastor of St. Vladimir's Russian Orthodox Church in Houston, Texas, is a former Russian army officer.
During World War II he was Lt. Georgy Nikolaevich Erlenberg. While on duty in Austria he donned the uniform of a German prisoner and escaped into the Austrian Alps.
He entered the United States as an immigrant and began studies at Holy Trinity Russian Orthodox Seminary at Jordanville, New York. Ordained in 1957, he is known as Father Gabriel.
His church is affiliated with the Russian Orthodox Greek Catholic Church of America, which does not recognize the Moscow Patriarchate.
Questions on Israel
What searching questions about modern Israel are uppermost in the minds of CHRISTIANITY TODAY'S readers?
Soon to be 14 years old, the young state of Israel is a center of consecration, contrast and conflict. Within its boundaries lie Nazareth and Galilee; the Negev Desert, revealing both ancient archaeological treasures and exploration into modern nuclear secrets. On its streets walk Hebrews who have "come home" from 70 lands. More than a million Arab refugees are to be found along its borders.
The Editors will seek from Israeli leaders succinct and authoritative answers to the ten questions of utmost concern and interest to readers of this magazine. Simply address your query on a post card to Questions on Israel, CHRISTIANITY TODAY, Washington Building, Washington 5, D. C.
Congo Recruits
The first two medical service recruits for the Congo reached the field shortly before year-end. Dr. Dorothea Witt began service at a Presbyterian mission hospital in the Kasai, and Dr. Oliver Hasselblad was assigned to a Methodist hospital, also in the Kasai. Sponsoring them is the Congo Protestant Relief Agency.
People: Words And Events
Deaths:Methodist Bishop Bachman G. Hodge, 67; in Birmingham, Alabama … Archbishop Constantine Bohachevsky, 76, spiritual head of 300,000 Ukrainian Catholics in the United States; in Philadelphid … Dr. James Ernest Davey, 70, principal of the Presbyterian College, Belfast, Ireland … Dr. Cyril H. Haas, 86, retired medical missionary to Turkey under the Congregational Christian Board; at Pleasant Hill, Tennessee … William G. Nyman, 76, secretary emeritus of Wycliffe Bible Translators, Inc.; in Glendale, California.
Resignation: As executive director of the Board of World Missions of the Augustana Lutheran Church, Dr. Malvin A. Hammarberg, to become pastor of Gloria Dei Lutheran Church in St. Paul, Minnesota.
Elections: As president of the Society of Biblical Literature and Exegesis, Dr. Samuel Sandmel … as president of the Evangelical Theological Society, Dr. R. Laird Harris … as president of the Council of Protestant Colleges and Universities, Dr. Clemens Granskou … as president of the National Association of Schools and Colleges of The Methodist Church, Dr. Carl C. Bracy … as president of the National Lutheran Educational Conference, Dr. Lawrence M. Stavig.
Appointments: As dean of California Lutheran College (scheduled to open in the fall on a 20-acre site 20 miles west of Los Angeles), Dr. Elwin D. Farwell … as executive secretary of Westminster Theological Seminary, the Rev. Eugene Bradford … as director of the United Presbyterian office of information, the Rev. Frank H. Heinze.
Citation: To Dr. Ralph W. Sockman, the Upper Room Citation for 1961.
Have something to add about this? See something we missed? Share your feedback here.
Our digital archives are a work in progress. Let us know if corrections need to be made.
This article is from the January 30 1961 issue.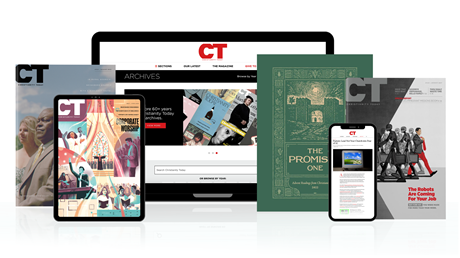 Annual & Monthly subscriptions available.
Print & Digital Issues of CT magazine
Complete access to every article on ChristianityToday.com
Unlimited access to 65+ years of CT's online archives
Member-only special issues
Subscribe
White House Conference on Aging
White House Conference on Aging