From the prophet Haggai to Roger Babson, men have seen that social, economic, and other troubles stem from the realm of the spirit. This word from Haggai (1:5–6) lays it on the line. "Now therefore thus saith the Lord of hosts: Consider your ways. Ye have sown much, and bring in little; ye eat, but have not enough; ye drink, but ye are not filled with drink; ye clothe you, but there is none warm; and he that earneth wages earneth wages to put it into a bag with holes." God's ancient people were having a boom which was headed for a bust. It was a story that was old in that far-off day, and even older and sadder today. So few learn. Man learns physical laws and by correct application can achieve amazing results. He may even fly to the moon. He has transformed life on earth beyond the wildest fancies of those deemed visionaries a few generations ago.
Chemical law discovered and applied heals the sick, makes the field fertile, multiplies material comforts and conveniences of mankind. Everything goes well until man tries to thwart law, or allows himself to forget it. The only laws which can be flouted for the time are economic, political and spiritual laws. Affront gravity and you will break your neck. Mistake your chemicals and you will eat and drink death. Mishandle the fields and nature stops growing the seed, the fruit fades and the leaf mildews. In these things, the time is brief between mistake and miscarriage. But in areas of social relations and spiritual concerns the time span is greater because God is merciful. The mills of God may grind slowly, but they grind exceedingly fine; and in the end the greatest damage is done because the greatest good has been refused. The forgotten regulative principle is recognition of God.
Tithing is the expression of faith in God through material resources and possessions. It makes God a partner in business. Most people recognize the relation between God and life up to a point. Life itself is the gift of God. Health is one of God's blessings. Power to learn and skill to invent both spring from sources deep within human personality where the human and the divine are close together. Tithing translates the confession of faith into the daily pattern of life.
Tithing may be defined as the setting aside of a definite portion of income, specifically a tenth, to be administered under a separate category of outlay generally described as "honoring God with our substance." This aggregated fund may be literally abstracted and put into a special account. Or it may be handled by simple bookkeeping. Payments therefrom are various. Sometimes it is paid in kind. The physician who serves philanthropies without fees is tithing in principle. The storekeeper who provisions the shelves of orphanages, or "helps out" the stricken neighborhood family, is tithing in principle. Most tithing is the payment of money to appropriate causes, a sum that is equal to 10 per cent of an income.
Tithing has the biblical promise of blessing. What is this blessing? It can be in the form of large gross income from business, farm, or profession. Such it often is. It can amount to a lesser annual income, but evenly received over long periods of time. Or, the blessing may be found in the psychological benefits derived, with modest money intake. Prosperity is the right word for any of these. My great grandfather lived 83 years a farmer and tithed all his life. He said there was never a day when he could not lay hands on a hundred dollars if he needed it. To modern ears this may seem a very modest security, but one day is all we ever have at a time.
Hardheaded people want to know why tithing is so much praised by those who practice it. It sounds like magic to them. They are averse to miracles, especially in business life. Tithing is not a miracle except in the general sense that all God's care is amazing and divine. And thus, tithing becomes an operating rule of prosperity for reasons such as these:
1. Tithing makes a man consider his income. Setting out one tenth inevitably compels him to see also the nine tenths remaining. This induces budgeting as well as tithing. Budgeting has a wholesome effect on any economy. It is paradoxical but true: money is not possessed until it is spent. Then only does it reach the stream of life.
2. The tither tends to avoid extravagance and self-indulgence. If the part is holy, the whole becomes holy. Where one's heart is there will his treasure be, and the person who reserves one tenth of his income for God is less likely to play fast and loose with life, health, business risk, or unlawful practices.
3. Tithing provides means for so much good that insofar as it becomes generally practiced much of the reason for governmental spending disappears. Around 1800, England went on to a scheme of public relief for the poor. Scotland did not follow but continued the old custom of parish relief through the kirk-session and the freewill offerings "for the poor." Relief was more adequate and less expensive in Scotland than in England. The reason was that people on relief at one time might be members of the dispensing kirk-session another time. Money coming from freewill offerings was not wasted either by the dispensers or by the recipients. What the receiver's conscience did not do the critical eye of the donating neighbor accomplished.
4. Tithing is a prophylactic against depression because it attacks the chief destroyers of prosperity which are luxury and vice. The prophet Haggai told the people that they all had handsome houses but the house of God was still a ruin.
It has been said that no tither ever gave up the practice, but this saying can be neither proved nor disproved. The Bible says this: "Bring ye all the tithes into the storehouse, that there may be meat in mine house, and prove me now herewith, saith the Lord of hosts, if I will not open you the windows of heaven, and pour you out a blessing, that there shall not be room enough to receive it" (Mal. 3:10).
We Rend Our Garments
We rend our clothes but not our hearts
As at our shrines we bow to hide
The jaded madness of the eye
That glows in lust to gorge again
On formed and animated dust.
We rend our clothes but not our hearts
When, whimpered through our prayers for those
Who rot and starve, there goes the hot,
Dry undertone of greed—the groan
For self that vitiates the plea.
We rend our clothes but not our hearts
When trademarks blotch our thoughts of God;
For though we mock elite facade
And title—we "accept ourselves"—
Our carefree role is fearful pose.
We rend our clothes but not our hearts:
The hands of Christian brotherhood
We offer, often are thumbs down;
The crown of sonship that we claim
We force on folk as thorns of shame.
MERLE MEETER
Samuel M. Shoemaker is the author of a number of popular books and the gifted Rector of Calvary Episcopal Church in Pittsburgh. He is known for his effective leadership of laymen and his deeply spiritual approach to all vital issues.
Have something to add about this? See something we missed? Share your feedback here.
Our digital archives are a work in progress. Let us know if corrections need to be made.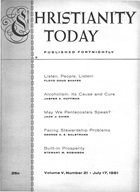 This article is from the July 17 1961 issue.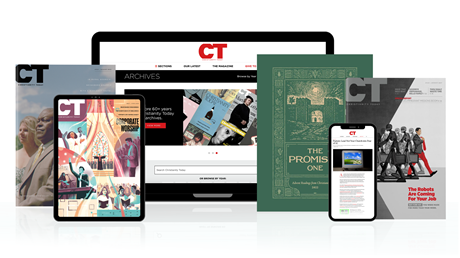 Subscribe to Christianity Today and get access to this article plus 65+ years of archives.
Home delivery of CT magazine
Complete access to articles on ChristianityToday.com
Over 120 years of magazine archives plus full access to all of CT's online archives
Subscribe Now
Built-in Prosperity
Built-in Prosperity