WHAT GOD NEEDS
To speak of God needing anything may sound blasphemous but with all reverence it can truly be said that God needs men of certain quality of soul and spirit.
God needs men of faith.
From beginning to end the Bible makes it plain that God can only use men of faith, men who enjoy the substance of things hoped for and who possess the evidence of things not seen.
Living as we do in the much vaunted age of reason when men are trained to evaluate evidence and accept only what is scientifically provable, we do not find a simple faith in God and all his works easy, nor do many desire it.
But the Bible plainly states that without faith it is impossible to please God, and he that cometh to God must believe that he is, and that he rewards those who diligently seek him.
The faith which God requires of man is a total faith, a faith which believes in him regardless of all else. Such a faith is difficult in days of sophistication when the world and its influences cry out against accepting things merely on God's Word.
This is nevertheless a rewarding faith because it is anchored in belief in the sovereignty as well as the love of God. It is an anchor for the soul in the midst of an uncertain and shifting world situation, an anchor which reaches into the eternal while we yet live in the temporal.
This faith is centered in the divine revelation and accepts at face value the scriptural statements having to do with the eternal verities; it is belief without question in the finality of the person and work of Jesus Christ, the Son of God, and a looking to him not only as the author of our salvation but also the giver and perfecter of our faith.
God needs men who are obedient.
Faith and obedience cannot be separated for faith in God's revelation requires an obedience to that which is revealed.
Obedience is the very foundation of a Christian's life, and man is not left in doubt as to what God requires of him. Discipleship means an unquestioning "Yes" to our Lord. It means the voluntary renunciation of self and the taking up of the cross which is the burden of every Christian. Now the cross for the Christian does not constitute the vicissitudes of life or some special "thorn in the flesh" but is the voluntary crucifixion of self in order that Christ may live in and through him.
As one grows in faith and in willingness to surrender everything, the will of God becomes increasingly clear, not only for immediate tasks but for whatever the future may hold, and obedience to the heavenly vision validates our faith.
God needs faithful men.
Faithfulness is putting into practice God's leading for our own lives. We are told that God requires faithfulness of stewards—faithfulness in us who are the custodians of his mercy and grace.
In faithfulness there is implied steadfastness when the going is hard. Not only is this a part of our Christian mountaintop experiences when we rise up on wings as eagles, and of those continuing times of blessing when the running is easy; faithfulness is the God-given quality of sticking on the job when the walking is tiring and the outlook drab.
God wants men who are unafraid.
We live in times when the souls of men are being tried. Even Christians see in the gathering gloom of a changing world order sufficient evidences of disintegration and disorder to make us pessimistic, while unbelievers are increasingly filled with fear because of the things they see coming on the earth.
But surely the Christian must remain unafraid. Peter stepped out on the water to walk to his Master, but when he took his eyes from Christ he began to sink.
What a grand and glorious opportunity God has given Christians in these days—the opportunity to show that our hope is fixed in the One who never changes, in the One who is sovereign among nations as he was over the forces of nature.
These are days when Christians should exhibit to a jittery world the fearlessness of which Isaiah speaks: "In quietness and in confidence shall be your strength."
God needs transformed men.
Christ came into the world to make new creatures in himself. Even to the unbelieving world there is no argument against a changed life.
Unfortunately too few of us who profess Christ exhibit to the world around us a changed personality. How rarely is the fruit of the Spirit present in us as a witness to the saving, filling, and keeping power of Him whose name we profess!
Most of us will agree that Christianity is a faith to believe, but how can such a faith be relevant or valid unless it also becomes a life to be lived? It is at this point that so many of us fail, but it is also here that Christ wants to show himself all sufficient for our needs.
God needs farsighted men.
We are all surrounded by the temporal and the immediate. Only those who see the celestial city with the eyes of faith have the perspective which is so desperately needed.
The claims of the world are on every hand. Like Lot many Christians deliberately choose the immediate advantage at the expense of ultimate good, and in so doing they jeopardize their own Christian testimony and the eternal welfare of their children.
Our concern for gracious living, security, and peace, and the advantages of a materialistic age, can lead us into multiplied follies. Our Lord knows this and gently pleads with us to look at everything in the light of eternity.
God needs instructed men.
Every Christian owes it to himself to take full advantage of the means of grace God so generously gives. He has given us his Word, the privilege of prayer, and the privilege of constant communion-all of which we neglect to the starving of our souls.
We should be able to give a reason for our faith. We should be able in the simplest terms to explain our faith in and devotion to the living Christ.
Only in the Bible can we receive the spiritual food that He has prepared for us. Rather than being spiritual morons we should be strong in the wisdom God offers to his children.
God needs men who witness.
It is not enough to claim salvation through faith in Christ. Not only should we receive that which God has given us through his Son, but we owe it to him and to those around us to witness to his saving power.
This witness is through a godly life and also through words spoken at the leading of the Holy Spirit. How often there are those around us who have hungry and anxious hearts, and how readily some of them will respond to a Spirit-directed word of testimony!
Yes, God needs men because in his infinite love and wisdom the Kingdom is brought in by those who are the yielded and willing instruments in his hand.
If God needs men of his own choosing and molding, then the least we can do is pray, "O God, make me usable; then use me."
L. NELSON BELL
Have something to add about this? See something we missed? Share your feedback here.
Our digital archives are a work in progress. Let us know if corrections need to be made.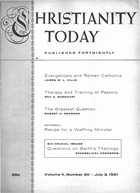 This article is from the July 3 1961 issue.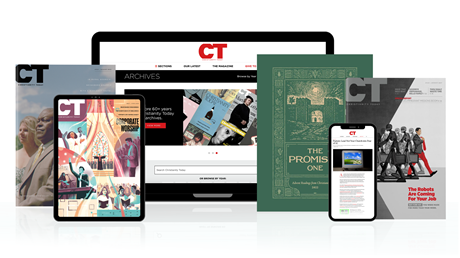 Annual & Monthly subscriptions available.
Print & Digital Issues of CT magazine
Complete access to every article on ChristianityToday.com
Unlimited access to 65+ years of CT's online archives
Member-only special issues
Subscribe
What God Needs
What God Needs