Just four days ago, I was listening to the radio while driving along a road in Iowa, and heard the full report of the General Assembly of the United Presbyterian Church regarding their action on the use of alcoholic beverages. The report is long and subtle but leaves one with the impression that whereas a great many Presbyterians serve liquor in their homes, and whereas a great many Presbyterians engage in social drinking, it is not nice for the nondrinkers to criticize them, and we ought all of us to seek to redeem these social drinkers by loving them into abstinence, because abstinence is the goal and ideal.
On Sunday morning in Missouri I had to wait outside the study door of the pastor in whose church I was preaching until a Sunday school class was dismissed, and I overheard the discussion of the high school class. One gay girl was bubbling over with the following discovery, and I think I quote her almost exactly: "Did you hear that the General Assembly of our church, that's the Assembly of the whole church, mind you, has said that it's all right to drink so now we're allowed to drink at parties. What do you think of that?" The poor teacher was hard pressed as to just what to think; apparently these subtleties of the General Assembly's statement had been lost in the newspaper accounts and in the impressions high school church-goers get from newspaper accounts. If the Sunday school teacher has any notion of teaching abstinence to that class, the General Assembly did not make his job any easier; in fact, I think they pulled the rug right out from under him.
In the general theological and ethical drift of our day, one need not criticize the Presbyterians more than others. Their particular statement just now happens to illustrate "Current Religious Thought" and leads me to make a few observations.
1. In dealing with drink and similar ethical questions we seem to be desperately afraid of "legalism." Personally, I am more afraid of "illegalism." At the basis of any good society there must be "order" and order is always related to law. I think it is quite possible to draw distinctions between law and legalism and I know what my friends are trying to say when they say "don't be legalistic." But it seems to me the time is ripe and overripe for us to reassess how much of our life must be under law and, whereas we all agree that the attitude of "legalism" might be condemned, no one is seriously arguing for lawlessness. If the use of alcoholic beverages is wrong or even potentially wrong, it is not "legalistic" to say so, and to condemn it.
2. When the Kinsey report came out it was suggested that since men behave as described in the Kinsey report, our laws ought to be rewritten to adjust to the actual behavior of men instead of over against or above the common behavior of men. I remember reading the scathing criticism of Reinhold Niebuhr regarding this approach, as if law has no absolute authority but is constantly adjustable to how the majority appears to be operating at any given time. This is existentialism gone wild. The brakes on my car are related to some absolute laws and I am very happy that the laws are valid every hour of every day regardless of the weather or my feelings. Moral laws are not divorced from absolute truth, always and everywhere applicable. A survey revealing that 58 percent of the Presbyterians serve liquor in their homes has nothing whatever to do with whether the church condemns or condones social drinking. Only 7,000 people in all Israel had not bowed the knee to Baal in Elijah's day, but the minority was right and the prophets of God kept saying so.
3. Somebody needs to remind us afresh that there is no necessary distinction between "law" and "love" just as we have been reminded by recent theologians that often we find the grace of God in His judgment. The law can well be the most loving thing around, unless we are talking about lovey-dovey instead of the real thing. Martin Luther King is quoted in this week's Time as saying "we cannot legislate morality but we can legislate behavior." I think the church ought to be on the side of legislating behavior until we have done more than we have about morality and the spiritual foundations of Christian ethical behavior. The Metropolitan Life Insurance Company in the last issue of Reader's Digest has in its advertisements these words; "… as little as two alcoholic drinks is enough to cause a definite impairment of the judgment and reactions of many people … you don't have to be intoxicated to become a potential menace to yourself and everyone else.…" All this raises the question as to where the "love" lies—in our refusal to condemn the social drinker or in our insistence on condemning the social drinker as a menace. All the hard drinkers I know start out drinking socially. All the alcoholics I know started out as social drinkers. The question remains just where do we bring love to bear (try P. T. Forsyth's Holy-Love) on this total complex?
4. It has always appeared to me that there was something phony in calling alcoholism a "disease." Once you call it a disease the moral issue drops out; I would like to put the moral issue back in. Alcoholism is a disease; so is syphilis; so is the measles. Thus calling something a disease simply means that we have to treat it as it appears, but I think we all recognize that calling it a disease is not the only thing involved. How the disease was contracted puts a moral content in the problem, and I am not willing to admit that a helpless alcoholic was not morally involved when he began the process which now makes him helpless. I also think that I am morally involved when I contribute by precept or by example to his belief that there is no real issue involved when he takes his first steps along the road of potential alcoholism. Many deaths are caused by people who say "I didn't know the gun was loaded." The church does know that this gun is loaded.
Perhaps those churches that believe in "moderate" drinking could find a good source of revenue in "moderate" liquor advertising in church papers and some "moderate" investments in liquor stocks.
Have something to add about this? See something we missed? Share your feedback here.
Our digital archives are a work in progress. Let us know if corrections need to be made.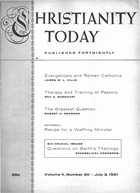 This article is from the July 3 1961 issue.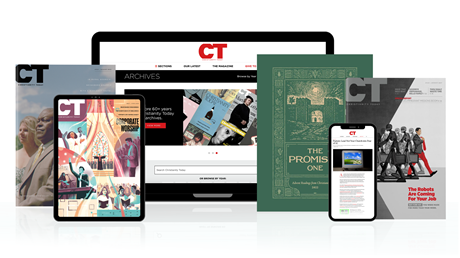 Subscribe to Christianity Today and get access to this article plus 65+ years of archives.
Home delivery of CT magazine
Complete access to articles on ChristianityToday.com
Over 120 years of magazine archives plus full access to all of CT's online archives
Subscribe Now
Review of Current Religious Thought: July 03, 1961
Review of Current Religious Thought: July 03, 1961