First in a Series (Part I)
The predicament of evangelical Christian leaders in Israel at the moment promises little productive dialogue between Protestant orthodoxy and Judaism.
At the same time the climate for Christian activity in Israel is confessedly superior to that in some neighboring Arab lands where Moslem intolerance exerts many restrictions. Moreover, Christian missionaries in Israel—unlike the first apostles—do not today face the open hostility of Hebrew religious leaders. Those early disciples were arrested and jailed (Acts 4:3), threatened (4:21), prohibited from teaching about Jesus Christ by the high priest and the council (4:27 f.), in danger of life (5:33), beaten (5:40), and in the case of Stephen actually stoned to death (7:58) with the consent of the Jewish hierarchy. In this respect, the Christian missionary thrust in a predominantly Jewish environment today contrasts favorably with that of the first century.
Furthermore, the modern state of Israel in its 1948 proclamation of independence assures all citizens full equality without distinction of creed and ethnological background: "The State of Israel … will maintain complete equality of social and political rights for all its citizens, without distinction of creed, race, or sex. It will guarantee freedom of religion and conscience, of language, education, and culture. It will safeguard the Holy Places of all religions.…" This legal climate has obviously been shaped by modern democratic ideals of human equality and liberty. Officially it promises more favorable treatment to missionary effort in Israel today than Christian leaders experienced from the Hebrew hierarchy in apostolic times when the Roman Empire bequeathed the settlement of religious differences in Palestine to Jewish authorities (before intolerant Gentile emperors themselves outlawed Christianity as an illicit religion).
It is astonishing, therefore, to count less than 50,000 Christians in the total Israeli population of over 2,100,000 (which includes 1,870,000 Jews and 16,000 Moslems). A further surprise is that the vast majority of these 50,000 Christians are Arabs; and that most are in the Greek Catholic (19,000), Greek Orthodox (17,500), Latin, or Roman Catholic (6,000) or Maronite (2,500) churches, while Protestants of many denominational affiliations number only about 1,500. In all Israel Christian Hebrews total between 250 and 300. Even though American diplomats and technicians sometimes augment the membership, Protestants are a small minority the equivalent of adherents of the Eastern rites (Armenian Gregorian, Coptic, and Abyssinian).
WHAT OF RELIGIOUS LIBERTY?
This Protestant minority, however, offers a significant test of Israeli intentions in respect to religious liberty. Israeli leaders might find special reason for a sympathetic attitude toward Protestant Christianity. For one thing Protestantism, unlike other forms of Christianity, does not aspire to reduce government to a temporal arm of the church. Protestants support religious freedom rather than mere religious tolerance. Moreover, evangelical Protestants hold devout views of the Old Testament, and resist destructive criticism of the Bible. And a great many Protestant evangelicals see not merely an accident of history but deep spiritual significance in the return of Israel to Palestine. Protestant workers to Israel, therefore, in recalling Jews to a devout hearing of the Law and the Prophets are eager to set the religious dialogue not in an anti-Judaic context but rather in the framework of "promise and fulfillment."
It is clear, however, that Protestant witness in modern Israel is handicapped by more than just numerical weakness. Protestant workers and believers are becoming restless under evidences of the government's restrictive policy. While Christian work among the Arabs is still largely unimpeded, many barriers hinder evangelization of the Jew. Protestant missionaries have faced this situation patiently for a dozen years; they have been sensitive both to the new country's many urgent problems, and to their own numerical minority as well. More and more, however, the Christian community notes with disappointment how much religious freedom in Israel differs from that in the United States.
WORK AMONG THE ARABS
Although Christian workers know that freedom to evangelize the Arabs does not compensate for curtailed witness to the Hebrews, they are grateful for broader opportunities with this segment of the population. Of the 200,000 Israeli Arabs, some 50,000 are Christians (mainly Greek Catholic and Greek Orthodox); Protestant Arabs number only about 1,000, located mainly in Nazareth, Jerusalem, Haifa, and Jaffa. Christian forces are free to provide religious education for Arabs. In fact, government agencies actively co-operate in this work in Galilee, where a large concentration of Christian Arabs is found. When education is in outside languages, however, difficulties arise. An education in English (or in French, as in Roman Catholic schools) is interpreted as preparation for life and service elsewhere than in Israel; for this reason pressures are brought for classroom use of either Hebrew or Arabic. Another problem is that Christian teachers, who come mainly from abroad, lack certificates from Hebrew University. And the government will not recognize a Christian-sponsored Hebrew school unless teacher salaries match those set by the Histadrut, or trade union. One Baptist school well illustrates the problems: it has switched from English to Hebrew and pays higher salaries; instead of Christians, however, it now has "sympathetic" non-Christians as teachers. Three or four other mission schools are planning this shift to education in Hebrew, but most mission schools are unprepared to make the change.
Although the government has asserted its power to regulate schools, it has not as yet done so, since the government wants no trouble with those countries where efforts such as education found their motivation. Furthermore, for some leaders the presence of mission schools in Israel represents the spirit of democracy at work in the nation.
The pressures on Christian education involve another consideration, namely, Israel's tendency to view religious prerogatives in terms of established community groups. When a parochial school is established in a religious community (as by Roman Catholics), few problems arise. But to locate a mission school in a predominately Jewish area rouses opposition. Christian schools are tolerated if they were established prior to or during the U. N. mandate; no new schools are encouraged, however, (a few have been established subsequently) unless Christian teaching is excluded from the curriculum. Thus opportunities to provide Christian education for Jewish children are being lessened rather than increased.
A similar pattern relates to welfare work. Among such Protestant activities are a 100-bed hospital in Nazareth, an orphanage and clinic in Haifa, and a hospital in Jaffa. The government fully approves of Christian ministrations to the sick in Arab centers; if Christians did not establish hospitals, the government would need to supply and finance them. A few years ago, however, with no apparent reason but anti-missionary pressures, the government closed down a Protestant hospital in Tiberias that ministered mainly to Jews, and substituted state welfare services.
THE RESTRICTION OF VISAS
The government's reluctance to grant visas to missionaries—sometimes even to medical workers—is definitely repressing and depressing Protestant missionary activity.
Many Christian workers concur that since Israel's statehood her practice concerning visas clearly reveals certain prejudices:
1. The number of approved visas apparently aims to preserve the missionary quota at the same level which prevailed at the time of statehood. In defense of such restriction the argument is sometimes heard that at the time of partition, and as one of the conditions of statehood, the United Nations required Israel to "preserve" the religious status quo. In resisting this fixed quota system, Baptists (mainly Southern Baptists who work largely among the Arabs) have long emphasized not how many workers they have had but how many they need.
2. Missionaries from groups not already established at the time of statehood are discouraged both from entering and from remaining. Mennonites, for example, who entered after the new state was formed were told they had no right in Israel. And The Christian and Missionary Alliance group whose missionaries to Israel dropped from six to two sense the danger of total cancellation.
3. Periods of political tension are exploited as occasions to eliminate missionaries from new ventures or foreigners who do missionary work under other guises. Although they had already labored in Israel two years, six missionaries lost their visas during tensions with the United States over the Egyptian campaign. After the recent resignation of Prime Minister Ben Gurion's government a new series of pressures and intolerances through the unrestrained Ministry of Interior has marked the caretaker government's regime.
These pressures, however, have not greatly affected long-established works of the Church of England and Church of Scotland that minister in English and primarily to diplomatic and technical personnel. This emphasis on historically established quotas in a sense highlights the failure of Protestantism to venture a strong missionary program in Palestine before 1948. While many evangelical Protestants had expected the regathering of the Jews, they did not match prophetic expectation with missionary preparation and dedication. Even the Protestant missionaries now in Israel seem but tenuously related to this new land of intense nationalism. (See page 25 for report on stoning of Protestant church in Jerusalem.)
Samuel M. Shoemaker is the author of a number of popular books and the gifted Rector of Calvary Episcopal Church in Pittsburgh. He is known for his effective leadership of laymen and his deeply spiritual approach to all vital issues.
Have something to add about this? See something we missed? Share your feedback here.
Our digital archives are a work in progress. Let us know if corrections need to be made.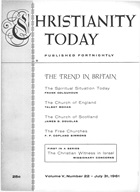 This article is from the July 31 1961 issue.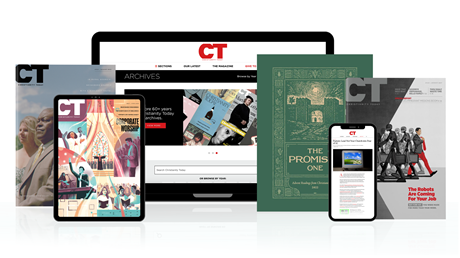 Subscribe to Christianity Today and get access to this article plus 65+ years of archives.
Home delivery of CT magazine
Complete access to articles on ChristianityToday.com
Over 120 years of magazine archives plus full access to all of CT's online archives
Subscribe Now
The Christian Witness in Israel
The Christian Witness in Israel