FORGERY?
Summer is the time for painting. Not the house; you can imagine how giddy I become on a second-story window sill. (And I am not the only one. My assistant in the last attempt to paint our expanded bungalow was a Korean student who insisted on hanging from the underside of the ladder. He sustained only a dislocated wrist when he fell, and went on to a doctorate and a professional chair in the Land of Morning Calm.)
No, summer is the time for landscape painting in pastels, water colors, caseins, and oils. I am an amateur collector of art materials, with the fixed purpose of becoming an amateur painter some summer. It is also my custom to collect scenic postcards, since I have found it easier to bring the mountain to my equipment than to drag my equipment to the mountain. Naturally I also collect reproductions of masterpieces, with due appreciation for the spadework of those who have gone before.
With this thumb-nail sketch in view, you can picture my horror at seeing Time's recent photograph of Madame Utrillo in the act of burning 30 beautiful paintings. The wanton destruction of that much canvas is incredible. But these were painted in oil with such skill that they had passed for the work of Utrillo himself.
On my living room wall is a 7" × 10" reproduction of a street scene by Utrillo. How eagerly would I have substituted one of those real fake Utrillos that was fed to the flames! Things were different in the old days. Any faker who could paint like a master was welcomed in his school and worked a 50-hour week helping to mass-produce masterpieces. Why should our age of imitations become so severe with forgeries? Time even suggested that some of the fakes might have been forged by Utrillo himself.
I cornered Pastor Peterson on the subject at the door after church. A statement in his sermon gave me a wide opening: "Every genuine Christian is an imitation-Christ." He had to admit that all life and art is imitation; in fact he agreed readily. "We are made in the likeness of God," he said. "Only the Creator is original."
But he made a sharp distinction between imitations and forgeries. "The apostle Paul asked to be imitated, but signed his greetings against the forgery of false apostles. There is all the difference between the imitation of Christ and Antichrist."
The pastor is right. I'm starting to paint now; I'm copying my Utrillo.
EUTYCHUS
THE AMERICAN DREAM
I want to thank you for printing "The American Dream" by Peter Marshall (June 19 issue). This is indeed a classic on true Americanism, and should be read by every thinking man who realizes his stake in the future of this great country.
R. E. MOHLER
Retired Prof. of Biology
McPherson College
McPherson, Kans.
The sermon … is so challenging that I have reread it several times, and I would like to … mail it to each member of our congregation.
ARTHUR L. HERRIES
St. Paul's Union Church
Chicago, Ill.
I "dream" of the day when I might preach with such intellectual power and fervor as was evident in that masterpiece. It was both timely and inspiring as was also your symposium, "Dream, Drift, and Destiny."
THERON R. COOPER
Sand Lake Baptist Church
Averill Park, N. Y.
The issue … is as biased as anything I have read by way of "propaganda." It is obviously a "rightist" argument and that is all right except that it is done in the name of Christ, and that makes it subject to the spirit and intent of Christ.
PAUL T. DAHLSTROM
The First Congregational Church
Alexandria, Minn.
The editorials headed under "Dream, Drift, and Destiny" contained all the painful truths for which the prophets of old were hated and slain. But the very fact that these theses were published in North America encourages us to believe that a healthy trace of our fathers' intent is still manifested. The "falling away" from the spirit of our progenitors is as evident among the lesser "reform groups," as it is within the ranks of the masses. Splinter bodies abound throughout our land, using diverse methods to corrupt the faith once delivered to the saints.
H. GOERTSON
Vancouver, British Columbia
WHAT WE SHOULD HAVE SAID
In "Marx on 'Union with Christ' " (June 19 issue) you wrote, "The Red Russian" by Leopold Schwarzchild.… It should be "The Red Prussian".…
C. M. JANKOWSKY
Bensenville, Ill.
CALL FOR ACTION—NOW!
Kennedy has pledged no public funds for parochial schools, but his party, working to the contrary, is breaking his campaign pledge in the aid to education bill now shaping up in congress.
Protestants, strong in the United States, almost to a man oppose this slow erosion of constitutional separation of church and state, but effective leadership, often lacking, is needed to galvanize this sentiment and bring it forcibly to bear upon congress.
Toward this objective, therefore, a Protestant council should immediately be set up in Washington, D. C. to keep the local churches informed and to rally them in restricting the aid to education bill to public schools only. Luther's type of brief and trenchant statement should be the way this council communicates and leads.
This council can be composed of the president, or official head, of each of the following groups: National Holiness Association, National Council of Churches, National Association of Evangelicals, Seventh-day Adventists, Nazarenes, Assembly of God, Protestants and Other Americans United for Separation of Church and State, Mormons, Jehovah's Witnesses, Salvation Army, Christian Scientists, Methodists, Unitarians, Southern Baptist Convention, Quakers, and all other Protestant groups.
American Protestantism is immensely strong, richly variegated and diverse, and if ever it realizes its strength, and is led by the right leadership, Rome will be set back in this country for its malefactions to break down our constitutional way of life.
A Protestant council, with emergency powers, should be set up promptly in Washington, D. C., and it should go to work, straight through the hot summer months, with activity and zeal.
Otherwise, if the present unconstitutional aid to education bill is passed, Protestants have no one but themselves to blame.
Let our purpose be: public funds for public schools only.
HENRY RATLIFF
First Methodist Church
Great Barrington, Mass.
As a Canadian it would be impertinent of me to comment on the current controversy in the U.S.A. over public funds for sectarian schools.
There might however be some guidance to those who are concerned over the issue in the bitter experiences of Ontario in this matter. The law allows grants for both public and separate schools, for building, salaries, etc., from the department of education. From small beginnings, through political manipulation, the claims of the separate Roman Catholic schools have grown to the point where in some areas the very existence of public schools is endangered.
The Roman Catholics will use the public schools (where any minister or priest may go in to give religious instruction to his own group at arranged hours) until it suits their purpose to withdraw leaving the … debt of the building and its upkeep upon the shoulders of the non-Roman section of the community.
It is apparently too late to do much about it here, but the lesson is plain—give the Roman Catholic church an inch and it will soon claim a mile.
R. KEITH EARLS
Cobden, Ont.
MANCHESTER RELAYS
June 19 issue of CHRISTIANITY TODAY states: "Decision reported 10,000 landline relays (closed-circuit audio transmissions) of the evangelist's messages. The British Evangelical Alliance … said there were 1,440." … Decision Magazine never said 10,000 landline relays."
GEORGE M. WILSON
Billy Graham Evangelistic Association
Minneapolis, Minn.
• Decision (February, 1961) reported "telephone relay centers for carrying Crusade messages direct to 10,000 local church meetings." CHRISTIANITY TODAY and some others understood from this that 10,000 relay centers were envisaged. Decision's figure represents actual relays multiplied by the number of evenings they were in use.—ED.
SUBSEQUENT TO NEW BIRTH
[Re] the article "Pentecostal Meeting Makes Holy Land History" (May 22 issue): … Speaking with tongues is the initial, physical evidence, not the heart and soul, of the Pentecostal experience. It should be part of the believer's subsequent Spirit-filled life.
As a whole, we have never considered that a person's basic Christian experience is not legitimate apart from speaking with other tongues. We have always emphasized that the baptism with the Holy Spirit is an experience subsequent to the new birth.
J. W. JEPSON
Pentecostal Bible College
Pentecostal Church of God in America
Ashland, Ore.
The article … was definitely appreciated.… Various denominations are now experiencing a definite Pentecost, not just the Assemblies of God. At a recent meeting, there were present James Brown, Presbyterian; Roy Allebach, Mennonite; Rabbi Jack Robins; Keith Ruegsegger, Baptist; The Finn Twins, Roman Catholics; Harold Bredesen, Dutch Reformed; Dennis J. Bennett, Episcopalian … and others, all spirit-filled with the evidence of "other tongues."
FLOYD GARRETT
Chappell, Neb.
INIQUITIES IGNORED
Acres of newsprint are wasted in tilting at the iniquities of so-called theologians. I am not sure who bothers to read their works, but to the ordinary Christian they are merely irrelevant. The issue of April 24 reached an all-time low in taking seriously the mental meanderings of men who from the safety of their studies are trying to fight the missionary battle. Frankly I am far too busy fighting it on the ground out here to bother with all this vapourising. Why bother to take them seriously? The last word is with God, not with the professors.
KENNETH GREGORY
Holy Trinity Church
Karachi, Pakistan
DIVINE HEALING
It is no more intelligent to brand a minister as a "faith-healer" because he believes that Jesus Christ will heal than it is proper to address him who preaches that Jesus saves a "faith-saviour." A correct term used to express this blessed truth is "divine healing."
D. R. RAMSEY
Tuba City, Ariz.
Have something to add about this? See something we missed? Share your feedback here.
Our digital archives are a work in progress. Let us know if corrections need to be made.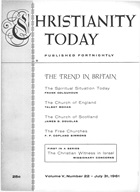 This article is from the July 31 1961 issue.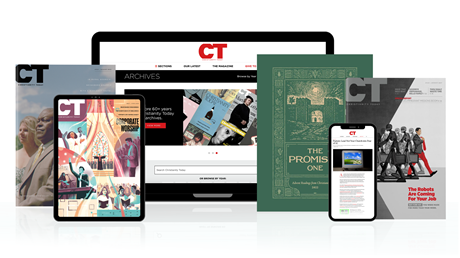 Annual & Monthly subscriptions available.
Print & Digital Issues of CT magazine
Complete access to every article on ChristianityToday.com
Unlimited access to 65+ years of CT's online archives
Member-only special issues
Subscribe
Eutychus and His Kin: July 31, 1961
Eutychus and His Kin: July 31, 1961