The great cities of Britain present special difficulties to the work of evangelism. But they call for thorough consideration, since almost a third of the population lives either in a city of over a million souls or in one of the vast industrial "conurbations" of these islands.
Because of unplanned development, large urban areas exist without a sense of community. Long journeys to work and to cultural amenities, as well as to the open country, are common to these areas. Much of the housing is old and uneconomic, and playing fields, swimming baths, and community halls are far from adequate. These conditions militate against community life, since they discourage attendance at meetings, whether political, social, literary, or artistic. The work of the churches suffers from the same difficulties. In addition, the incidence of shift-work in many industries prevents regular attendance by those who desire to take their part in activities outside the home. All voluntary youth organizations encounter difficulty in finding sufficient adult leaders.
Another set of factors affecting church attendance is the enormous change in home comforts. Mass-produced furniture, television, washing machines, refrigerators, and now record players and tape-recorders, have combined to produce a comfortable if noisy home life for multitudes of our people. Those of us who have known "working-class" homes for the past half century have seen remarkable changes. There has been considerable increase in "off-license" sales of alcoholic liquors, and people of the great cities have been disposed to stay at home when the day's work is done.
Without doubt the mechanical and automatic routines of modern factory life encourage a materialistic rather than a personality-centered outlook on life. Prosperity is measured in terms of manufactured goods rather than by the results of the family's own labors. Thus the family car receives more attention and has a status-value in the community beyond that of the garden which used to be important in areas where gardens could be found. But the garden is now often either laid to grass or paved to lessen the demand for attention, while many cars are religiously washed in the street as a Sunday morning exercise. From some towns the local football team is always accompanied by special train loads and coach parties of "supporters," but these are mainly week-day activities.
The total effect of such things is to crowd life with earthly interests so that little time remains for God. Home, business, and sport combine to make life too full for God to have a place. The new convert finds that a complete reorganization of his leisure time is involved if he is to take his place in the life of the church.
RELIGIOUS VIEWS OF THE PEOPLE
In the past 15 years several interesting surveys of social conditions have dealt with religious views and activities. Reports from chaplains in the services and in the prisons have disclosed widespread ignorance of Christian truths and faith. Yet beneath all this, several valuable things persist. First, there is a real respect for the Bible, a fact which gave potency to Billy Graham's assertion, "The Bible says." By and large, this resounds in the hearts of most people, despite the persistent attacks on the authority of the Bible by some church leaders and lecturers. Although the clergy or ministers as a class are sometimes held in disrespect, almost invariably there is high regard for some preacher who is personally known.
Since much of the social, educational, sick visiting, and nursing work of the church has been progressively taken over by the state, it is now less customary than in former times for the nonchurchgoer to turn to "the parson" for guidance and help.
ATTITUDES OF THE CHURCHES
The various denominations have reacted differently in the face of aging congregations and financial difficulties. Some have been cushioned against losses by substantial endowments; others have amalgamated churches in the same neighborhood and have sold redundant sites at high prices. The shortage of men for the ministry has been widely felt despite the use of laymen wherever possible. A few years ago a prominent Baptist warned the London Association that few of their churches would remain open in 25 years. That was before Billy Graham's Harringay Crusade in 1954, which gave a great boost to churches of the London area (including the Baptists). Congregationalist and Methodist churches are still being closed, while numbers of bombed Anglican churches have not been rebuilt in situ but on new building estates on the outskirts of the area. Among the clergy there is a widespread feeling that the day of mass evangelism is over.
Many leaders are concentrating on their own private methods—for example, industrial chaplaincy work, men's societies, youth groups, modernized forms of church services, visual aids, advertising stunts, cells for this or that, healing circles, and so on. In a large center of population it is possible to gather an eclectic congregation around almost any fad or fancy.
But the basic problem remains, how to reach the people with the Gospel message. One method is by door-to-door personal evangelism—this has been the method of the London City Mission for over a cen tury. A London vicar said recently that if he had the available man power he would concentrate on following up the routine contacts of his church in bereavements, marriages, and hospital cases which he finds yielding results whenever he is able to give time to them. Such visitation must be done when the people are at home and available, and therefore will often clash with church meetings. Which shall be given priority?
If visitation, persistent and systematic, is to be an answer, how shall the visitors be secured, trained, and kept at work? This writer believes that the churches need a method which combines the best features of the Navigator system with a training scheme such as that of The Methodist Church in the U.S.A., for the Navigator method trains the individual to use resources available to every Christian and to teach these to others one at a time, while the visitation training scheme inspires purposeful visiting with a view to church attendance and church membership.
In Great Britain the media of radio and television are not available for hire by the churches. Preachers and churches have their opportunities by invitation and not by purchase, and it is still an open question whether Christian people recognize the importance of these means. A single radio or television message may reach more people than a preacher can address in 50 years of ordinary ministry. (Assuming that 400 different people hear him every week of his life for 50 years, he would only then address a million people. British radio and television audiences may total 8 million for a popular program.) Training for this work ought to be a "must" so that acceptance of one invitation may lead to further invitations. Even a "natural" will be more effective when he has learned the techniques of the craft.
MESSAGE FOR THE GREAT CITIES
Assuming the Gospel's irrelevance to life today, the crowd has simply left God out. This means that city preaching must be related to the basic needs of the people. Their interests in the mysteries of life, birth, and death, their questions about justice and judgment, their interest in the future of the nations, and, above all, the personal problems of sin, temptation, guilt, anguish, and loneliness, all provide opportunities for the wise preacher.
This preaching must be Christ-centered and Christ honoring, for those who quarrel with or neglect the church seldom turn away from the living Christ when they meet him. We need a new humiliation in the face of the vast ineffectiveness of the church, and a new search for wisdom and power so that every creature may hear. We need to confess our failure, neglect, and loss of vision and power.
At present the duty of the church to proclaim the Gospel to every creature seems to be neglected because present methods seem unable to cope with the task. But even in the large cities the matter of meeting the task is not impossible, however, provided the burden is faced honestly by every minister and every Christian. Training must be for service and not merely for the sake of achieving a standard of piety or knowledge. And there must be a new reliance upon the Spirit of God who cares for men beyond any imagining. We need his caring, his love shed abroad in our hearts, so that his Church may live out his concern for the lost outsider as well as for the Christian insider.
Samuel M. Shoemaker is the author of a number of popular books and the gifted Rector of Calvary Episcopal Church in Pittsburgh. He is known for his effective leadership of laymen and his deeply spiritual approach to all vital issues.
Have something to add about this? See something we missed? Share your feedback here.
Our digital archives are a work in progress. Let us know if corrections need to be made.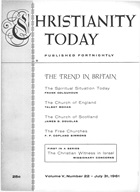 This article is from the July 31 1961 issue.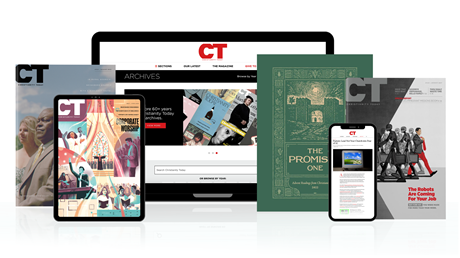 Annual & Monthly subscriptions available.
Print & Digital Issues of CT magazine
Complete access to every article on ChristianityToday.com
Unlimited access to 65+ years of CT's online archives
Member-only special issues
Subscribe
The Great Cities
The Great Cities