MAN'S DESPERATE NEED
Extreme words need to be justified. "Desperate" is such a word. That man is in desperate need all of the time can be established for anyone willing to sift and evaluate the facts.
First, man needs desperately to be reconciled to God. The natural man, steeped in the things of this world, a sinner by practice, needs the cleansing, redemption, and empowering which are available through faith in Christ.
In other words, man's primary need is salvation and this is the most desperate of all needs.
But I wish to write about needs that have mainly to do with Christians—those who have already come to know Christ as Saviour and Lord. For such there continue to exist needs—yes, desperate needs—because unless they are met the Christian will wander through the world in a state of frustration, with an ineffective witness little distinguishable from that of the pagans surrounding him.
Our needs cannot be listed in chronological order of importance because they exist concurrently; nevertheless it can safely be said that Christians need love more than any other one thing. First of all, there is need of an overwhelming sense of God's love for us, that he has loved us with an everlasting love, and that his love is flooding through our hearts through the Holy Spirit's presence. As this love becomes a reality, love for others also fills our hearts for it is the first fruit of the indwelling Spirit.
Such love is desperately needed—to sense God's love for us and in turn to love others. Love for others, especially for fellow Christians, is not optional but obligatory:
Love is a gift to be accepted and a grace to be practiced. Without it life is empty and one's profession of Christ a mockery.
But Christians need other things along with love. They live in a world of perplexing problems, ever-present temptations, depressing realities, and the "devices" of Satan which are always calculated to catch us off balance and at the point of greatest weakness. For these reasons they need desperately to appropriate the blessings God is so anxious to give to those who ask.
Thus Christians desperately need faith. God will honor the tiny spark of faith that is no larger than the proverbial mustard seed; but what we need is a deep and abiding faith which looks beyond the perplexing, trying, overwhelming vicissitudes of life to the One who never makes a mistake. Often we need just to know that what He has permitted is for our good and his glory. This kind of faith runs counter to human nature and, according to the world, seems utterly unreasonable; but in such faith there is great peace of heart.
"Faith is the substance of things hoped for, the evidence of things not seen": faith means trusting God to the limit. When faith is of this quality, it is a movable shield causing Satan's clever, burning darts to fall harmlessly to the ground.
It is a reliance upon the faithfulness and sovereignty of God which enables us to walk with confidence, even though we cannot see the road ahead.
It is assurance enabling us to recognize and receive the grace of God—His pardon and redemption, totally undeserved on our part.
Another desperate need of the Christian is divine guidance in the daily routine and in the unexpected emergency. The reality of such guidance is one of the most precious of all God's abundant blessings. "In all thy ways acknowledge him, and he shall direct thy paths" is not just a saying but a glorious reality. God does just that. Many people will rise to give testimony to the thrilling experience of divine guidance. For them the promise, "And thine ears shall hear a word behind thee, saying, This is the way, walk ye in it, when ye turn to the right hand, and when ye turn to the left," has been fulfilled again and again.
The Christian also desperately needs wisdom, the wisdom which is from God and which is the capacity for spiritual insight and for rightly meeting the problems of daily living. Such blessing comes from a reverential trust in God and a willingness to do his revealed will.
How often we come face to face with problems which demand right decisions. J. B. Phillips translates James 1:5, I think, in a most satisfactory way: "And if, in the process, any of you does not know how to meet a particular problem he has only to ask God—Who gives generously to all men without making them feel foolish or guilty—and he may be sure that the necessary wisdom will be given him." Can we ask more?
Furthermore, a Christian is desperately in need of strength, for he finds himself pitted against a cunning, clever, and relentless foe. Paul tells us that we are "up against organizations and powers that are spiritual. We are up against the unseen power that controls this dark world, and spiritual agents from the very headquarters of evil" (Phillips). This would be utterly frightening were it not for the knowledge that God is greater.
How then can we appropriate God-given strength? Strange to say it does not come from action but from waiting: "But they that wait upon the Lord shall renew their strength," the Holy Spirit tells us through the prophet Isaiah. The art of waiting for strength from God is a grace every Christian needs to learn.
Coupled with it is the grace of patience. How often the Christian makes a spectacle of himself before the world by exhibiting impatience. We are surrounded by a cloud of witnesses, people who mark our every movement and reaction. When they see us running with patience the race of daily living, they see a tremendous witness for our Lord.
There are many other things the Christian desperately needs as, for instance, the hope and comfort of the Scriptures. It is as we appropriate to ourselves the unlimited resources of God that we have peace in our own hearts and honor our profession before others.
Our desperate needs can be met by our appropriation of that which God has provided, and the avenues of divine blessing are to be found in prayer and Bible study.
Prayer, a two-way communication with God, is vital and rewarding beyond our wildest imagination. We speak to God and he speaks to us, and this fellowship melts the most stubborn of hearts and enlightens the most rebellious of minds.
Bible study becomes a precious privilege and a priceless source of all of God's help as we turn to the Scriptures with humbled minds and obedient hearts. In the pages of this precious Book, God brings light, wisdom, and hope to the groping soul.
Finally, Christianity is not only faith in the person and work of the Son of God, but a life to be lived, and we desperately need to show to the unbelieving world that Christianity works.
L. NELSON BELL
Have something to add about this? See something we missed? Share your feedback here.
Our digital archives are a work in progress. Let us know if corrections need to be made.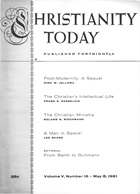 This article is from the May 8 1961 issue.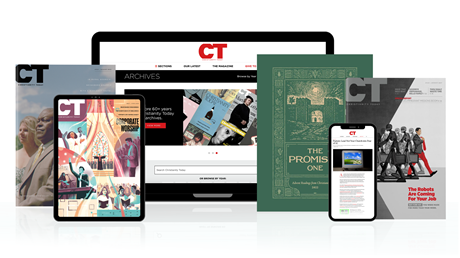 Annual & Monthly subscriptions available.
Print & Digital Issues of CT magazine
Complete access to every article on ChristianityToday.com
Unlimited access to 65+ years of CT's online archives
Member-only special issues
Subscribe
Are You Breathing?
Are You Breathing?