One of the most influential men in our specialized society is the critic. His function hi every field of artistic development appears well defined: he is a sampler, a professional taster for millions. With few exceptions the masses of theatre-goers, collectors of art, and book readers rely upon the published reviews of established critics. The names of many of these men (and some women) have become as familiar to the American household as are the names of the celebrities whose works they analyze. Every day Americans may be kept informed of the expert opinion of their cultural peers, who are dedicated wholly to the task of surveying the artistic horizon for signs of better and better things.
Professor Carlos Baker of Princeton in a recent issue of The New York Times Book Review wrote that it is the critic's social responsibility to see that we miss as little of the best art of our time as possible. The immediate problem raised by this definition is in the phrase "the best art of our time." Here indeed is a relative remark. It may well be argued that to anaylze our present flood of degraded literature, immoral and bluntly obscene, and to find any superlative degree of comparison in it may be the same task as the classification of decaying refuse into levels of corruptness.
And yet each weekend the literary reviews of our major newspapers carry plaudits and praises for third-rate novels by third-rate writers. Bolstered by the apparent acceptability of his initial work with its typical sequence of passion and pornography, the third-rater flashes through another manuscript. Before the serious reader has had a chance to recover from the first bout, the trusted reviewers are encouraging him back into the ring for a rematch with this "finest genuine talent" or "sparkling new artist."
Nor are the critics content merely to extol the praises of these pint-sized minds with their single track of plot and stereotyped characters. The critics have gone farther: they have heaped recognition upon shoddy forms of literature by awarding respected prizes to authors of shallow samples of the decadence of unregenerate mentalities.
Not all of America's famous reviewers have been taken in by the prevailing trend in fiction, poetry, drama, and criticism. Upon occasion—such as Malcolm Cowley's devastating mauling of Leslie Fiedler's Love and Death in the American Novel—an honest critic will permit his offended sense of natural morality to give vent to his long-suppressed ire. All too often, however, the critic is more conscious of a supposed obligation to twentieth century fad and style than to his real responsibility to society.
In the preface to his courageous commentary on contemporary writing, Man in Modem Fiction, Edmund Fuller meets this inconsistency among his fellow-critics head-on: "I distinctly attack the canon of critical values which elevates the mandegrading books to claims of literary-artistic eminence."
More such voices crying in the wilderness are needed today. Weak as our evangelical novels may be, our supply of Christian critics is weaker. The evangelical writers who can phrase a line of dialogue or rhyme a Petrarchian sonnet may be few, but the paucity of Christian critics is even more striking. One may almost count on his fingers the number of conservative American Protestants whose book reviews or critical comments are being published in the major magazines and newspapers. Edmund Fuller, perhaps the most frequent contributor to the prominent publications, always brings to his reader a forthright picture of the aims and achievements of an author in language that is both intelligent and direct. Elis scope of influence has been widespread: as a teacher at the Kent School; as publisher's consultant, textbook editor, and author of professional articles on teaching, as well as top-ranked critic. In all of these areas he has demonstrated a Christian faith that meets the need of the intellectual.
Along with Edmund Fuller one should mention Clyde S. Kilby of Wheaton College, who has gained distinction for his studies of C. S. Lewis, as well as for his text Poetry and Life. He has also been greatly responsible for the "Conference on Christianity and Literature," a loosely-federated group through which Christian teachers may exchange views and opinions on literature.
Randall Stewart of Vanderbilt University, the editor of Nathaniel Hawthorne's Notebooks, ranks as the finest literary historian and researcher from the Christian view in America. His work American Literature and Christian Doctrine should be read by every Christian interested in classical American literature.
Two other men, both frequent contributors to this magazine, have established themselves as qualified scholars and writers. They are James Wesley Ingles, Professor of English and Head of that department at Eastern Baptist College, and Calvin D. Linton, Professor of English Literature and Dean of Columbian College at George Washington University. Professor Ingles has specialized in the study of Victorian literature, while producing five novels of his own. Dean Linton has concentrated much of his critical focus upon Elizabethan drama, as well as supplying scholarly reviews and critiques of hooks and trends in current literature.
In the particular area of poetry evaluation and in his close analysis of C. S. Lewis, Chad Walsh of Beloit College has made a remarkable contribution to scholarly criticism with Christian tenets. As College Poet and editor of the Beloit College Poetry Journal, he is an influential figure among active poets.
Although he is known as a philosopher rather than a critic, some of the most searching criticism appears in Emile Cailliet's The Christian Approach to Culture, as well as in his last book, The Recovery of Purpose.
The passing in 1956 of Henry Zylstra, the Reformed critic and scholar, removed one more evangelical voice that we should surely have counted on our roster of Christian critics of literature. Even so, the wealth of his wisdom has not been lost to us, for by virtue of the posthumous publication of his speeches and essays, Testament of Vision, "he being dead yet speaketh."
The work done by these men whom we have named constitutes a basis on which to build the structure of Christian criticism. The high quality of scholarship and the honest, unequivocating manner of writing sets a good example for others to follow.
It is important to recognize that in some of the writings of so-called evangelical critics, a disturbing theological blandness exists alongside their admitted literary skill. It is not sufficient for the highly-trained university professor, who would analyze literature having theological problems, to deal with those problems merely in general terms. His knowledge must be more than an elementary or cursory acquaintance with faith and doctrine—à la A Handbook of Christian Theology. One may not attain complete critical excellence by over-simplifying or avoiding crucial theological issues that arise so frequently in the consideration of literature. All who would attempt to evaluate literature in the light of Christian perspective must possess an acute awareness of the shifts and slants in theological views. An evangelical approach to literary criticism must include an incisiveness that penetrates to the heart of all problems, whether they be linguistic, artistic, moral, or spiritual.
What can be done to enlarge the number of effective Christian critics? To begin, a greater effort must be made by Christian teachers of language and literature, principally those in our Christian schools and colleges, to have their critiques published in whatever influential organ they can, though it be simply a journal sponsored by the creative writing class of their own institution. Eventually it is to be hoped that many more of the critical reviews and quarterlies would have on their lists of contributors the names of recognized Christian teachers and critics.
In the classrooms of our Christian institutions we must introduce our students to standards or criteria by which they may learn to assess for themselves the worth of the literature of this or of any time. To do this will require a more intensive and comprehensive study of theology by our literature students, matched by an increased emphasis upon literary values by our seminarians.
But until the whole of the Christian public becomes a thinking and reading public, able to judge for themselves the distinctions between "good" and "bad" in the cascade of literature that pours in upon them, it will be necessary to find worthy men to serve as guideposts.
More reporters of that which is "of good report" must be trained to augment the group enumerated above, as well as to counteract the existing trend toward a limited view of God and man in literary criticism. Together, and with a definite sense of Christian mission, a vast enlargement in the effectiveness of the Christian critical view of contemporary writing will speak forcibly against the present godlessness in literature.
Director of Music
Stony Brook School
Stony Brook, New York
Have something to add about this? See something we missed? Share your feedback here.
Our digital archives are a work in progress. Let us know if corrections need to be made.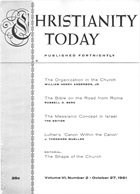 This article is from the October 27 1961 issue.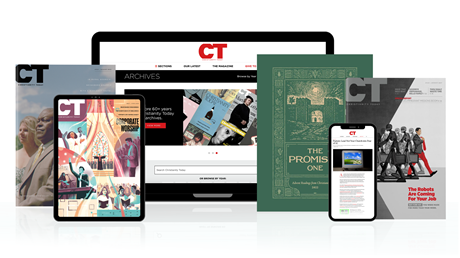 Annual & Monthly subscriptions available.
Print & Digital Issues of CT magazine
Complete access to every article on ChristianityToday.com
Unlimited access to 65+ years of CT's online archives
Member-only special issues
Subscribe
The Torrent of Literature: A Call for Christian Critics
The Torrent of Literature: A Call for Christian Critics