In many respects the time is now ripe for a great resurgence of evangelical scholarship. The irrelevance of the older liberalism is plain to see. The pressure of neoorthodoxy back to an underlying liberalism is increasingly apparent. Against materialism on the one side and false dogmatisms on the other, the only response is a strong evangelicalism. Church life, as shown by the wide conservatism of ministers and people, is waiting for it. The ground has been largely prepared by new developments in biblical, historical and dogmatic theology. The only remaining question is whether evangelical theology itself can rise to the occasion.
There are promising signs that it may do so. Evangelical schools are taking their places among leading seminaries. Books of a high quality are coming from the presses. The evangelical voice is being raised again in denominational and ecumenical debates. Thoughtful lay supporters are emerging for theological ventures as well as for the established pastoral, evangelistic and missionary work.
We deceive ourselves, however, if we imagine that the tide is necessarily with us or that all is being done that might be. In a recent article in this journal it was pointed out that the evangelical cause still goes by default at many levels. Two questions in particular demand attention, first, whether much of our effort does not stand under the famous military slogan "Too little, too late," and secondly, whether there are not? certain inherent defects of posture or direction in much of the theological work.
The practical question is addressed primarily to evangelical congregations. While we recognize that scholarship is not the only concern, that tragic defections have occurred in this sphere, and that God can use the Davids to overthrow theological Goliaths, there are certain facts for which we still have a serious responsibility before God. The number of first-class seminaries is still too small. Many are not able to develop as they should for lack of adequate support. There are few scholars who can claim the academic competence or authority of their non-evangelical counterparts. The production of such scholars in the future depends on fuller concern for our seminaries. It also depends on the evangelical public providing the initial sales for worthwhile evangelical literature to be published and to attain to national stature. Theological work needs time to make its full impact, but it must have solid and energetic support if any real impact is to be made at all.
The second question is addressed more specifically to theologians, though it has a general relevance, inasmuch as they do their work in a common evangelical climate. Are there not inherent weaknesses of attitude and direction in much of the work done? We do not refer to content. If the material is biblical, it is good and sound. We refer to the way in which this good material is used. We refer to approach, to aim, to orientation, to the possibility of trying to do the wrong things with the right material.
For one thing, there often seems to be a preponderance of negative and critical work. Incorrect views obviously have to be studied and rejected or amended. But this is the easier part. It makes less demands, but it also lacks ultimate power even in criticism. The truth demands positive presentation, and only in this form does it have its sharpest cutting edge.
Again, much evangelical work seems to be overly dominated by apologetic concerns. There is naturally a place for apologetics, but a theology which is always concerned to meet some attack, to justify itself in relation to some trend, or to establish its own validity, is vitiated from the start and is unlikely to reach its goal. Real theology should stand unashamedly on its own feet with its own theme and method, not giving account to other disciplines but finally calling them to account. Our current failure to produce strong dogmatics is surely evidence of our weakness in this regard.
The result is a generally defensive attitude in relation both to other theological trends and to wider disciplines. We cling apprehensively to the promise that hell will not swallow us when we should be sounding the trumpet before Jericho walls. Our great themes are set in the context of other concerns when other concerns should be treated only within our own great context. It is suggested that our cause must be made intellectually respectable, as though God's truth either could or should be made respectable by its advocates, or as though it did not have its own intellectual compulsion.
The final consequence is an intellectual abstraction which is partly responsible for the practical evils in this sphere, as also for the unwitting intrusion of alien principles in wide areas. True theology serves the ministry and informs the practice of the Church. It is not an intellectual game for initiates but of vital relevance to piety, evangelism and edification. To be this, however, it must shake off its apprehensions and defensive concerns, and become again a virile and a confidently positive declaration, exposition and application of the revealed Word of God which is the Word of life and truth.
Forecast Of Religious Books And Reading For Perspective
Elsewhere in this issue CHRISTIANITY TODAY presents its readers with a Spring Book Forecast. Such forecasts are offered twice a year, spring and fall, presenting a selection of the most significant of the legion of books that come from the religious press. "Significant" here means only that the selected books are thought to be important because they will, for better or worse, affect the cause of Christ. These forecasts are made to alert the reader of CHRISTIANITY TODAY and to aid him in his purchase of religious books.
A survey of the Forecast seems to indicate that the weight of significant scholarship still lies with the more liberal Protestant and with the Roman Catholic. There are signs that the scales are shifting and tilting increasingly in favor of evangelicals. This brightening of the situation seems to parallel the growing number of accredited evangelical colleges and seminaries.
Evangelical, conservative religious thinkers are turning an increasingly large amount of scholarly effort into the production of commentaries, Bible translations, Bible dictionaries and encyclopedias. This is all to the good. These are all necessary tools requisite for theological advance. With the tools at hand, evangelicals should now increasingly turn to the task of dealing with the burning theological problems of our times. For too long it has been left to others to forge the theological concepts and positions which shape the religious life and thought of the Church. Too often in recent decades, conservative theological leaders have entered the theological debate at the point of the rebuttal. Let them now take the initiative and themselves set the form of the question and thus determine the direction of the theological debate.
A theological evangelical renaissance which employs its tools of scholarship to wrestle with the tremendous theological challenge of our day requires time and opportunity. Scholarship of any kind requires leisure. And it may be added that theological scholarship is no luxury. We know too well the damage wrought in the life of the Church when it comes under dominance of the wrong kind. May the evangelical community of churches and schools provide such opportunity and leisure as is necessary to produce theological writing which speaks not merely as protest or corrective but to our troubled time itself.
The reader will also observe the new feature, Reading For Perspective. The books spotlighted in this feature are again not necessarily evangelical but always, in the opinion of our editors, significant books which show the drift and indicate the shape of the current theological and religious situation. No one can read all the religious books. Nor is this necessary. The problem is to read the significant ones, the books which show in what direction the Church is moving, and what various influential sectors or scholars of the Church are thinking and doing. Titles of such new books will regularly make their appearance in Reading For Perspective.
An Unrealistic Analysis Of The Human Predicament
"How Natural Is Human Nature?" asks Eric Hoffer in a recent essay in The Saturday Evening Post (January 13 issue). He answers in effect that man is a half-animal who can become a half-God through myths which release his creative energies. Mr. Hoffer's analysis is so replete with the black magic of private assumptions, and so lacking in authentic spiritual insight, as to require comment. His reliance on "incantations, myths and … illusions" to regenerate the weak and to make them the chosen instruments of history simply varies a well-worn theme: man can lift himself by (imaginary) bootstraps. To write of the "unique glory of the human species" and to ignore, as Mr. Hoffer does, man's predicament and sin and Jesus Christ's shaping influence in Western history is modern madness.
Religion Fifth In Book Titles; Fiction And The Sciences Lead
A total of 18,060 different titles were published in 1961—an all-time high in American book publication. New titles accounted for 14,238, with 3,822 new editions of previously published works. Books grouped under the general heading "religion" were a strong fifth, with a total of 1,290, according to 1961 statistics given by Publisher's Weekly, a trade publication.
As might be expected, fiction led the parade, with nearly twice the total of the second-place classification, juvenile books. Fiction accounted for 2,630, with 1,626 in the juvenile field. "Sociology and economics" was the third-ranking classification with 1,613 titles. Leading "religion" by nearly 200 titles were the works on "science," totalling 1,494. Books on "religion" outnumbered "art" two to one. "Language," "law," and "literature" combined had a total number of books published approximately the same as "religion."
There was a day when the religious orientation stood first in the world of books, but on the modern scene even a strong fifth is significant. The next question is how many of these books serve the cause of pure religion, and how many are in the service of pseudo-deities? A further question is where scientific devotion leads in the absence of spiritual dedication.
In Glen Cove, New York, a nineteen-year-old genius, nationally acclaimed nine months ago for conceiving a working model of an atom smasher, was arrested and charged with stealing small sums of money from the desk of his high school principal. The youth claimed he needed the money to buy scientific books and magazines, but his father revealed that the boy had "about $400 in the bank" earned by caddying the previous summer season.
Has not the crisis of our time arisen largely through man's devotion to scientific pursuits while neglecting the God of the atom?
Anglicans Have Second Thoughts On Banishing The Devil
Last year a Church of England committee, charged with preparation of a new version of the catechism, decided to discontinue the practice of referring to the devil by name. Strong protest arose promptly from Anglo-Catholics and evangelicals, united for once.
News has now come of the Anglican reinstatement of the devil—who rates 104 references in the Oxford Dictionary of Quotations, and who was once acclaimed by Bishop Latimer as "the most diligent bishop and prelate in all England"!
Modern theology tends to demote, or at least to neglect, the devil—unlike a former generation brought up on Mrs. C. F. Alexander which learned at church school to sing of "a wicked spirit hovering round you still." Spurning such adolescent fancies, our own age fits rather the description of the old Scots poet who, in discussing the decline of preaching, lamented:
A saft an' couthie tale they tell;
An' tell it quick;
They've sell't the guid auld brunstane Hell
An' pensioned Nick.
This resuscitation which gives the devil his due may seem a paradoxical subject for rejoicing, but it would have evoked a fervent Amen from Charles Kingsley who once observed: "The devil is shamming dead, but he is never busier than now."
Theological Journalism And The Contemporary Social Crisis
One sign of theological vitality is the multiplication of religious journals in our time. Long established magazines frequently harden into predictable champions of debatable causes or into denominational organs suppressive of constructive dissent.
The new quarterly journal Dialog has announced its staff, editorial council and contributing editors—committed Lutheran scholars, mainly neoorthodox or liberal, who span the Atlantic. Its summary of the Church's proclamation is vigorous, except for ambiguity on the character of divine revelation. We wish Dialog well, and hope evangelical principles appear in its pages even more than among its editors.
While writing of religious journals we shall add a word about CHRISTIANITY TODAY'S series on the instability of liberal ethics. Nobody need construe this as an attack upon another distinguished journal (which we are indisposed to publicize to a reading audience five times its own). But The Christian Century in earlier decades was so widely honored as America's authoritative Protestant voice that it became the show window on the liberal social frontier. Every decade or so a charismatic ecclesiast representing some new secular trend has knocked at the door of the doctrinally backslidden Church to get such ideals baptized as "Christ's program for this age." Only when it falters in crisis does liberalism recognize that such pious concern was really a secular masquerade. But scarcely is this confession voiced than it is muffled once again by another program calling once more for church support.
We are not desirous, however, of concealing the lamentable social inactivity of many Protestant conservatives. The writer protested this in The Uneasy Conscience of Modern Fundamentalism. There may be more comfort, but no greater virtue, in acting on the maxim: "It is better to keep one's mouth shut and be thought a fool, than to open it and remove all doubt." God's messenger has no exemption from such slander; he has a mandate and a message, and he had better be true to both.
Have something to add about this? See something we missed? Share your feedback here.
Our digital archives are a work in progress. Let us know if corrections need to be made.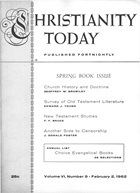 This article is from the February 2 1962 issue.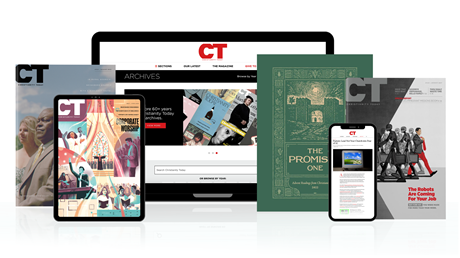 Subscribe to Christianity Today and get access to this article plus 65+ years of archives.
Home delivery of CT magazine
Complete access to articles on ChristianityToday.com
Over 120 years of magazine archives plus full access to all of CT's online archives
Subscribe Now
The Evangelical Thrust
The Evangelical Thrust