Message From Space
Ten civilized planets may exist within 1,000 light-years of the earth, according to the calculations of a German astronomer. There is even a chance that scientists on one of them may be sending out "to whom it may concern" broadcasts for the information of the galaxy. Presumably discouraged by what he sees on terrestrial TV, this scholar is doing his bit for peace by watching for signals from outer space. Time reports that he feels our best hope of survival is to get advice from a planet that has had atomic war.
If some scientific reader can advise me on how to rig my TV to a telescope, I am ready to volunteer as a space watcher. I only insist on knowing the mathematical probability of tuning in cigarette commercial from some plutocratic planet in the Milky Way: "Stardust travels the smoke fifty light-years further!"
The German astronomer, however, hopes to contact an old, wise civilization, matured far beyond our callow earth. He may run into trouble if they have already been watching the Flintstones.
My enthusiasm for this project is ebbing. I have made calculations of my own, using the multiplication table on the back of my composition book. If we file an SOS now, and the nearest planet in shape to respond is 500 light-years away, it will be a solid millennium before we can look for an answer. By that time there might be a Republican administration in Moscow.
Pastor Peterson was fascinated by the Time clipping. As usual, he was reminded of a text: "For this commandment which I command thee this day, it is not too hard for thee, neither is it far off. It is not in heaven, that thou shouldest say, Who shall go up for us to heaven, and bring it unto us, and make us to hear it, that we may do it?" (Deut. 30:11,12).
He suggested that I compose a story in the style of C. S. Lewis: the astronomer feverishly decodes a message from space just as the missiles are falling. The message reads: "Watch, O wise men of the Dark Planet, watch for the star of the King of the Jews!"
But I defer to C. S. Lewis.
EUTYCHUS
Unity Sans Unitarians
Yesterday's mail brought an interesting contrast. First, your December 22 issue arrived, in which is described the WCC acceptance of a Trinitarian faith for membership. The second publication was a Unitarian paper, in which was printed a letter from Dr. Albert Schweitzer. The noted missionary was writing to express appreciation for and acceptance of an invitation for him to affiliate with the Unitarian church.
The contrast is a very striking one. In your publication you cite the WCC affirmation, in which a Unitarian is consigned to eternal ostracism from the Church, if not to perdition itself. In the other, the noted Dr. Schweitzer affirms enthusiastically his Unitarian belief, and appreciation for historical Unitarianism.
What strikes me as even more significant is this: the man whom the Church has called perhaps the most Christlike man of our generation has, with one fell swoop, been cast out of membership in the World Council of Churches. It really sounds ridiculous, doesn't it?
W. G. SHERMAN
Melrose Park Methodist Church
Fort Lauderdale, Fla.
Do I detect exultation in the report … of the decision of the World Council in which "Its immediate effect was to disqualify Unitarians from WCC membership"?
If so, is there danger that many Trinitarian members of qualifying churches may not be willing to "confess the Lord Jesus Christ as God and Saviour …"? The italics are mine.
And if so, will the World Council disqualify such people as Georgia Harkness, who calls herself a Trinitarian, but wrote in Understanding Christian Faith that "this (Jesus Christ as the supreme revelation of God and the Saviour of men) does not mean that Jesus was God" (page 74)?…
STANLEY F. MURRAY
Lexington, Mass.
To me, in my 82nd year, this whole movement toward uniting in one body all churches which profess faith in Jesus Christ is in error due to a failure to understand what Christ meant by his prayer.… He very clearly meant that they should be one in desire, purpose and action, as he and his Father are.
WALTER W. STRONG
Long Beach, Calif.
For you to say … that Joseph Sittler did not say that salvation outside Jesus Christ is impossible can be nothing more than adolescent "sour grapes" in view of one of the most forthright and unequivocal Christocentric statements to have been heard in more than 400 years.
JOHN P. PETERSON
Our Saviour's Lutheran Church
Arlington Heights, Ill.
• Dr. Sittler's address, a moving major message at Delhi, stressed the grand sweep of Christ's redemptive work. Some delegates balked at its weighty vocabulary; among those who did not, some detected an implicit universalism (all men ultimately redeemed by Christ). In a press conference following his address, Professor Sittler was asked: "Do you believe a blessed immortality is limited to those who have saving faith in Jesus of Nazareth?" Dr. Sittler chose to attack the question; there is no such thing, he said, as saving faith, but Christ saves, and since it is Christ who saves, it is not proper to speak thus of Jesus of Nazareth. This reply was taken as evasive, and Dr. Sittler was then asked: "Is there any salvation except through personal faith in Jesus Christ?" Professor Sittler's answer was oblique. Hence CHRISTIANITY TODAY remarked, in passing, that Dr. Sittler "refused to declare unambiguously that salvation is impossible outside Jesus Christ." If Professor Sittler wishes to assert in the columns of CHRISTIANITY TODAY what he hesitated to tell the Assembly and press in Delhi we shall be glad to carry the item.—ED.
Historicity Of The Exodus
In your issue of November 24, Professor Edward J. Young reviews my book on The Way of Israel While I have great respect for Professor Young as a well-informed and competent scholar, there are two points in his review which prompt me to register a sharp dissent. Nowhere do I suggest or even imply that the Exodus from Egypt did not actually occur, that it was not an actual historical event. I firmly believe that it was, and the denial of it would undercut all that I have attempted to say. How the historian would reconstruct the event is another matter; at this point Professor Young and I might disagree, though I suspect not so much as he might think. The second point disturbs me even more. I have been at pains to stress that Israel was truly chosen by God to be his people; nowhere do I remotely suggest that it was merely something that was conjured out of their own minds.…
JAMES MUILENBURG
Union Seminary
New York, N. Y.
Glasgow Revisited
I am grateful to Dr. Douglas for his letter of 24th November ("Bow toward Glasgow"). However, it suggests that the figures were compiled specifically for his article, and I am sure that he would agree that it should be pointed out that they were quoted by him from my book, The Scottish Churches: a Review of their State 400 Years after the Reformation (Skeffington, 1960).
JOHN HIGHET
University of Glasgow
Glasgow, Scotland
When Love Says No
Here is one reader who appreciates the letter of the Rev. M. K. Hargens (Dec. 22 issue).
By now I would presume that he has been stormed with protests from those who have been using "the ultimate weapon" for years. I am quite familiar with rejoinders which they use to justify trafficking in religion through "Christian burial" for non-Christians and becoming "marrying Sams" for unbelievers and mixed marriages. Typical for their conduct of a funeral for a non-believer: "Oh, but we have to preach to the living, not to the dead." … They seem to forget … that the relatives are not at the time looking out for their own eternal welfare so much as they are hoping that the deceased … can be sneaked in through the back door to heaven.…
Everyone knows that the practice has been rankly common for years. How else does the Protestant clergy earn the image the world has of it as expressed by an old man to whom I witnessed? After months of conversation, loving concern, … and direct confrontation with the Gospel the man still repulsed my witness. In deep concern, I frankly asked him … "Well, what are you going to do when you die?"
His answer; "Oh, we'll hire some minister and pay him a few dollars and he'll say a few nice words over me!"
I said to him: "That could be, but it won't be me."
[This] caused him to think in spite of his easy answer for later, as he lay on his death bed as I continued my pastoral care, I heard him confess his faith in Christ the last time I saw him alive. He received my witness on that occasion, confessed his faith in Christ, clasped his hands to his breast and confidently declared, "Oh, yes, I've got it here. I believe in God."
Lest there be those who think I dealt harshly with him before he came to faith, let me assure you that sometimes love says "No." Frankness and honesty forced him to think of his relationship to God.…
My "not for sale" answer … gave the occasion for his confession of faith. When pastors quit seeing opportunities for easy money for indiscriminate marriages and funerals Pastor Hargens will have answer to his question. When?
MICHAS M. OHNSTAD
St. John's Lutheran Church
Stacy, Minn.
Program Is Year-Round
I appreciate your editorial on "Christian-Jewish Understanding" (Nov. 10 issue), but you or the Jewish leader do not understand our plan of work with the Jew.
Southern Baptists have a year-round program. I am enclosing our tract, "Winning the Jew," in this letter.
A packet of material is also available, including the following: "A State Program of Jewish Evangelism," "Articles for Publication," "The Outreach in Jewish Work to College and Seminary Students," "The Dual Responsibility of Juvenile Rehabilitation and Jewish Work," "Working with Jews in a City where Jewish Population Is Large," "Home Fellowship Mission," a film and book list, The Jewish Evangelism Advance, an article by J. C. Lewis, and a Jewish Evangelism Clinic poster.
WILLIAM B. MITCHELL
Supt., Jewish Work
Southern Baptist Home Mission Board
Atlanta, Ga.
The Main Event?
Peoples of the world had better spend less time fighting one another and pay more attention to fighting the forces of nature, such as insects, water shortages, and diminishing resources, things that have the final say about how we live.
WILLIAM R. SULLIVAN
Los Angeles, Calif.
Have something to add about this? See something we missed? Share your feedback here.
Our digital archives are a work in progress. Let us know if corrections need to be made.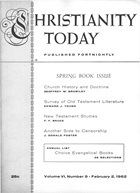 This article is from the February 2 1962 issue.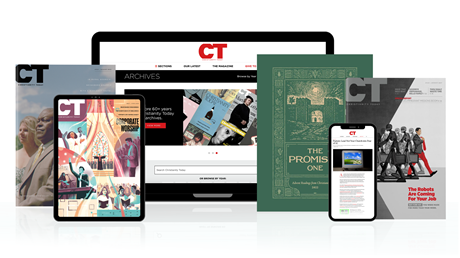 Subscribe to Christianity Today and get access to this article plus 65+ years of archives.
Home delivery of CT magazine
Complete access to articles on ChristianityToday.com
Over 120 years of magazine archives plus full access to all of CT's online archives
Subscribe Now
Eutychus and His Kin: February 2, 1962
Eutychus and His Kin: February 2, 1962