Intercommunion is "a subject packed so full of emotional dynamites that we are afraid lest poking into it should strike a spark that would blow our whole movement to pieces." So said a WCC official some years ago.
In this connection a notable advance was made at New Delhi, where a call was made for an all-out effort toward fresh understandings of unity, especially as expressed at the Lord's Table. The Assembly's Communion service, conducted after the form of the host church (Anglican) drew 1,500 communicants. Nonparticipants were the Orthodox and some branches of the Lutheran church.
Here was a notable ecumenical gesture by the Anglican communion, in marked contrast to its attitude in Amsterdam 13 years earlier. But communions are sometimes more cooperative than their constituent parts. 5,000 miles away from the camaraderie of New Delhi, the equivocal attitude of the Church of England to church union in Ceylon had become the occasion of an almost unprecedented action on the part of 32 influential Anglican theologians, most of them university teachers or college principals.
In an Open Letter to the Archbishops of Canterbury and York, which faced squarely the whole burning question of Church and Ministry, the divines argued that our Lord is not tied to any one form of ministry, and that the raising up of non-episcopal ministries was the almost inevitable consequence of the Reformation and post-Reformation divisions of the Church, "following from the necessary duty of maintaining the truth of the Gospel as this was conscientiously understood."
Then, in a single unambiguous sentence which non-Anglicans will welcome, the Letter continues: "We believe that our Lord conveys through these ministries the same grace of the Word and the Sacraments as He bestows through the historic ministry of bishops, priests and deacons, and that He does this, not as an act of uncovenanted mercy, but because they are real and efficacious ministries within the Body of His Church."
This document, which has aroused great national interest and has met with bitter opposition from the vocal and well-organized Anglo-Catholic wing in England, urges the acceptance of four points: that baptized communicants of other churches should be welcomed at Church of England Communion services; that a 29-year-old church regulation forbidding Anglicans to communicate in non-episcopal churches be revised; that more opportunities should be created and recognized for corporate acts of communion between members of those churches which are seeking unity; and that such acts be reciprocal, i.e. should not be confined to invitations to non-Anglicans to communicate at Anglican services.
Acceptance of these points would incidentally remove the present anomaly whereby the Church of England is not in communion with the Church of Scotland, but the Church of Sweden is in communion with both.
Commented Dr. E. A. Payne, General Secretary of the Baptist Union: "This is a welcome, highly important and perhaps historic declaration. Many both within and outside the Anglican communion have been perplexed and disturbed by the decisions about the Church of Lanka.… The signatories to the letter have bravely made their position clear at a very significant moment."
A poll taken by the Church of England Newspaper showed that while slightly more clergy opposed than supported the Letter, it was overwhelmingly approved by the laity.
Anglicans of the higher sort tend to resent suggestions which date some of their views on Church and Ministry from the nineteenth century Oxford Movement, but hindrances strew all the way of the church historian who seeks consistent pre-Tractarian support of present High Church policies. In a recent book (The Scottish Reformation) Dr. Gordon Donaldson, himself a moderate Anglican, shows how prior to 1662 the preface to the Anglican ordinal left open the door to the acceptance into the Church of England of men not in episcopal orders. We learn that Matthew Hutton, later Archbishop of York, decided that orders conferred at Geneva were more sound than those conferred by the Roman ordinal; that Archbishop Grindal spoke of the Scot John Morrison's ordination as as being according to "the laudable form and rite of the reformed Church of Scotland;" that Francis Bacon thought it a singular novelty that "some of our men, ordained in foreign parts, have been pronounced no fit ministers;" and that against the claims of English Presbyterians the Anglican Church on one occasion replied that the Scripture did not prescribe any particular form of church order as indispensable. Moreover, at Cambuslang near Glasgow in 1742 the great Anglican evangelist George Whitefield assisted at a Communion service and preached to a congregation of more than 20,000.
Indications from Scotland now suggest that even such conciliatory gestures as the Anglicans may direct north of the border will be regarded as offering too little too late. The Kirk has not forgotten that the Church of England declined to be officially represented during the 1960 Scottish Reformation anniversary celebrations (at which the Queen's presence was "an unhappy blunder," according to the widely-publicized statement of one Episcopalian rector).
The sort of boomerang effect produced by Anglican attitudes can be seen from the following personal experience, with its overtones of sadness and hope. An English rural dean asked me some time ago if it would be possible for him to learn more about the Church of Scotland by preaching in a parish kirk during his holiday in the Highlands. "Nothing could be simpler," I assured him. I was wrong. After writing to theological professors and church elders, conveners of committees and parish ministers, I gave it up, having under-estimated the extent of the bitterness roused in Scotland, chiefly by the ill starred Bishops' Report—as distilled by the popular press. "My congregation will not hear of it," wrote one minister, in answer to my inquiry. What he meant was, I suspect, "my congregation shall not hear of it." Moreover, I was warned that the bishops of the Scottish Episcopal Church (whose communicant members number just over 1% of the population) would raise a fuss.
The sequel was both humbling and illuminating when I went sorrowfully and told my rural dean. "Come and preach for me at Harvest Thanksgiving," he said suddenly. "But what about your bishop?" I asked guilefully. "Oh," replied the unfilial priest, "he need never know." There's a lesson in that somewhere if I could only lay my finger on it.
Have something to add about this? See something we missed? Share your feedback here.
Our digital archives are a work in progress. Let us know if corrections need to be made.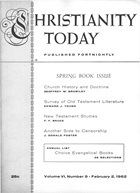 This article is from the February 2 1962 issue.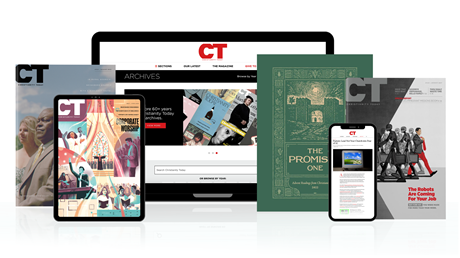 Subscribe to Christianity Today and get access to this article plus 65+ years of archives.
Home delivery of CT magazine
Complete access to articles on ChristianityToday.com
Over 120 years of magazine archives plus full access to all of CT's online archives
Subscribe Now
Review of Current Religious Thought: February 02, 1962
Review of Current Religious Thought: February 02, 1962