Reviewing the 1961 books in these fields is no easy task. Apart from the varying tastes and interests of readers, there are so many new volumes that selection is necessary. It should be understood, however, that this is not a personal selection of recommended Evangelical reading. It is a cross section of books which for different reasons seem to be significant, with brief comments where necessary or possible. Fuller reviews will often be found in the fortnightly book columns.
Textual And Historical
For students one of the basic needs is original texts, and we may begin with some useful additions in this area. First, we welcome a reprint of the invaluable Gwatkin's Selections (Revell)—important extracts from the earliest Christian period in both the original and English. Another important selection is that of Danielou from the mystical writings of Gregory of Nyssa under the title From Glory to Glory (Harper). From the later Middle Ages three contemporary accounts of the Council of Constance (Columbia) are of particular interest. In the Reformation period two new editions of the Works of Sir Thomas More (Yale), a popular and a more scholarly, should also meet a particular need. The continuing additions to current series of texts hardly need specific mention.
Individual historical studies are also of great importance to students, and here again we may refer to some of the more recent volumes. The city and church of Antioch have attracted attention in two works, St. Ignatius and Christianity in Antioch by V. Corwin (Yale), and the more general History of Antioch in Syria by G. Downey (Princeton). The new phase in church-state relations in the Roman Empire is also studied in two works, first, Bainton's translation of Constantine and Religious Liberty by H. Doerries (Yale), and secondly, N. O. King's Theodosius and the Establishment of Christianity (Westminster). Augustine's City of God will always stimulate thought, and for this reason we may note the new appraisal by J. O'Meara under the title Charter of Christendom (Macmillan). Another theme of great interest and significance is discussed in The Medieval University by L. J. Daly (Sheed & Ward). In Roman Catholic books allowance will be made, of course, for the standpoint of the authors, but this does not preclude sound historical scholarship in many respects.
When we turn to the Reformation period, a first book to catch our notice is The English Bible by F. F. Bruce (Oxford). This brief but informative study naturally covers a wider area of English translation, but it finds its center in the work of Tyndale and his 16th and 17th century successors. Another challenging study is Kooiman's Luther and the Bible, newly translated by J. Schmidt. Also in the field of Luther scholarship the papers at the Congress for Luther Research on Luther and Melanchthon have now been published (Muhlenberg).
In the field of more general historical writing, Professor Latourette pursues his industrious and scholarly way in the monumental Christianity in a Revolutionary Age. The latest addition is Vol. III, The Nineteenth Century outside Europe, and with Vol. IV we are to move into our own century. The story of English church history is to be told again in the new and composite Ecclesiastical History of England, of which The Pre-Conquest Church (Oxford) by M. Deanesly is the firstfruits. It seems likely the general flavor will be Anglo-Catholic; how militantly so will no doubt emerge at the Reformation. Incidentally, O. Chadwick has given us a useful study of Anglo-Catholicism in his essay and anthology, The Mind of the Oxford Movement (A. and C. Black).
Biographical And Missionary
In the field of biography, the quatercentenary of the Scottish Reformation naturally focused attention on the dominant figure of John Knox. In addition to a reprint of the classic biography by Eustace Percy, there is a study of Knox's teaching in the Croall Lectures by J. McEwen of Aberdeen, The Faith of John Knox. We may also refer to an interesting if not very profound reconstruction of the man himself from his speeches, letters and debates in Plain Mr. Knox (John Knox), by E. Whitley, wife of the present minister of historic St. Giles.
Two other important biographies call for notice. The first is a comprehensive historical account of Thomas Cranmer by J. Ridley (Oxford), in which good use is made of contemporary materials, some for the first time. The second is O. E. Winslow's John Bunyan (Macmillan), which is particularly noteworthy for its setting of Bunyan's life, character and work in the 17th century scene. More popular is M. Loane's depiction of four outstanding 17th century figures in Makers of Religious Liberty (Eerdmans), which adds nothing new but is written with great warmth and sympathy. Another popular re-presentation is R. W. Albright's Focus on Infinity, A Life of Phillips Brooks (Macmillan). Though not strictly a biography, F. H. Littell's Tribute to Menno Simons (Herald Press) might be noted here. It consists of four important theological lectures on the great leader of the Dutch Anabaptists. Calvin students will be interested in O. R. Johnston's translation of The Man God Mastered by J. Cadier (Eerdmans).
Of the many missionary books which might be mentioned, two in particular should be noted. The first is a reprint of William Carey's famous Enquiry (Carey Kingsgate), which is always worth reading, or re-reading, as the charter of English-speaking Evangelical missions. The second is Evangelism-in-Depth (Moody Press), an account of the Nicaragua evangelistic efforts of 1960 and of the underlying principles and strategy. Whether the pattern is to be followed elsewhere or not, the basic principle of the mobilization of total membership can hardly be disputed, difficult though it may be of practical attainment.
Christ is Born
Let us now go to Bethlehem,
Let us not stop or stay.
Let us now see what God has wrought:
Christ is born today.
Let us not stop at the manger scene,
Let us go all the way.
Let us go up Golgotha's hill:
Christ has died today.
Let us remove to Joseph's tomb,
Let us some lilies lay.
Let us rejoice with hearts aflame:
Christ is ris'n today.
Let us now work and hope and serve,
Let us now watch and pray.
Let us toil on 'till the task is done:
Christ returns today.
PAUL T. HOLLIDAY
Pastoralia
While in the area of the actual discharge of the ministry, we might refer to three important volumes on the ministry itself. An important modern study is J. R. W. Stott's The Preacher's Portrait in the New Testament (Eerdmans). Consisting of the Fuller Payton Lectures of 1961, this little book examines the work of the ministry in terms of the words used to depict it in the Bible. The other two books are both reprints by the Banner of Truth Trust, tire first being the inimitable Spurgeon's An All-Round Ministry, and the second Charles Bridges' solid but rewarding study, The Christian Ministry.
An aspect of ministry which has taken a new turn in the last decade is pastoral consultation, and this has led to a spate of works on relationships with psychology. One of these, O. H. Mowrer's The Crisis in Psychology and Religion (van Nostrand) sounds a healthy note in spite of the theological fuzziness typical of this whole sphere, especially when it suggests that ministers are being bedazzled by the very systems from which psychologists are painfully emerging. The insistence that issues are finally spiritual is good even if Mowrer's use of terms like sin, atonement, etc. seems inadequate. Another work which points the need for atonement and regeneration, and which differentiates the special work of the pastor, is P. Olesen's Pastoral Care and Psychotherapy, translated by H. E. Jorgensen (Augsburg), and G. E. Westberg is to be commended at least for his insistence on these very points in Minister and Doctor Meet (Harper). What is really needed, of course, is a full-scale dogmatic treatment of this whole field by a competent Evangelical theologian who is not obsessed by the supposed need to build apologetic bridges.
Whatever the function of psychology, worship and preaching will always be central in the service of God. Dr. Horton Davies has devoted many years to the study of worship, and he gives us the first part of a larger study in his Worship and Theology in England (Princeton), which is a valuable work in spite of some obvious weaknesses and predilections. So far as sermons are concerned belated reference may be made to the late W. E. Sangster's fine collection Can I Know God? (Abingdon), as also to the reissue of Brownlow North's 1859 sermons The Rich Man and Lazarus (Banner of Truth). An important voice from Germany is that of Helmut Thielicke in a new series of sermons on creation under the title How the World Began (Muhlenberg). These sermons are unfortunately weak on the factual aspects of Genesis, but in terms of theological understanding and living relevance they stand apart.
A challenge to national self-examination is contained in the small Letter to American Christians by M. J. Chen (Exposition), in which the author attempts the dangerous task of enabling us to see ourselves as others see us. If his view is not necessarily correct, it is a valuable corrective. Both an instructional and a devotional purpose is served by the anthology Valiant for Truth, ed. D. O. Fuller (McGraw-Hill). This is a selection of great Christian passages from St. Paul down to our own day.
Theological
One of the most interesting books in historical theology is J. Carpenter's Gore: A Study in Liberal Catholic Thought (Faith Press). With his Oxford Movement-Liberal synthesis, and his incarnational theology, Gore exerted a great influence on modern developments in the Anglican world, and we are greatly indebted to the author for this objective survey. A book which comes even nearer to our own time is J. M. Connoly's Voices of France (Macmillan). Here we have an analysis of the powerful movement in French Romanism which seems to hold out some hope of new things in Rome, though the author himself is convinced of the "orthodoxy" of the theologians concerned. In this connection we might perhaps refer to the new assessment of Emil Brunner (Inter-Varsity Press) in which P. K. Jewett considers with scholarly discernment the strong and weak points in this great contemporary figure.
In systematic theology this has hardly been an outstanding year. G. Clarke's Religion, Reason and Revelation (Presbyterian and Reformed) is a valuable study in prolegomena, but more from the standpoint of theologically informed philosophy. In something of the same field B. Ramm has given us a theologian's discussion of Special Revelation and the Word of God (Eerdmans), and those who appreciate the author's work will not be disappointed by this latest volume. In relation more specifically to Scripture, the small study by K. Runia Karl Barth's Doctrine of Holy Scripture (Eerdmans) is an important departure, for it marks a detailed wrestling with Barth from the orthodox standpoint in place of flimsy and often distorted generalizations.
The Word Goes Forth
Bethlehem, Nazareth, Galilee,
Capernaum, Gethsemane,
Calvary with that crushing load
Upon His back—how short a road!
Across the continents and seas,
And up the fleeting centuries,
To us of open hearts today,
And on, and on—how long a way!
CLARENCE EDWIN FLYNN
Barth himself has not yet added to the German Dogmatik, but III, 3 and III, 4 of the English Church Dogmatics (T. & T. Clark) appeared in 1961. The former is devoted to the themes of providence, evil and angels, and the latter to the ethics of creation, with discussions of such debatable matters as the Lord's Day, marriage problems, suicide, war and euthanasia. A selection from the Dogmatics by H. Gollwitzer, who is to succeed Barth in Basel, has also been published in English, with the German editor's helpful introduction.
In sacramental theology special mention should be made of F. Clark's Eucharistic Sacrifice and the Reformation (Longmans). Though it deals with the English Reformation in particular, and is written from a Romanist standpoint, this work pinpoints the essential difference between the Reformed (Anglican) and the Tridentine teaching. Two works on the Ecumenical Movement should also be considered, namely, The Ecumenical Movement by N. Goodall (Oxford), and Is Christ Divided? by L. Newbigin (Eerdmans). Written from the missionary and theological angles, these give a refreshingly different perspective from that of so many NCC utterances. The Christology of Karl Heim is made available in a translation of Jesus the Lord by D. H. van Daalen (Muhlenberg), though this is a work which in some respects has plainly "dated." A more solidly Evangelical contribution from Europe is the latest addition to the fine series by G. C. Berkouwer. This most recent volume is devoted to anthropology and the question of the imago Dei under the title Man—The Image of God (Eerdmans), and it is well up to the high standards of its predecessors.
We may close our survey with a reference to two important reprints in the dogmatic field. The first is a detailed study of a single doctrine in J. Buchanan's very thorough Doctrine of Justification (Banner of Truth). The second is a more general treatment of the whole area of dogmatics in that earlier classic, Litton's Dogmatic Theology (James Clarke). These reprints cannot take the place of modern work. But their republication is justified, partly on historical grounds, partly because of the abiding contribution which they have made, and partly because of the stimulus which they can and should give us to do work of like quality in our generation.
Have something to add about this? See something we missed? Share your feedback here.
Our digital archives are a work in progress. Let us know if corrections need to be made.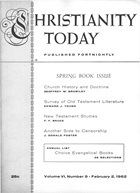 This article is from the February 2 1962 issue.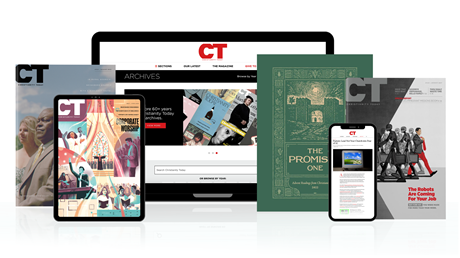 Subscribe to Christianity Today and get access to this article plus 65+ years of archives.
Home delivery of CT magazine
Complete access to articles on ChristianityToday.com
Over 120 years of magazine archives plus full access to all of CT's online archives
Subscribe Now
The Year in Books: Church History and Doctrine
The Year in Books: Church History and Doctrine