The Christian ministry's one task is to proclaim Christ. In the prism of life, however, that single task becomes a thousand duties as complex and varied as life itself. He who ministers Christ must, as Paul said, become all things to all men.
If his ministration of the Gospel is to be relevant, a pastor must understand his people and know their needs. He must deal with all of life's greatest issues, from cradle to grave. And if he is to maintain the touch of Christ, he must enter sympathetically and expertly into the moods both of those who weep and those who laugh, of the sick and the dying, of the soul tormented by its own dark moods, of the heart and mind torn by religious and intellectual doubts. To each one, he must know how to speak and what to say. He must be a quick-change artist to sense and match every psychological mood—moving like a weaver's shuttle from scenes of birth to those of death, from wedding to divorce, from the physically to the emotionally ill, from the joy of a returning prodigal to the sorrow of one departing from the Father's house. In each situation he must make quick, expert appraisal, and offer an appropriate word.
Who is sufficient for these thousand faces of this single task? What seminary can prepare a man for such a work? Small wonder indeed that men enter the ministry with little or no formal preparation for many of its practical duties. Many ministers remember that their first sick or death call, their first funeral or wedding, their first experience with a psychopathic member, was a kind of original do-it-yourself experience in which he was left largely to such devices as a sanctified common sense could improvise.
Limited perforce to more academic matters, seminaries lack the opportunity to equip the pastor adequately for many of his practical responsibilities. It is good that the Lord preserveth the simple, for the cost of ineptness in the practical area is often great. The potential for real trouble in a congregation is often far greater in the day-to-day practical situations, than in the area of pulpit or theological orthodoxy.
This issue of CHRISTIANITY TODAY aims especially to help the pastor as he meets his membership outside the pulpit in life's common ways; may it help him meet more adequately the myriad practical demands of his unique calling to minister Christ to every man.
One of the pastors' crucial problems is the growing prevalence of divorce within the Church. To what extent is he himself responsible? While the wedding may be gay and festive, he often unites young people in marriage with a nagging presentiment of doom and with an abrasive fear that the marriage will not last, or at best will be unhappy because the couple seems unprepared for the realities of living together. Worse than anything is the feeling of helplessness, of not knowing what to do about the situation. Constructive pastoral work can be done, however, as the article on "Pre-Marital Pastoral Counsel" indicates.
And what that is appropriate and helpful does a minister say and do on a sick or death call? What does loyalty to the Gospel demand in the funeral service? How can the pastor attain the touch of Christ if he has not personally known death at close range, or anxious days on a hospital bed? In these areas of responsibility too many seminaries have left men to their own resources. There are many simple do's and don'ts, however, things to look for and things to keep in mind, which on such occasions can prevent the merely routine, clumsy, or even damaging call and can help the pastor present Christ relevantly. This issue of CHRISTIANITY TODAY offers two helpful articles on how to meet the circumstances of sickness and death.
The Church has its quota of psychopaths—the emotionally ill, the megalomaniac, the criminally and homosexually inclined. If he is to help such sick personalities and also protect his congregation, the pastor must be able to recognize the physical and emotional symptoms, and the anti-social behavior patterns of problem people. Is the psychopath sick or sinful, or both? Is he to be pampered, or disciplined? Since he frequently justifies his behavior under the banner of the Lord, when must he be taken seriously, and when judged insincere or false? To help the pastor, this issue offers "The Minister and the Psychopath."
This issue also presents the pastor with an article about books and his need of continuing study. Inside and outside the pulpit a pastor needs the help that can only come from books. To understand his people and the times in which they live, he needs his books and the necessary leisure to pore over their pages. A pastor can give no more than he has, and he has nothing he has not received. The knowledge he needs does not come automatically with the laying on of hands, or the wearing of a robe. He must study all his life long. Only thus can he hope to create some equity between his single task and its thousand varied demands.
Have something to add about this? See something we missed? Share your feedback here.
Our digital archives are a work in progress. Let us know if corrections need to be made.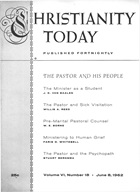 This article is from the June 8 1962 issue.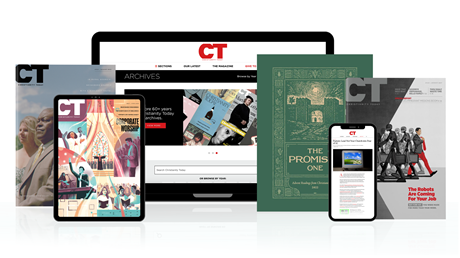 Subscribe to Christianity Today and get access to this article plus 65+ years of archives.
Home delivery of CT magazine
Complete access to articles on ChristianityToday.com
Over 120 years of magazine archives plus full access to all of CT's online archives
Subscribe Now
The Pastor and His People
The Pastor and His People