First Peter 2:11–25 has peculiar significance for Christians in the mid-twentieth century in the United States—and two phrases in particular. In verse 16, we read (Phillips Translation): "As free men you should never use your freedom as an excuse for doing something that is wrong, for you are at all times the servants of God." Never using freedom, never exercising our rights to do something that is wrong. In the latter part of that passage, "Indeed this is part of your calling. For Christ suffered for you and left you a personal example, and wants you to follow in his steps.… And he personally bore our sins in his own body on the cross, so that we might be dead to sin and be alive to all that is good."
A beautiful story has come out of one of the cities of so-called "border states," when the schools were being integrated, a grade at a time on a gradual basis. The fateful day came when the second grade was to be integrated. The parents of a little seven-year-old girl, the story goes, were greatly concerned over her reaction and endeavored very carefully and thoughtfully to prepare her as best they could for the coming of that traumatic experience of having a person of another race introduced into her classroom. The day came and as the mother drove her to school, avoiding the issue, she tried to keep the conversation cheerful and to bolster up the little girl's morale. Throughout the day the mother was nervous and anxious. Finally the hour came when she picked up the little girl. The little girl came bouncing out of the school with the same zest with which she had entered. As she piled into the car the mother asked, "Well, how did things go?" "Oh, just fine." And no more information! The mother deciding it was best to avoid the subject for a while talked about other things. Finally when they sat down for a snack of a cookie and a glass of milk, she could bear it no longer and asked again, "How did things go at school today?" Again the little girl answered, "Oh just fine." "Well, didn't anything unusual happen?" "No. Oh yes! There was a little Negro girl in our class and she had the seat right next to me all day." "Well, what happened—anything happen?" "Oh no, we were both so scared, we held hands all day."
Beyond the Law of the Land
In this story there is a parable for our day and age. As Christians the thing about which you and I must be concerned in this area is first of all and last of all, reconciliation. It is the bringing of people together. The simple act of holding hands—of joining hands—not simply social justice, for social justice at times can be obtained at the price of real and genuine reconciliation. Sometimes in recent years Christians have been preoccupied with the legal aspects of race relations because it is much easier to pass laws and to enforce laws than it is to change attitudes! Yet the mere passing or the enforcing of laws is never going to accomplish that with which you and I, as Christians, must be basically concerned—the reconciliation of men with men, and of men with God. And the two are inseparably related.
Integration in our country is moving along apace. But there are dangers in this, if we do not at the same time accomplish this far greater task of Christian reconciliation.
There are people today, who are accepting integration with the simple interpretation, "After all, it's the law." Last year Bill Hendricks, who had been the Grand Dragon of the Klu Klux Klan's Southern-Northern Knights, resigned his post. He said as he gave up that exalted post, "I see no way to stop racial integration and it looks to me like the best thing to do is accept it. I cannot agree to go outside of the law to maintain segregation." This is, indeed, a significant statement. But as Christians we must be concerned on a level far deeper than simply the recognition that this is the law of the land.
There is also a real danger that we put too much emphasis upon the fact that our racial policies and practices jeopardize our national reputation in the world. I dealt with students in Japan who repeatedly wanted to be told about Little Rock and to have some explanation as to how a Christian nation could be responsible for such conduct. You have read, as I have, with a great deal of concern of the United Nation officials, who have been unable to get even a cup of coffee on Route 40 between New York and Washington. Now the word comes that two-thirds of the restaurants on Route 40 have agreed to integrate. This is perhaps an achievement, but isn't it tragic that you and I are more concerned in one sense about our public image with other people than we are about our own American citizens who for years have gone along that route and have not been able to buy a cup of coffee. Jessy Knoba from the Congo, who made such a large place for himself in our community and in our fellowship, told how he stopped in Kansas City on his way to Ottawa University and was unable to get a cup of coffee. He spoke with a great deal of candor at the Ottawa Rotary Club and did a fine piece of work in presenting his own country. He said nothing about race relations but in the question period that followed someone asked, "What do you think of the racial situation in America? What do you think of Ottawa?" His answer was a classic. He said, "I like America, I like Ottawa, I like you, but I wish I could get a hair cut in your town."
Lawrence Davila, a student from Nicaragua, spoke in this pulpit a week ago. In a question period afterward he was asked, "What do you think of race relations in America?" His answer: "I plead the fifth amendment"!
It has recently been suggested that the attitude of many Americans in the matter of race relations is the "basest treason." Treason is an act whereby we give to our enemies the means whereby they can attack and possibly destroy us. The policy and practice of segregation under this definition certainly is treason.
The Need for Reconciliation
But this is not the level where you and I as Christians must basically come to grips with the problem. It is not a matter of observing the law or a matter of bettering our public image abroad. We must go deeper for basic Christian motivation. We have all seen the sign, one of the signs of the times, "We Reserve the Right to Refuse Service to Anyone" (or some variation of that theme). This sign points to the heart of the issue—the refusal to accept a man as a man; the exercise of one's personal rights over and against the rights of another individual; the emphasis of right as against responsibility, obligation and opportunity.
The businessman, of course, has a right to turn away undesirable customers. He should have the right to turn a drunk out of his place of business. He should have the right to expel from his premises a rowdy customer or to refuse to let someone improperly attired come into his place of business. No one would question these rights but this is not what the sign usually implies, is it? You know it and I know it. The sign is saying in a very arbitrary way, "We will not serve certain people because of the color of their skin, because of their race, because of their social status." During Brotherhood Week, the Ministerial Association here in Ottawa, with the approval of the Board of Directors of the Chamber of Commerce asked businessmen in town to display in their offices and store windows or on the doors of their places of businesses a very similar sign. Read the sign lest you think it is the sign with which you are familiar. It is a sign which is far more American and certainly more Christian: a sign that will simply say, "We Reserve the Right to Serve and Employ Anyone." This more correctly testifies to the right that was sought by our Pilgrim fathers and by our forebears down through the years as they founded on this continent, as Abraham Lincoln expressed it, "A nation conceived in liberty and dedicated to the proposition that all men are created equal."
"We reserve the right to serve and employ anyone." Peter said, "As free men you should never use your freedom as an excuse for doing something that is wrong." Have you and I, in this matter and other matters, ever used our freedom as an excuse for doing that which is wrong? Peter reminds us, "You are at all times servants of God." He says, "You should have respect for everyone. You should love our brotherhood."
"By this shall all men know you are my disciples if you love one another." Not in the preaching of brotherhood. No! We do not signify that we are Christians just because we preach and talk brotherhood. No, we prove that in actions; not in the preaching but in the doing. Peter suggests that Jesus "bore our sins in his own body … so that we might be dead to sin and alive to all that is good." This is the heart of the Christian Gospel. Jesus Christ has secured for us, has given to us the right to do right, the right to do good!
Paul wrote to the church in Galatia: "Plant your feet firmly therefore within the freedom that Christ has given us and do not let yourselves be caught up again in the shackles of slavery." You can speak of freedom: "I am a free man." "I can do what I please." But think! I can go out and take a drink of liquor and get drunk—I'm free to do this, but when I exercise that freedom, I bind myself to a greater slavery. I am a freeman. I have rights. I can become a Communist (or any other example that you chose) but when I do that, I bind myself to a greater slavery. How often have you and I in this way, or in some simple way, used our freedom to bind ourselves to greater slavery? How often have we used our rights to submit to pressures and surrender responsibility?
William Hamil has written a book, How Free Are You? In this book he cites a Negro leader, who has made the claim that the Negro is the freest man in Atlanta! The reason may surprise you. He says, "The Negro is the freest man in Atlanta because he can tip his hat to anyone he chooses." Can you understand that? The Negro can tip his hat to anyone he chooses but the white man is bound by social pressure and prejudice. He's bound by custom, he's bound by the fear of what others will say, what they might call him.
Do you have a freedom that tips its hat to whomever it chooses? Do you have a freedom from social or economic pressure—freedom that keeps you from asking, "What will so and so think?" A writer in the International Journal of Religious Education speaking of Christian character—the meaning of Christian character and what it is to evidence Christian character recently penned these words: "Most of all, the character of a Christian person is seen in his capacity to see others—all others whatsoever—as persons and to treat them so. To be able to see the human side of every problem; to know intuitively how things look to the person he wants to blame or who wants to blame him; to be free enough from himself and his own purposes to be aware of others and what they want to do; not ever to think of men in the mass as Negroes or Jews or Russians or Puerto Ricans, but to see each as Jesus said God saw us, each with a separate identity and significance"—we all want this! Do we have the freedom that allows us to see and to accept other men in the same way? Are we free enough from ourselves and our own purposes to be aware of others? Free not from others but free from ourselves, free from self and free from sin?
In Christ we are dead to sin, dead to self and alive to all that is good. Do you have this freedom? Do you want this freedom? Do you want the right to stand before God and an individual free unshackled? Jesus Christ offers this freedom to each and all of us. Jesus Christ died for the world, for God so loved the World that he gave his only begotten Son and if Jesus Christ did not die for the world, for all men, then he did not die for you and he did not die for me. "For God so loved the "World." Are you free to accept and love all of God's creatures? "By this shall all men know that we are Christians, if we love one another."
RAYMOND P. JENNINGS
Minister
First Baptist Church
Ottawa, Kansas
Have something to add about this? See something we missed? Share your feedback here.
Our digital archives are a work in progress. Let us know if corrections need to be made.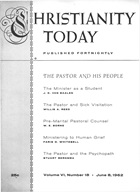 This article is from the June 8 1962 issue.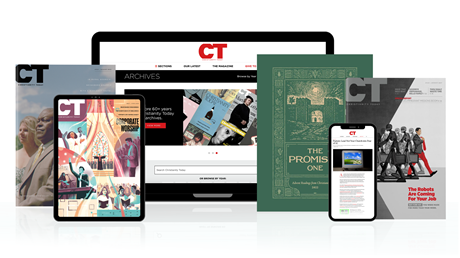 Subscribe to Christianity Today and get access to this article plus 65+ years of archives.
Home delivery of CT magazine
Complete access to articles on ChristianityToday.com
Over 120 years of magazine archives plus full access to all of CT's online archives
Subscribe Now
Race and Reconciliation: We Reserve the Right
Race and Reconciliation: We Reserve the Right