Ads, Novels, & Paradise
Deep in the artists' quarter, down an old brick street, he found the auberge. The silver, three-pointed star of his Mercedes floated to a stop with stately grace on the ancient tile terrace. Entering the cool dimness of the old stone walls, he found a primitive antique chair near the smoked timber of the fireplace. The apple-green goblets, the flowered pottery, put him in the mood for rich, cream-and-butter cooking. Entranced by the aromas he sat waiting. His thoughts drifted back to the enchanted voyage: the painting of color and lights, the colossus ship bellowing its deep basso blast, the long glide through a confetti rainbow to the sleepy southern waters …
If, at this point, the traveler noticed a corpse in the corner, you would be reassured. The auberge passage was only standard atmosphere for a thriller. But imagine a novel continuing with the cream-and-butter fare. The luscious language is not original, of course. The paragraph is a blend of excerpts from the travel ads in one recent magazine.
I love them, and would never dream of traveling to discover what these mystical auberges are really like.
The same magazine reflects quite a different view of life in its reviews of books and plays. I note that one new novel finds a savior figure in a pornographer. He hears in the cynical obscenities of his customers the cry of man seeking a lost paradise.
It might be worth a try to get the ad-men to write novels and the novelists to write ads. I wouldn't suggest having steamship companies sponsor French novels, however.
The slick Utopia of eternal youth and beauty found only in Ad-landis seems to offer the paradise that the messy pornographers of modern fiction have lost. The contrast could not be more dramatic. Ads are works of art. No disorder, filth or death—only dreams come true. Novels are works of art, too. No meaning, satisfaction or fulfillment—only misery and disgust in being human.
I took my magazine to Pastor Peterson. He didn't agree that we need a more balanced view of man. Neither extreme is drastic enough, he said. The paradise of the ads dreams of too little. The Christian hope sees a risen Christ and a new heaven and earth. The hell of the novels is too mild. It sees misery, degradation, and despair, but not guilt under the wrath of God.
Christian preachers need more realism than novelists or admen.
EUTYCHUS
Critics' Verdict: Mixed
I have just read the January 19 issue, and could not help wondering whether the person who wrote the first article ("Ambassadors, Not Diplomats") had ever laid eyes on the next piece ("Against Cowardice").
The Dibelius excerpt seemed … to be a shining example of all the lead article spoke against: This is not to say that the Dibelius sermon was not worthwhile reading, but how does it qualify as Gospel preaching, as "preaching up Christ Jesus"? A quick scanning does not even reveal a mention of Christ, nor any exposition of the Gospel. In fact, even the text seems to be a pretext.…
NICHOLAS MAY
Trinity Lutheran
Toledo, Ohio
Dr. Dibelius' sermon is excellent in my opinion. Let us all do what he says, "Pray, pray, pray for God's grace to be brave in Him."
ALVIN KIRCHHOEFER
Wisconsin Rapids, Wisc.
Otto Dibelius is a bishop and a notable preacher. Yet his so-called sermon is hardly more than a well-written essay.…
Dr. Kerr is quoted as saying that we are sent to preach salvation, redemption, pardon (forgiveness of sins?), resurrection, the Gospel and Christ. Yet with the exception of a veiled reference to the Resurrection ("the faith of Easter"), Dr. Dibelius deals with none of these heavenly themes. He speaks of many men, … but of Jesus Christ we find no reference.…
DUNCAN S. STEVENSON
Emmaus Lutheran Church
Dorsey, Ill.
Congratulations on "Against Cowardice." … This sermon shook me down to the soles of my feet. What a message! What illustrations! The rest of the series will have to be very good to top this one.
"Ambassadors, Not Diplomats" was also very much in the midst of time. A wonderful issue.
THOMAS J. BUCKTON
Herrin, Ill.
An article that has stirred my heart to the depths.…
H. HILDEBRAND
Principal
Briarcrest Bible Institute
Caronport, Saskatchewan
Bravo and amen to the proposal and purpose expressed in your editorial "Ambassadors, Not Diplomats." It is high time and most fitting that CHRISTIANITY TODAY open the door to our homiletical shame and point the way to our faithful resurgence.
As one who listens to a guest preacher every other week, I substantiate the truth of your attack. As one who preaches, I pray a deepening from your challenge.
ALLEN F. BRAY
Chaplain
Culver Military Academy
Culver, Ind.
Face Bitter Fact
Your article (or conversation) "Revival for the Evangelical Press?" (Jan. 19 issue) both delighted and disturbed me. Recently I completed a master's thesis on the subject of "Christian Fiction for Teen-agers." My findings agree basically with Dr. Henry's statement, "… the evangelical remnant is so withdrawn from the mind-set of the day it artificially handles modern life … and … does not speak to our times." I would enlarge upon this and say that this is not limited to "the evangelical remnant."
What disturbs me is Dr. Wirt's charge that "in order to appear to be aware of 'the changing social situation' the Christian writer is being pressured to mix filth into his work." This is undoing that which has just been done. If we are to "enter into the mind-set of the day," "speak to our times," it may well be necessary to mix "filth" into our work—not for its own sake, but in order to be realistic.… What need is there for the Gospel if modern man is lilywhite, untouched by "filth"? (And what is "filth"?) … Does the saved man never again have an impure thought? He certainly does! Now he can do something about it, but the problem hasn't vanished into thin air. How are these things to be presented? As Christian writers, let's come to the point, stop lifting our skirts daintily aside and face facts squarely.…
MRS. JANE VAN STONE
Shoshoni, Wyo.
For The Record
This note is in reference to an editorial, "Why Not A Federated Campus?" printed in the January 19 issue.
We are happy that Taylor was included … even though it was incorrectly listed as a Methodist college.
Taylor University was organized … by a group of Methodist lay preachers but has never been an affiliate of the Methodist denomination; … since the early 1900's it has been … interdenominational. Taylor University is operated by a … board of directors, members of nine denominations, and all thoroughly evangelical.
Our student body represents 30 denominations from 40 states and 10 foreign countries.…
EDWARD W. BRUERD
Taylor University
Upland, Ind.
Enter The Village Priest
(Re "Southern Travellers," "Brotherhood in Rome," and "Peace Corps Baptists," News, Jan. 5 issue): In good faith and candor, may I suggest that the above mentioned articles are definitely misleading?
The following excerpts from an article titled "Foreign Aid in Colombia Promotes Clerical Power" (Church and State, Dec. 1961) certainly is a very poor manifestation of the Pope's statement, "We are brothers in Christ," or President Kennedy's "jesting" statement, "I'll be your John the Baptist." I quote from the article: "News that the Peace Corpsmen in rural Colombia are to be billeted with Roman Catholic priests appears to supply the final clincher as to the fundamentally sectarian nature of the operation in that country. The Corpsmen will obviously be under the sponsorship and tutelage of the village priest. It is in the rural areas …, that the Evangelical Confederation of Colombia lists 116 known dead as a result of the anti-Protestant persecution there.… This act of official deference to the village priest will undoubtedly be regarded as placing the stamp of United States approval upon his anti-Protestant behavior.… One of the tasks assigned to the Peace Corpsmen is the building of schools whose teaching program will be controlled by the Roman Catholic Church. Some … in areas where more than 200 Protestant schools have been closed in recent years as a result of a concordat between the Vatican and the Colombian government.…"
Yet, in view of these tragic conditions, a Dec. 9, 1961, news item under a "Vatican City" dateline reads: "Pope John XXIII made a powerful plea for Christian unity … into one church, under the authority of the Roman Pope."
Have we reached the low ebb of American statesmanship when the Congress will submit to scuttling the First Amendment to our Constitution by flagrantly subsidizing Roman Catholicism, or any other religion, in effort to defeat the tyranny of Communism? May God forbid!
MRS. J. G. HANLIN
Oklahoma City, Okla.
Limited Concept
Just what church would Mr. J. A. Paulson (Eutychus, Dec. 22 issue) have "your agitated critical readers" attend who "are still going to 'the church of their choice,' after six years in the wonderful wilderness of words"?—the church of his choice?
In the practical world of dollars and cents (sense) we also have a choice of denominations, albeit at the possible risk of finding some counterfeit. One wonders if because of this situation certain brethren would prefer their salaries in undenominational "legal" tender.
C. M. GEORGE
Quakertown, Pa.
Evangelical Mongrels
So far as Philip E. Hughes' article goes (Current Religious Thought, Jan. 19 issue), it is a clear and essential statement of what Anglo-Catholics believe, but I wonder about the evangelical statement. How many evangelicals would go that theological road? I have yet to find even fractional agreement among evangelicals nowadays—the reason being that the true evangelical is a vanishing breed that has in recent years been married to the so-called broad churchman thereby losing his pedigree.…
RICHARD TURNER
St. Andrews Church
Poison, Mont.
It is true that the liberal-Protestant-broad-church clergy of the Protestant Episcopal Church often call themselves "evangelicals," but the beliefs and practices of these men are not evangelical.… P. E. liberals, Anglo-Catholics, and "shades-in-between" may disagree on many things in their own denomination, but they are solidly united on one subject-evangelicalism (derisively dubbed "fundamentalism" by these clergy) has no place in the "respectable" and "progressive" Protestant Episcopal Church.
CHARLES E. MONAGHAN
Portsmouth, Va.
Still Spirit-Filled
Our assembly stands for loving cooperation with all the servants of God, whatever nationality they belong to, Jews or Gentiles, who were called of God to serve him here. If there have been some who made mistakes, it is not for us to judge them, much less to draw attention to any faults on their part and to enlarge upon those. We recognize our debt to the labors of dear consecrated Gentile Christians, who, under God, were the means of pointing us to our Messiah and of praying us through to salvation.
We take this opportunity to correct a misrepresentation—owing to a misunderstanding—which occurred in your article on "Christian Witness in Israel" (Aug. 28 issue).… You stated that there was no Hebrew-Christian Church as yet in the country, and followed on immediately to describe our work here, designating it "Pentecostal" in brackets. We, however, view our work as an altogether independent, indigenous, i.e., Israeli church, rooted in the country with regard to membership and leadership, since almost all our members, including our pastor, are Jews. We see in our church the rebirth of "the churches in Judea which are in Christ" of the first century A.D., just as the state of Israel can be viewed as the rebirth of the nation prior to its dispersion.
However, as to Mr. I. Ben-Maeir's presumptuous statement about me in his letter (Nov. 24 issue) that I am no longer "Pentecostal" since coming to Israel: I wish to make it plain that I have always believed and have never ceased to believe, that nothing short of the experience of the first-century Christians, following the Pentecostal outpouring, is to be our aim in building the Church in Israel. Though we do not append any names to our assembly except that of "Israeli" and "Messianic" (i.e., Christian), yet we preach the Gospel and enjoin on our converts to seek the Baptism of the Holy Spirit as exemplified for us in the Book of Acts, Chapters 2; 8; 10, and 19.
W. Z. KOFSMANN
Pastor
Messianic Assembly of Israel
Jerusalem, Israel
Have something to add about this? See something we missed? Share your feedback here.
Our digital archives are a work in progress. Let us know if corrections need to be made.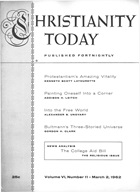 This article is from the March 2 1962 issue.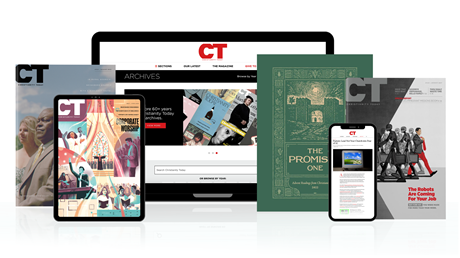 Subscribe to Christianity Today and get access to this article plus 65+ years of archives.
Home delivery of CT magazine
Complete access to articles on ChristianityToday.com
Over 120 years of magazine archives plus full access to all of CT's online archives
Subscribe Now
Eutychus and His Kin: March 2, 1962
Eutychus and His Kin: March 2, 1962