A cartoon in a July issue of Punch shows a board meeting of the "British Travel Association" with one director asking in all apparent seriousness:
"Have we ruled out the tourist appeal of a decadent and dissolute society?"
Indeed, the cynical tourist sizing up Piccadilly Circus might think it small wonder should Great Britain wind up in a moral morass. Here, hovering over the recognized national meeting place, is an aluminum statue of Eros, the old Greek deification of passionate love and fertility.
Is it a memorial to sex? Well, hardly. The statue at Piccadilly was Sir Alfred Gilbert's memorial to the philanthropic Lord Shaftesbury and, remarkably enough, was tagged the "Angel of Christian Charity."
The British clergy have exhibited a great deal of restraint in reacting against the country's recent vice scandals, perhaps too much. Not a word came out of either the Anglican Church Assembly or the British Methodist Conference last month. A number of Roman Catholic prelates did express concern, and some called for immediate efforts to counteract what they said was the country's "declining public morality." Bishops were reported preparing a pastoral letter to define more clearly the hierarchy's attitude toward the scandals involving Profumo. Keeler, Ward, et al.
Evangelist Billy Graham, in London for a brief holiday, saw a note of encouragement for religious leaders. "The thing that has encouraged me is the moral shock," he said. "It shows that the British have more moral and spiritual strength than many people thought."
Rebel Bishop
July 10 was a landmark in the defiance campaign being waged by Dr. Francis Walsh, 61-year-old Roman Catholic Bishop of Aberdeen. It saw the expiry of the three-month period within which he was to have dismissed by Vatican order his housekeeper, Mrs. Ruby MacKenzie, the former wife of a Church of Scotland minister (see CHRISTIANITY TODAY News, May 10).
In a statement which he directed to be read without comment in every church of his diocese, the bishop says: "I have from the beginning insisted that the order to turn Mrs. MacKenzie out of my house is unjust and cruel. Early on I thought I must obey. Now I have come to the decision that I cannot act against my conscience. I have informed my superiors. Mrs. MacKenzie has offered to leave of her own accord. I cannot acquiesce. Nor do I see why she should be allowed to sacrifice herself to satisfy malice and spite. Let the troublemakers go about their own business, their prayers and their duties."
Bishop Walsh blames "a jealous woman and … a number of priests" whose attitude has allegedly led to a spate of filthy accusations, anonymous letters, and threatening telephone calls.
Last month the bishop dismissed his vicar-general because they disagreed on this subject. Said Mrs. MacKenzie, a Catholic convert: "I put my trust in God throughout these difficult times. I am quite sure he will deliver me from my ordeal in the best way possible."
The MacKenzie marriage was dissolved last year on the ground of the 42-year-old wife's desertion. The Rev. A. Ian MacKenzie, who was given custody of their two children, is now minister of a Glasgow church.
J.D.D.
Perfect Husbandry
"I heard a woman say once that she did not want to marry a perfect husband; she wanted to marry a husband and make him perfect." This intriguing reference in support of the proposed Anglican-Methodist merger, made by Vice-President David Foot Nash in an address to the British Methodist Conference, was a complete change of front on the part of one who had earlier condemned the union proposals as a retrograde step. Nash had written a booklet in support of the dissentient minority. It was already being printed when an article by Professor Thomas F. Torrance of Edinburgh so impressed him that he suppressed the booklet and distributed instead the article, entitled "Reconciliation in Christ and in His Church."
A similar note was touched on in the presidential address by the Rev. Frederic Greeves, who said: "Hosts of those whom we call outsiders are wondering how we Christians will deal with our problems and controversies. Some are watching us with a somewhat evil glint in their eyes, hoping to find in our quarrels yet another excuse for having nothing to do with us. Others are, more wistfully, hoping that in spite of all the evidence to the contrary in Christian history, it may be possible for Christians to differ in charity and to come together in faith and love."
The conference heard that at the end of 1962 the church's membership stood at 719,286, a decline of 4,243 from the previous year. The number of lay preachers (these are responsible for three-quarters of Methodist services throughout the country) fell by 272, to a total of 21,788.
J.D.D.
Have something to add about this? See something we missed? Share your feedback here.
Our digital archives are a work in progress. Let us know if corrections need to be made.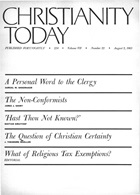 This article is from the August 2 1963 issue.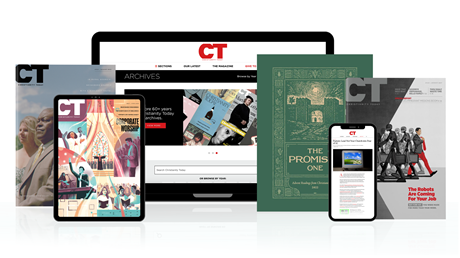 Subscribe to Christianity Today and get access to this article plus 65+ years of archives.
Home delivery of CT magazine
Complete access to articles on ChristianityToday.com
Over 120 years of magazine archives plus full access to all of CT's online archives
Subscribe Now
Great Britain: What Can One Say about Moral Decay?
Great Britain: What Can One Say about Moral Decay?