Honorable Honorarium
This is a true story. The names are changed to protect the innocent. I am, of course, begging the question of whether any people associated with me are innocent or deserve protection.
For the sake of argument let us suppose that my name is Ernest Erstwhile. I have been invited to speak at a dinner in the Michigan Thumb area, or over in the Oklahoma Panhandle. The program chairman will not tell me whether to speak for twenty minutes or thirty-five minutes but does say, "Don't make it too long." To save a little money he has offered to pick me up in his car, and we have agreed on a time late in the afternoon of that day of rest and gladness called the Sabbath. At the last minute he feels that he must go early and wonders, "Do you mind going along? You can sit in on some of the afternoon discussions, which should prove interesting." We, therefore, leave the house at two P.M., and I am to speak at a dinner at six P.M.—which eventually gets under way at seven P.M.
In the afternoon I sit in on a discussion group of "youth" who worry away at the subject of "boy and girl relationships," giving time to such items as whether one should date a girl who wears glasses. At supper time (remember, this is a true story) we have escalloped potatoes, baked beans, and spaghetti, with apple pie for dessert, and church coffee. The program includes everything from a vocal solo to a high dive, and I then get up to deliver myself of my opus.
The following conversation comes at the close of the meal. Putting his left hand in his right inside pocket the chairman says, "Now, Mr. Erstwhile, you know that this is a charitable organization." And I say, "Yes." Then he says, "You know, of course, that we don't have much money." And I say, "Yes." And he says, "Have you any charges for what you have done tonight?" And there is a strange lilt, giving the impression that I haven't done much. So I say to him, "Just get me home again, and we will call it a deal." His furtive face is wreathed with happy smiles.
There must be a good answer to this kind of treatment. I asked a friend of mine, and he said, "When they tell me, 'We are a charitable organization,' I say to them, 'So am I.' "
EUTYCHUS II
Hour Of Sharing
The articles on preaching in the June 7 issue are apropos. Ministers and teachers need to read, think, and heed the numerous suggestions contained in them. There is one vital point in preaching which neither article discussed [although] the Rev. Peter H. Eldersveld touched upon it … that true preaching is the sharing of what God has done for one's heart and life.… When there is no heart-throb in the minister's delivery, when there is no tug at his heart, there will be no pull on the hearts of the listeners.… To see that this element is in the delivery of the message is exceedingly costly. It requires time, imagination, energy, vitality, faith, and the enduement of the Holy Spirit.
Evangelist
Dallas, Texas
Morgan And Methodism
Re "The Prince of Expositors" (June 7 issue): To say that Campbell Morgan's association with the Methodists influenced him far more than the life and lip of his father is perhaps biting off too big a chunk. Surely such preaching as Morgan's would have to have a more substantial foundation than Arminianism, and surely a boy's life is molded by his father much more than by outside forces.
Skokomish Community Church Shelton, Wash.
Liturgical Revival
The appeal made by Glendon E. Harris ("Laymen, Spare That Preacher!," June 7 issue) has value as most of us do need more time for study. But, he unfortunately does not understand the purpose behind the current revival of the liturgy. Our "hope of success" does not rest "on the concept that people may be vain enough to believe something will prove interesting if they participate." We simply believe that the liturgy is not the liturgy unless it is the "work of the people." When a congregation declares together, "We believe," whether it be in a creed, in baptism, communion, or at other times, opportunity is given them to express as the people of God their beliefs. I would refer Mr. Harris to the Old Testament where he can see very clearly the participation of the congregation in many ways.…
Finally, I am not so sure that good sermons will necessarily be "attendance builders." Somewhere I recall one preacher who, at times, could not even rely on his congregation of twelve to be on hand.
Union United Church of Christ Evansville, Ind.
What Glendon E. Harris says is all true and well said in its own way, but unfortunately it is all predicated on the wrong premise and leading to the wrong goals. What he is trying to receive and doubtless what he would have liked to give as a "preacher" and what he is training people to look for, is intellectual rather than spiritual food. A well-prepared sermon is important and does honor God. But the sermon grows out of the worship and leads back into deeper understanding of worship and participation in worship.
St. Mark's Episcopal Church
Waterloo, Iowa
To Tell The Brothers
In view of our tremendous needs of spiritual reading materials for our present "Christian Library and Reading Center," which is sponsored by "Christian Youth For Anti-Communist Movement," I shall be very grateful if you would tell our brothers in Christ that we will appreciate any books, pamphlets, tracts, magazines, Bibles, and Bible commentaries they may wish to send us to help combat Communism and to win more souls for Christ.
President
Box 3 Bulatok
Pagadian, Zamboanga Del Sur, Philippines
Quest
In reply to your correspondent (Daniel L. Eckert, June 7 issue) who said, "… one must live with his documents," does he mean by documents: JEPD or "Q" or "Proto-Mark," etc? If so, it would be good if he could show us "his." We were taught that they were imaginative and hypothetical. Does he mean: the Gospels themselves as well as the other texts we possess as a common heritage? If so, are the difficulties really so insurmountably great that they can destroy verbal inspiration? Sincerely, some of us would like to see the "documents," for whenever we ask for them we are given the run-around. Perhaps our younger ministers and our lay people have been sold a bill of goods.
Hebron United Presbyterian Church
Pittsburgh, Pa.
For The Record
I felt that Dr. Frank Farrell's report of the annual convention of the Independent Fundamental Churches of America (May 24 issue) was quite objective.… There is one point in particular, however, that has caused some misunderstanding.… The sentence is: "Even Dallas Theological Seminary came under attack, in literature circulated at the conference, for inviting speakers identified in some way with Neo-Evangelicalism." The literature referred to was a single booklet published by an individual. The author gave away some copies of his booklet to individuals and placed other copies with the operator of the book table. The views expressed in this booklet were those of the author and are in no way to be considered to be officially the views of the IFCA. Some, upon reading the account in CHRISTIANITY TODAY, have put that construction upon the sentence quoted above. This is unfortunate, and it is our desire to keep the record straight.
National Executive Secretary
Independent Fundamental Churches of America
Chicago, Ill.
The manner in which you very fairly dealt with our business was exemplary of fine writing.
President
Independent Fundamental Churches of America
Rosemead, Calif.
The Civilians
As a retired Army and National Guard Chaplain, I want to commend your issue on "Ministering to the Military" (May 24 issue). I read every article with interest and approval. One thing, however, did not seem to me to be stressed enough. All too often the military is blamed for any adverse moral conditions among its personnel.… [But] who is it that uses every means to exploit the military man's lower choices? The civilians.…
Campbell, Calif.
Serum For The Sleepy-Eyed
The closing remarks of Leslie R. Keylock ("An Evangelical View of Vatican II," April 12 issue) should be formulated into a serum and injected into every sleepy-eyed Protestant and complacent Catholic, so that they may return to the health of the Gospel.
Reading, Mass.
Smoking
This is to say that the statement by Tom Allan (Eutychus, May 10 issue) was the most powerful thing I have read against smoking. God bless you for having published it.
Dean
School of Religion
Seattle Pacific College Seattle, Wash.
• For the best scientific evidence we know of, see the American Cancer Society's free booklet Cigarette Smoking and Cancer, which came out this spring.
A Case Of Identity
Just after reading "What I Don't Understand About the Protestants" (May 10 issue), in which the author says, "Well-intentioned Protestants have asked why we 'worship statues.' We do not, of course …," I heard a Roman Catholic-produced radio story (St. Christopher's Inn) in which the presence of a statue of St. Christopher supposedly saved a man's life.
I have been unable to distinguish between the practice of Roman Catholics and Buddhists here in Japan except for the fact that the names of the statues differ. Both claim they do not worship the idol iself.
I wonder if Mr. Moran could give me a definition of idolatry which would fit the Buddhists, but not the Roman Catholics?
Ishinomaki shi, Miyagi ken, Japan
When the term "a Catholic" is used in the narrower sense of membership in a denomination which labels itself "Catholic," we should remember that there are eighteen independent denominations in the United States alone which do so. Seven of these also use "Orthodox," with or without "Apostolic"; one is "Apostolic" but not "Orthodox"; four are "Old"; two, "Liberal"; one, "Christian"; one, "Polish"; one, "Lithuanian"; and one, "Roman."
Duluth, Minn.
To Halt Abuse
The title of "Reverend" is probably the least understood and the most abused of all titles. The dictionary defines it as "deserving reverence:—title or designation of the clergy." Do those who are entitled to this designation fully comprehend its meaning and significance? The use made of the title by the clergy themselves in referring to themselves indicates that many have no real appreciation of the true significance of the term. Too often those that are the least deserving of this recognition are the most frequent offenders.
The use of the abbreviation "Rev." on a calling card or in the signature to a letter virtually says, "Please take note that I am deserving of reverence." Instead it would be much more appropriate if a person wanted to call attention to his ordained status to indicate his position as "Pastor, First Baptist Church" or "Evangelist," or simply "Pastor."
It is quite fitting and proper in addressing a minister of the Gospel by correspondence to address him as "Rev. John Doe." In addressing him orally, however, it is inappropriate to refer to him solely as "Reverend." In presenting him to an audience, it is inappropriate to say, "I present Rev. Doe," since this would be the equivalent of saying, "I present Doe." Instead it should be, "I present the Rev. John Doe." If the first name is not used, it would then be appropriate to say, "I present the Rev. Mr. Doe" or "the Rev. Dr. Doe."
May we suggest that the title or designation of "Reverend" is one to be accepted humbly as conferred by others but is not a title to be conferred upon oneself any more than one would designate himself as "the Honorable Mr. Smith." May we suggest that humility is one of the traits of the man of God and he does not need to attempt to elevate his position by assigning to himself the title of "Reverend," nor does he need to feel that his position is not entirely respectable if he does not possess the title of "Doctor." To be a minister of the Gospel is one of the highest callings that can come to man. Let us not cheapen it by abusing or misusing the term "Reverend" or by seeking to "gild the lily"!
"Better it is to be of an humble spirit with the lowly, than to divide the spoil with the proud" (Prov. 16:19).
Registrar
Wheaton College
Wheaton, Ill.
The Soul
Re the article of Robert P. Roth ("Death Has No Shape," Apr. 12 issue):
1. When we speak of the soul as the vital principle of the body, that which is shared by man and beast alike, we are, to be sure, making an assertion consonant with the biblical usage of the term soul. But now we come to the core of the matter which confuses me. The author writes, "The soul is not something distinct from the body; it is the body insofar as the body lives.… The soul does not have a substantial or essential being.…" Even though I believe that the unity of man should be emphasized, I cannot conceive of the soul as being the body. Neither can I conceive of the soul as not having a substantial being. Perhaps it all turns on what one means by the terms substance and being. Although man is a unity, yet it seems to me that the soul and the body are distinct from each other (Matt. 10:28).…
2. As to the subject of death and departed spirits, it is not clear to me that "the biblical conception of the place of departed spirits does not give credence to the concept of a substantial soul." I believe that the soul is an immaterial substance, and I believe with Calvin, that it is immortal. The author's reference to spirits as dwelling in some mysterious realm leads me to infer that he regards the spirit as something distinct from the body, since the spirit dwells as a shadow in some realm while the body is in the grave. However, the term flesh is used in contrast with spirit. Finally, the person is a shapeless shadow, although consciousness survives. What is the relation between spirit and person?
Grand Rapids, Mich.
More Than Lip-Service
You are doubtless familiar with the proposal that someone has recently made that Billy Graham should be nominated as a candidate for the next president of the United States. Such an idea will probably be regarded as fantastic by many of our citizens.
In view of the crying need that our president should be a man who is something more than an astute politician who gives lip-service to God and his program for the world through Jesus Christ, why not give us a thoroughgoing discussion of this whole matter in an early editorial in CHRISTIANITY TODAY? Some pertinent Scripture passages are Jeremiah 8:9; 2 Chronicles 7:14; Revelation 11:15; 21:23–26.
Scottdale, Pa.
Have something to add about this? See something we missed? Share your feedback here.
Our digital archives are a work in progress. Let us know if corrections need to be made.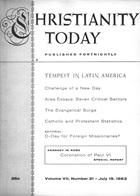 This article is from the July 19 1963 issue.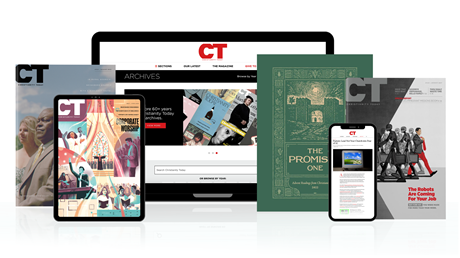 Annual & Monthly subscriptions available.
Print & Digital Issues of CT magazine
Complete access to every article on ChristianityToday.com
Unlimited access to 65+ years of CT's online archives
Member-only special issues
Subscribe
Eutychus and His Kin: July 19, 1963
Eutychus and His Kin: July 19, 1963